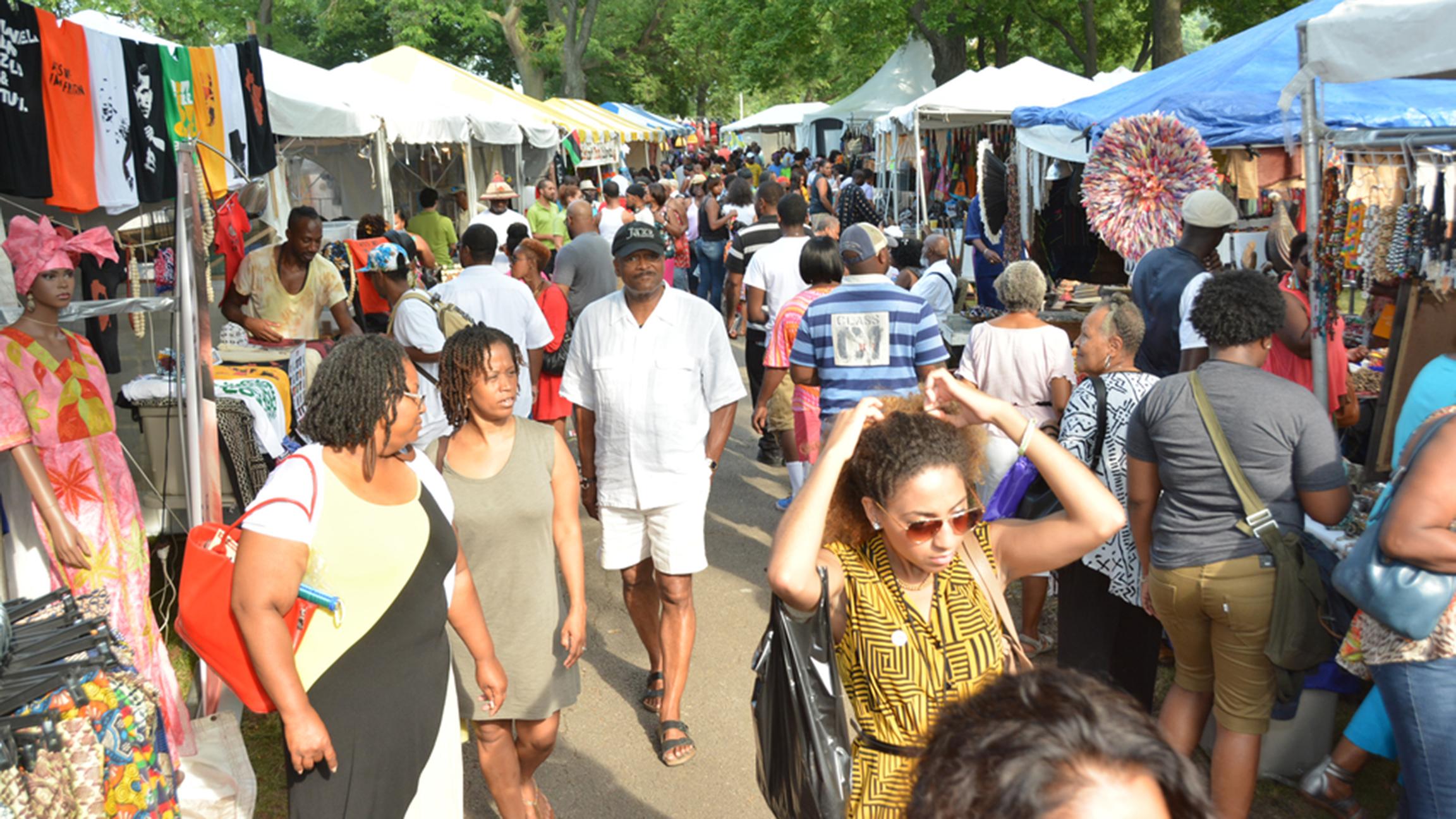 This year's African Festival of the Arts features a "togetherness" theme. (Courtesy African Festival of the Arts)
The big event
Washington Park is transformed into an African marketplace when more than 300 vendors and artists display traditional crafts, clothing, jewelry, textiles and other goods at the 27th annual African Festival of the Arts this weekend. Fuel up at a food court offering fare from Nigeria, Senegal and the Caribbean alongside Cajun and Southern dishes, and then shop or dance it off: Two stages of live music feature local and international artists, including soul group Rose Royce and former Shalamar lead singer Howard Hewett–both take the stage Monday. The main stage lineup also includes a night of stepping hosted by Ken Bedford (Friday); Nigerian juju music with Queen Bunmi and Chief Commander Ebenezer Obey (Saturday); and Angel D'Cuba (Sunday). Expect to see plenty of African drumming, plus pavilions focused on health and wellness, kids activities, spirituality, books and authors, quilting and more.
When: 10 a.m.-10 p.m. Friday through Monday.
Where: Washington Park, 5100 S. Cottage Grove Ave.
Tickets: $15; $10 for seniors; $5 for kids ages 13 and under. Passes available for $40 (weekend) and $35 family (two adults; four children).
Free pick of the week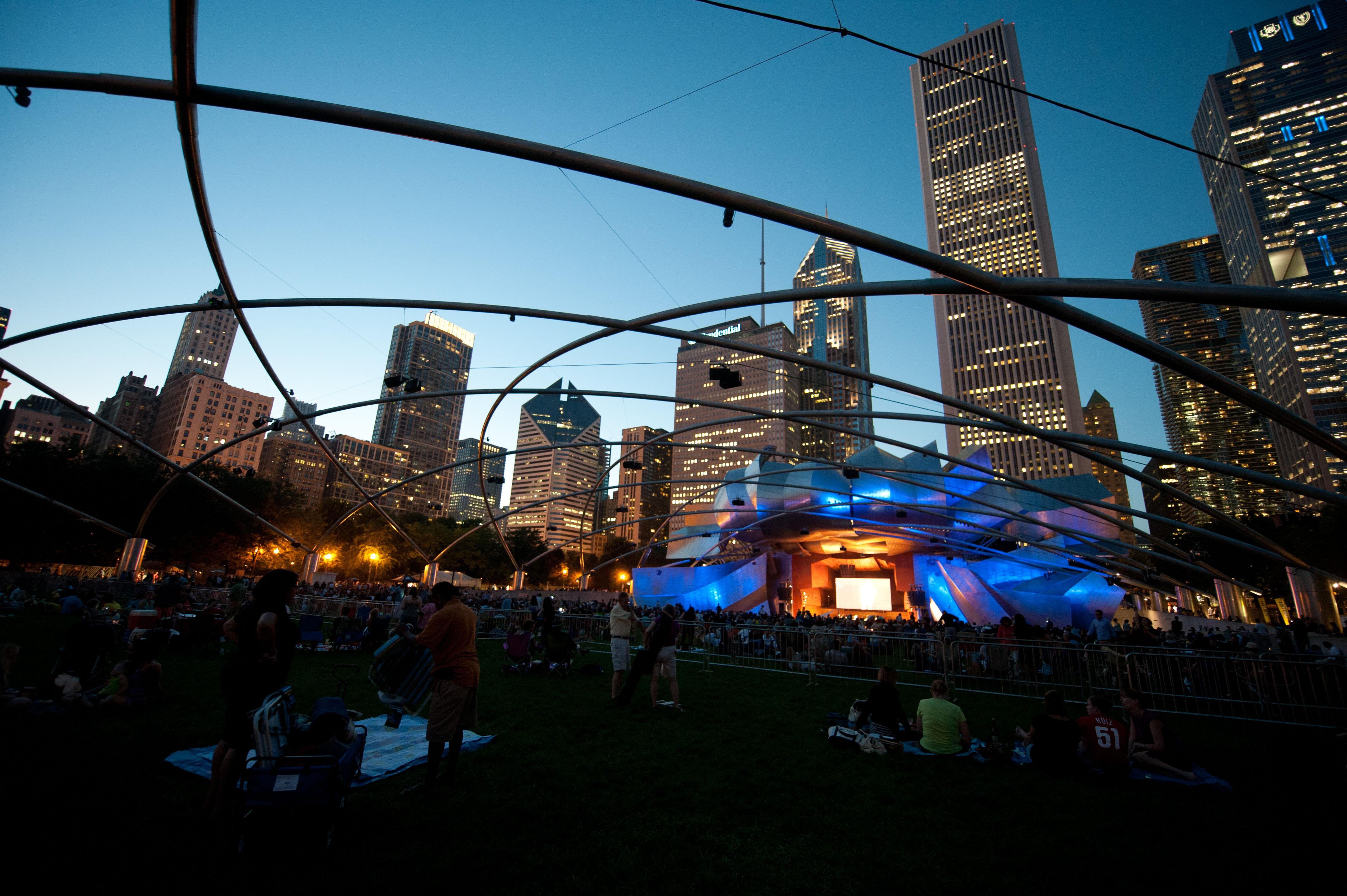 Pack a picnic and smooth out your weekend at the annual Chicago Jazz Festival. (Courtesy City of Chicago)
Chicago Jazz Festival (Thursday-Sunday)
Chicago Cultural Center (78 E. Washington St.); Millennium Park (201 E. Randolph St.)
Put a cool spin on your weekend soundtrack at the 38th annual festival. The bulk of the mostly outdoor affair takes place in Millennium Park, where headliners include Orbert Davis' Soul Migration (Thursday); Oliver Lake, Charlie Haden's Liberation Music Orchestra (Friday); The Bad Plus (Saturday); and a celebration of Cuban percussionist Candido Camero's 95th birthday. The fest kicks off Thursday afternoon at the Cultural Center with music, a performance from Louder than a Bomb poets, and a screening of the 2009 documentary "Charlie Haden." Noon-4:30 p.m. Thursday (Cultural Center), 5-9:30 p.m. (Millennium Park); 11 a.m.-9:30 p.m. Friday-Sunday (Millennium Park). Free.
Also on tap ...
Chicago Fringe Festival (through Sept. 11)
Five locations in Jefferson Park, including The Gift Theatre, 4802 N. Milwaukee Ave.
The seventh annual festival of performing arts includes 50 groups from Chicago and beyond. See everything from comedy to dance to drama and "the unclassifiable." Returning this year is Kids Fringe (Sept. 3-11 only. Learn more about that here.) 7-11 p.m. Wednesdays-Fridays; 1-11 p.m. Saturdays-Sundays and Labor Day. $10 per show, plus one-time purchase of admission button for $5. Ticket packages available.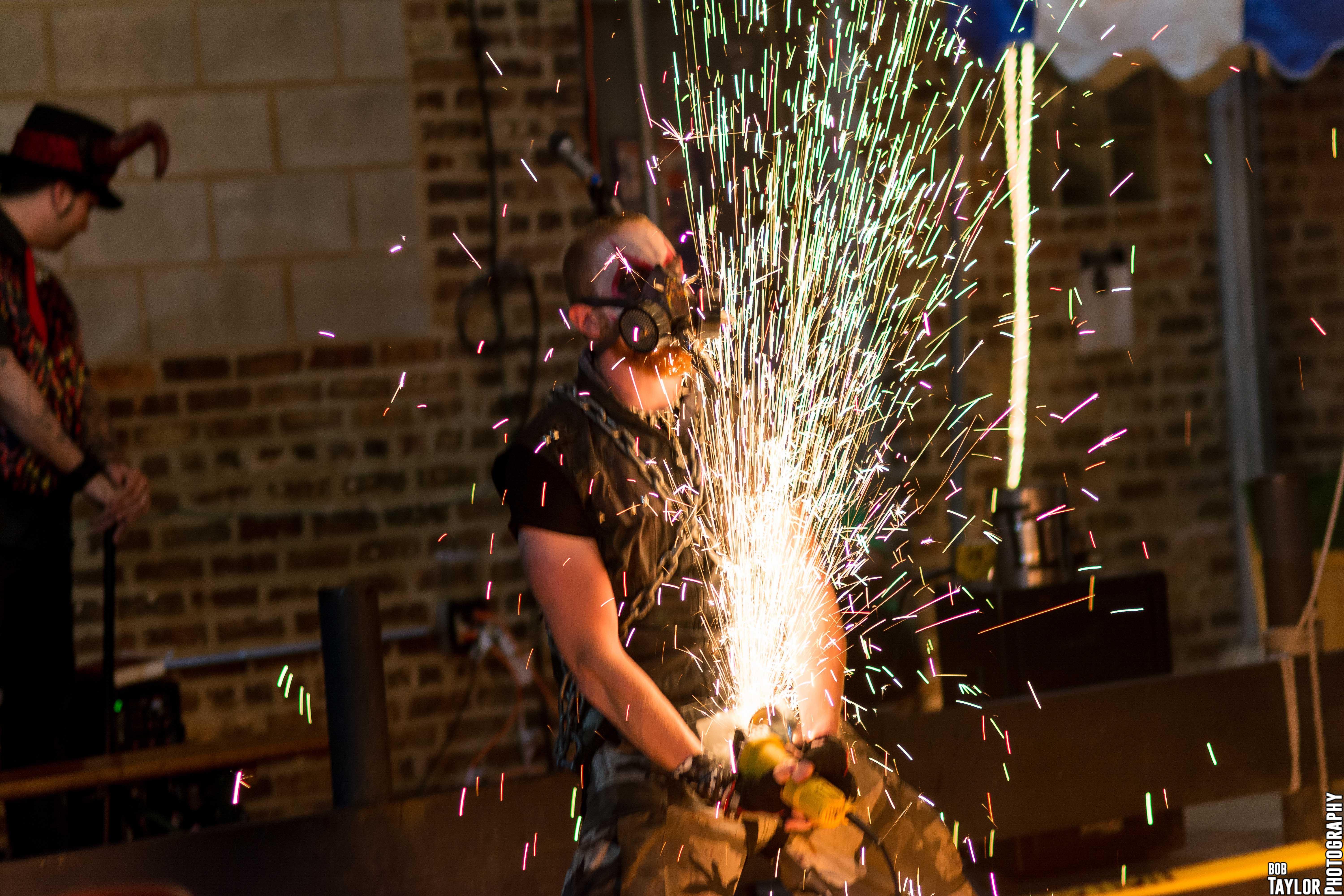 A scene from "Misfits All Around" at Chicago Fringe Festival in 2015. (Bob Taylor)
Fiesta Boricua (Friday-Sunday)
Division Street, between Western and California avenues
A celebration of Puerto Rican art and culture features three stages of music and entertainment, food vendors and a back-to-school carnival, which kicks off the festival on Friday. Headliners include Hector "Pichi" Perez (Saturday) and Herman Olivera (Sunday). Noon-9 p.m. Free.
Cider and Sliders Fest (Saturday-Sunday)
Lawrence and Elston avenues
Cider is popping up everywhere, and we couldn't be happier about it. Use it to wash down mini-burgers at this new entry on the weekend fest circuit. Additional highlights: Live music, activities for kids, arts and crafts, and a cider and wine tasting (3-7 p.m. daily) that includes up to 15 samples for $20. Noon-10 p.m. $5 suggested donation.
Taste of Polonia (Friday-Monday)
Copernicus Center, 5216 W. Lawrence Ave.
A holiday weekend staple, this Polish fest includes four stages of live music, carnival rides, folk dancing and other cultural performances, craft beer vendors, and–not to be overlooked–pierogies galore, along with Polish sausage, potato pancakes, sweets, hot dogs and other fare. (Full schedule of events and music here.) 5-10:30 p.m. Friday; noon-10:30 p.m. Saturday-Sunday; noon-10 p.m. Monday. $5 before 5 p.m., $10 after; free for kids ages 12 and under.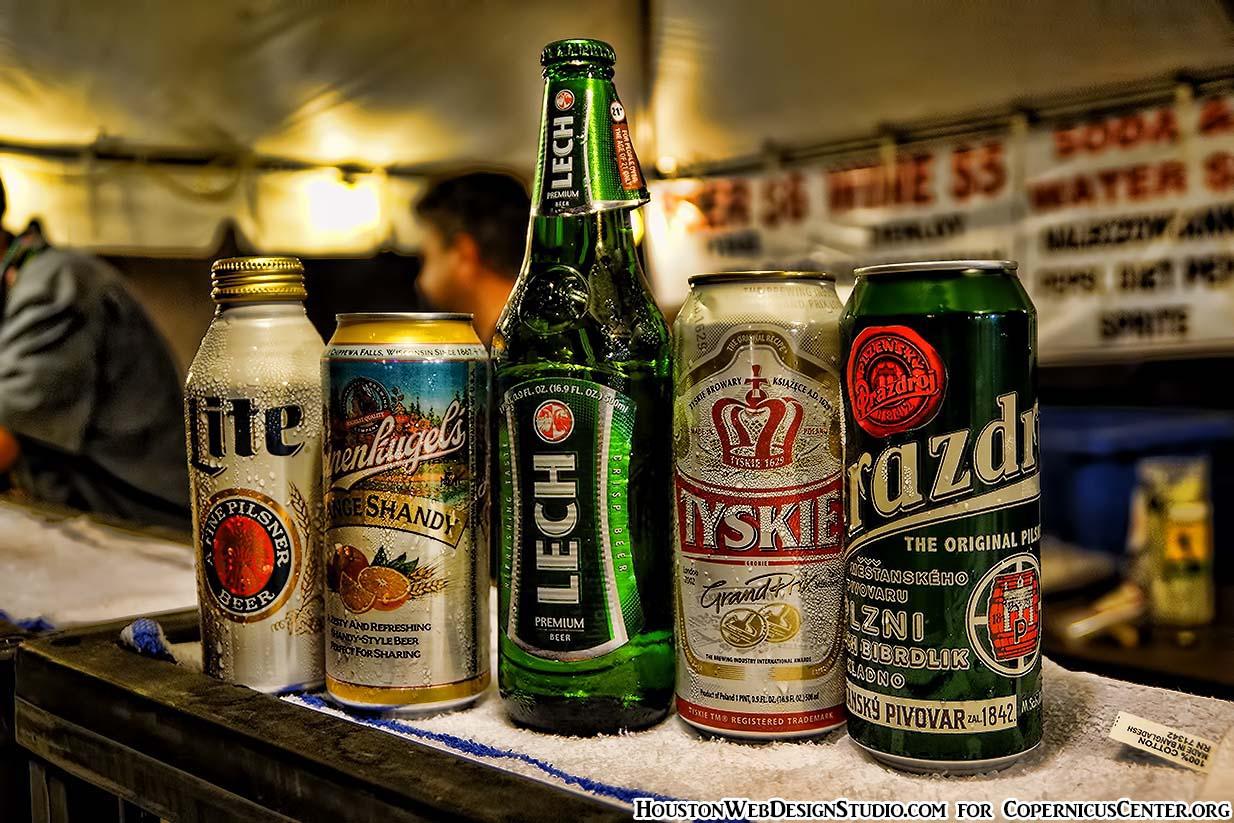 Polish beer and food are on the menu at the annual Taste of Polonia. (Courtesy Taste of Polonia)
The Great American Lobster Fest (Friday-Saturday)
Navy Pier, 600 E. Grand Ave.
Claw your way through fresh seafood and crustaceans at this third annual event, featuring fare flown in "from the cold waters of the East Coast," plus live music, family games and activities and more. Noon-10 p.m. Friday; 11 a.m.-10 p.m. Saturday. $10 general admission (does not include food); $42 includes meal; $140 for VIP.
Naperville Last Fling (Friday-Monday)
Downtown Naperville. Address for GPS: 440 W. Aurora Ave.
The Naperville Jaycees' annual event features two stages of live music, a carnival, kids activities, food and drink vendors, a beer-and-wine tasting (Friday) and other special events, including the chance to try something called knockerball on Centennial Beach (it involves a bubble suit). On Monday, don't miss a car show and a Labor Day parade (10 a.m.). Headliners: Foreigners Journey, One of These Nights (Friday); BoDeans, Toad the Wet Sproket (Saturday); Sugar Ray, Everclear (Sunday); and Jamey Johnson (Monday). 5-11 p.m. Friday; 4-11 p.m. Saturday-Sunday; 1-6 p.m. Monday. Free admission Friday; $35-$40 Saturday-Monday; free for kids ages 11 and under with paying adult.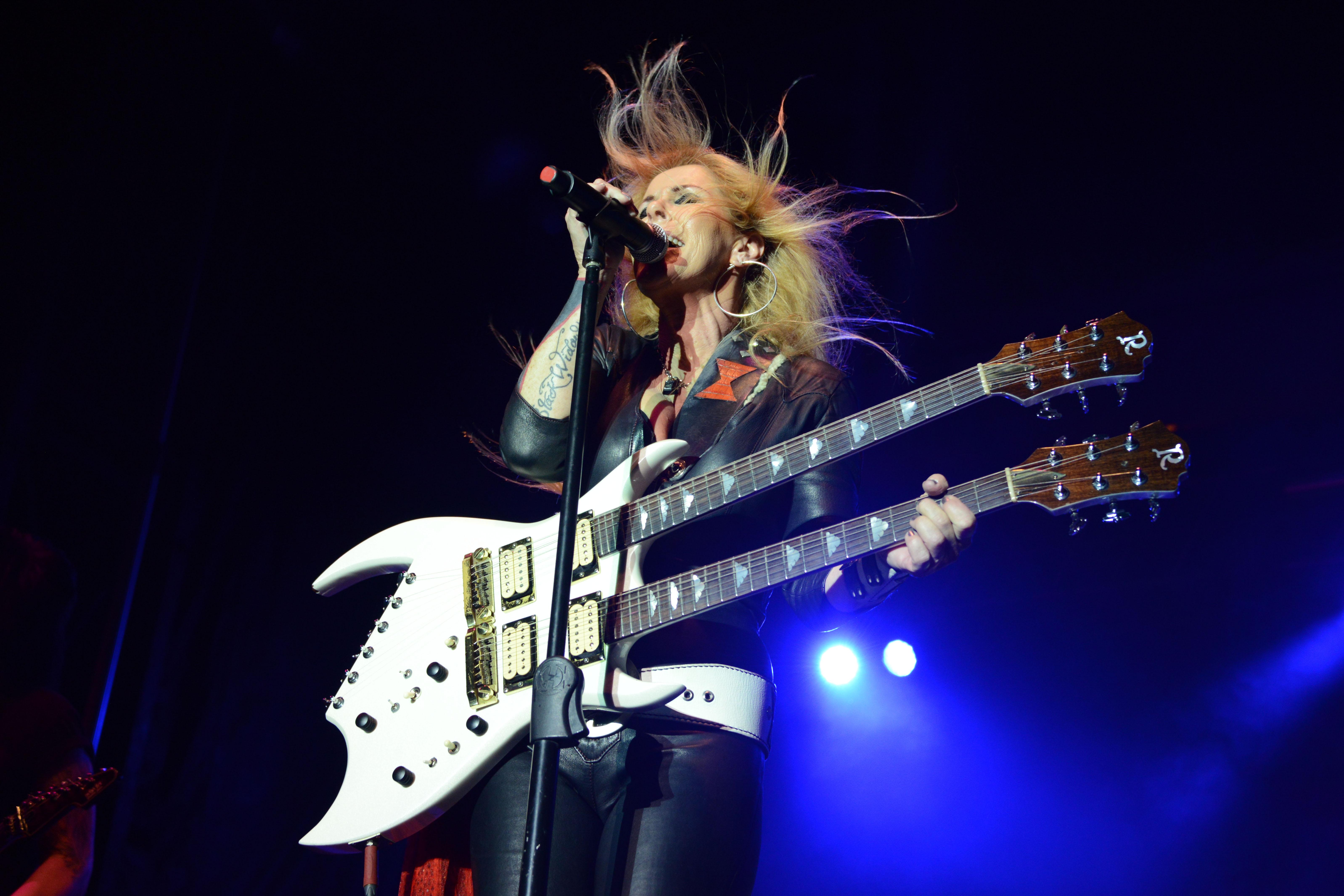 Lita Ford performs at the 2015 Naperville Last Fling. (Courtesy Naperville Jaycees)
North Coast Music Festival (Friday-Sunday)
Union Park, 1501 W. Randolph St.
This all-ages indie event features an eclectic lineup, spanning electronic, indie rock, rap and more. Headliners: Odesza, Grouplove (Friday); Bassnectar, Logic (Saturday); Zedd, Umphrey's McGee (Sunday). Gates open 3 p.m. Friday; 1 p.m. Saturday-Sunday. General admission: $60-$80 per day.
Movies in the Parks: 'Some Like it Hot' (Monday)
Osterman Beach, 5800 N. Lake Shore Drive
Cap off a day at the beach with a screening of Billy Wilder's 1959 Chicago-inspired romantic comedy starring Marilyn Monroe, Tony Curtis and Jack Lemmon. 8 p.m. Free.
Open House (Friday)
Uncommon Ground, 1401 W. Devon Ave.
Need some inspiration for your fall crops? (Think: Leafy greens, beets, hot peppers and sweet corn.) Check out the restaurant's rooftop garden, billed as the nation's first certified organic farm, and meet the farmers who manage it. 5-8 p.m. Free.
Bonnie Raitt (Saturday)
Ravinia Festival, 200 Ravinia Park Road, Highland Park
The red-headed blues singer-songwriter performs as part of her "Dig in Deep" tour. The Richard Thompson Trio opens. Fancy picnic planners: Gates open at 5 p.m.; show starts 7:30 p.m. $38-$43 lawn tickets; $130-$195 reserved seating.
Events listed are subject to change. We recommend double-checking times and locations before you head out the door. Want to share your upcoming events with us for consideration in a future roundup? Send us an email.
---