Since "Pokemon Go" came out almost a month ago, the popular smartphone game has been downloaded more than 100 million times worldwide, according to analytics firm App Annie. If you're unfamiliar with "Pokemon Go," the game allows players to hunt down small creatures known as Pokemon by using their smartphone's GPS and camera.
"Chicago Tonight" decided to hunt down and follow some of the Chicago area's most dedicated players.
TRANSCRIPT
Eddie Arruza: For Nathaniel Mantaring, catching Pokemon is more than just a game. It's a career.
The 29-year-old father of two says he will spend the next year as a Pokemon master trainer and travel throughout the country catching Pokemon. He says his so-called Pokemon tour has corporate sponsors.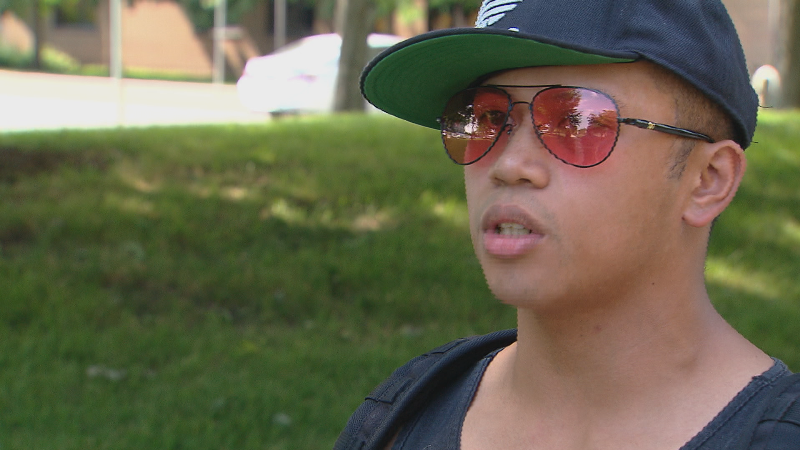 Nathaniel Mantaring
Nathaniel Mantaring, "Pokemon Go" player: After waking up, I turn the app on right away. Three external batteries, those are all charging through the night. … In my bag, I have ponchos in case it rains. I'm not even kidding. I totally have ponchos. … Judge me all you want.
I'm playing while I'm driving. She holds my phone. I drive. I'm trying to catch Pokemon. It's nuts. Because it's just, I know I'm not the only one, but I'm at that point where literally I get kind of stressed out when I'm not catching Pokemon because I know there are people grinding just as hard as me if not harder. 
Arruza: Mantaring lives in north suburban Gurnee and says he spends about 18 hours a day playing the game. Within the first couple weeks of "Pokemon Go's" release, Mantaring says he spent up to $300 in the game, stocking up on supplies to help him hunt Pokemon and level up his character.
Mantaring: My dream is when my kids call on me to go for—you know when the parents come in for show and tell? And you know what your occupation is? So if there's like an elite lineup—one is like a stock trader, the other one's a doctor or fireman and a news reporter—I want to roll up there and say "I'm a Pokemon master." And all the kids are just going to flip, and I'm going to be like, "Yeah. What's up, everybody?"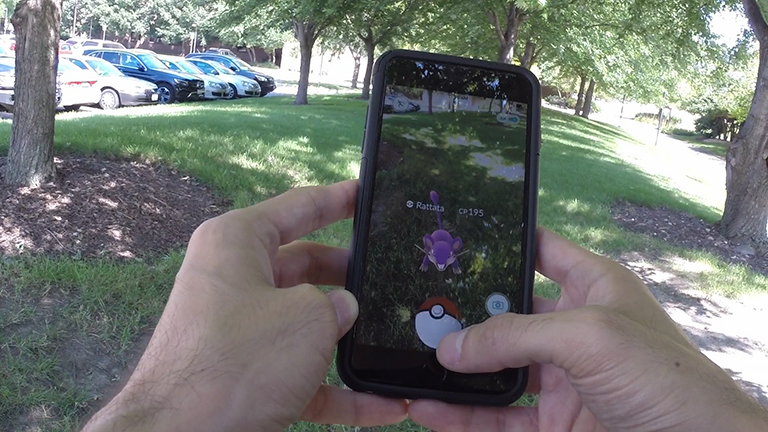 Arruza: One of the big draws of "Pokemon Go" is its use of an augmented reality. That means players can use their phone's GPS to find Pokemon near them, whether they're at Millennium Park or waiting for a train.
Mantaring has his own YouTube channel under his nickname, Ryzen Xia. There, he posts videos of himself playing "Pokemon Go," from Chicago to Los Angeles. He says his fiancé helps him record videos, and that his friends and family are used to him following his dreams.
Mantaring: I actually filed bankruptcy after college. I went to open three small businesses. It went really well for a year and then I failed. I messed up. I ended up having to get a regular job and it drove me insane. And when I say regular job, I'm not hating on people who have regular jobs, like a 9 to 5 job or a desk job. I'm not hating on that. It's just that for me, personally, I want to live my life the way I see it. I would rather be poorer living out my passions than absolutely rich doing what somebody else expected me to do. 
Arruza: Mark Edward Davis is also an avid "Pokemon Go" player.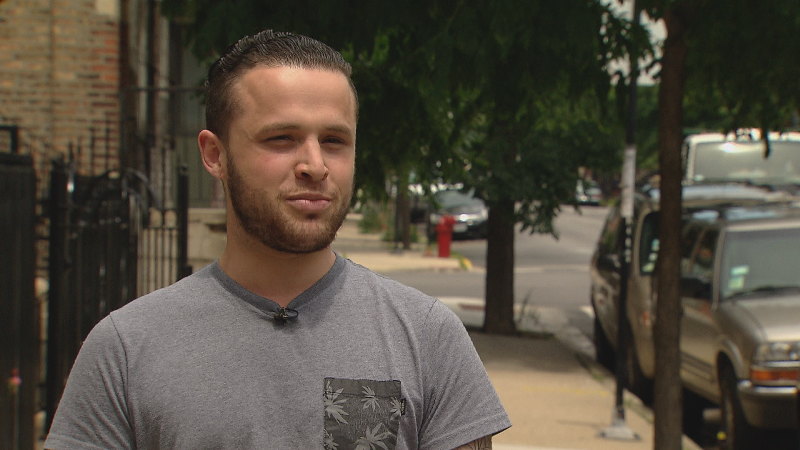 Mark Edward Davis
Mark Edward Davis, "Pokemon Go" player: All of a sudden I'm a raging nerd and I love it. This is what I would do with my free time if I could get paid for this. It's amazing. 
Arruza: The Pilsen resident says he enjoys meeting new people while he is out and about catching Pokemon.
Davis: I was telling my roommates a joke. I'm on Tinder every now and then. I've met more potential people from Pokemon than I've ever met from a lifetime of Tinder. So just one day I met 20 people, and it's like, it's just unbelievable.
Arruza: Around the corner from Davis's apartment is Taqueria Sabor Y Sazon, which offers special freebies to Pokemon trainers based on where they are in the game. The owners say the idea came from their daughter, Giovanna Cruz. She says she introduced her mom to the game and now she's hooked.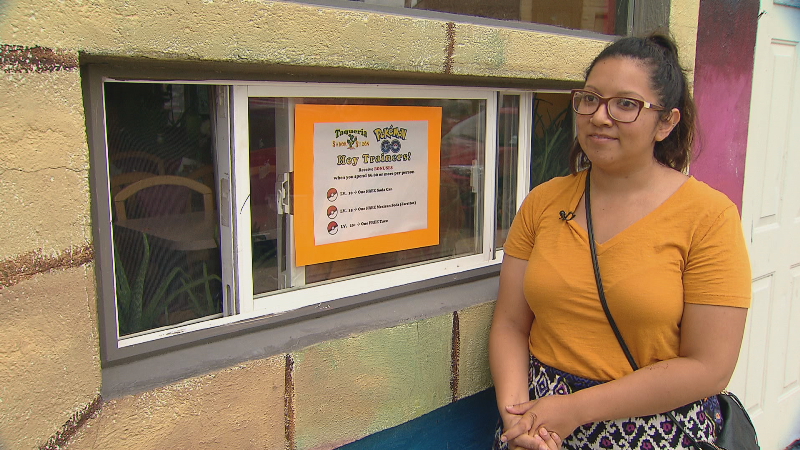 Giovanna Cruz
Giovanna Cruz: My mom closes at 10, so that's when she has the free time because she works all day. So we would just like stay in and like eat and watch TV or something. And now she is like the one who is encouraging me to like, "Hey let's take a walk. Let's go like try to catch more Pokemon."
Arruza: Mantaring says he too enjoys playing with others and says his daughter has also begun playing.
Mantaring:  My daughter apparently just caught a weedle yesterday. My son has no idea what's going on, which I hope changes because Pokemon played a huge role in my childhood and I would love that to be a part of my children's childhood. 
---
Sign up for our morning newsletter to get all of our stories delivered to your mailbox each weekday.
---
Related content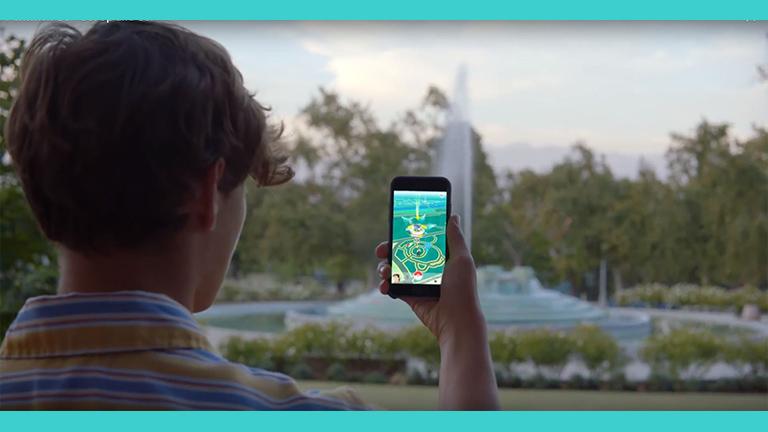 Pokémon GO Players to Meet at the Bean on Sunday
July 12: The mobile gaming app has taken Chicago by storm: Thousands of Pokémon GO players plan to meet at Cloud Gate—aka the Bean—in Millennium Park on Sunday. Get the details.
---