The video cannot be displayed.
Was a Chicago suburb founded by a charismatic faith healer? Geoffrey Baer answers that and other viewer questions about Chicago's North suburban neighbors, including a bridge that hints at Kenilworth's swampy past and the story of the Edens Expressway in this week's edition of Ask Geoffrey.

There is a small but ornate bridge on Sheridan Road in Kenilworth located between Winnetka Avenue and Kenilworth Avenue. There does not appear to be anything under this bridge. An old map of the area refers to this site as the Skokie Ditch. What exactly is the Skokie Ditch? 
– John Becker, Evanston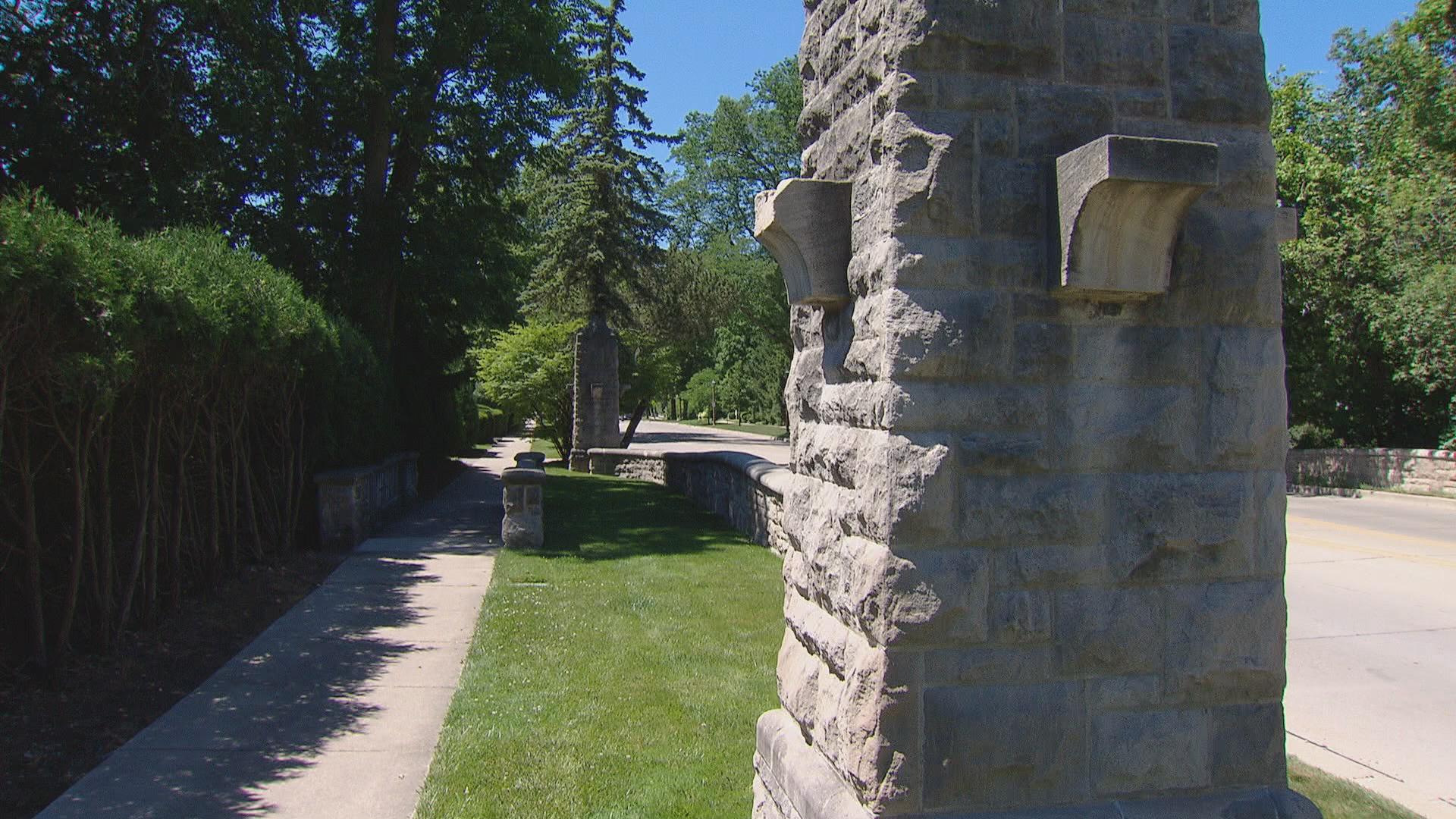 Here's the bridge in question. Like many stories in the northeastern Illinois area, this one starts with, "Well, the whole area was basically a swamp."
The Skokie Ditch was an early attempt to drain the Skokie Marsh, which was a miles-long low-lying wetland to the west. Today the Edens Expressway runs through it. 
Back in the late 19th century, the North Shore was plagued by frequent flooding and the health problems that went with it. According to the Winnetka Historical Society, many early farmers tried digging drainage channels to divert the water and dry out their land, but when it rained, the area continued to flood anyway.
In 1884, an area-wide effort was mounted to drain the marsh with the Skokie Ditch. It ran eastward along Willow Road, through Indian Hill and Kenilworth, under the bridge our viewer saw and emptied into Lake Michigan. It might have worked, but legal opposition and lack of political will and money stopped construction before the ditch could be dug deep enough to drain the marsh completely.
Although it didn't drain the swamp, some nearby neighbors did start discharging their sewage into the ditch. Offenders included a sanitarium and a convent – and Kenilworth was not pleased. Our intern Kyle Mathers, who just happens to be an assistant curator at the Kenilworth Historical Society, found a whole paper trail of official letters and even court cases seeking to investigate and stop this illegal discharge.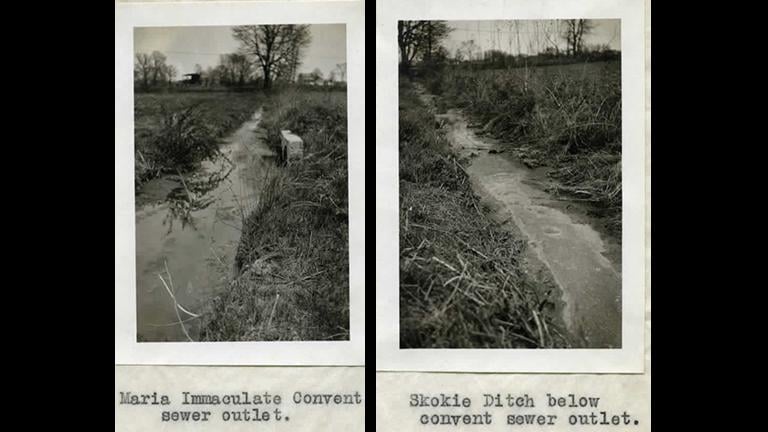 The Skokie Marsh was eventually drained by building the Skokie Lagoons in 1933 under FDR's Civilian Conservation Corps.
Today there are only a few traces of the Skokie Ditch. In addition to the ghost bridge on Sheridan Road that our viewer mentioned, there are a handful of other bridges above nothing, including one in front of Sears School on Abbotsford Road in Kenilworth.
---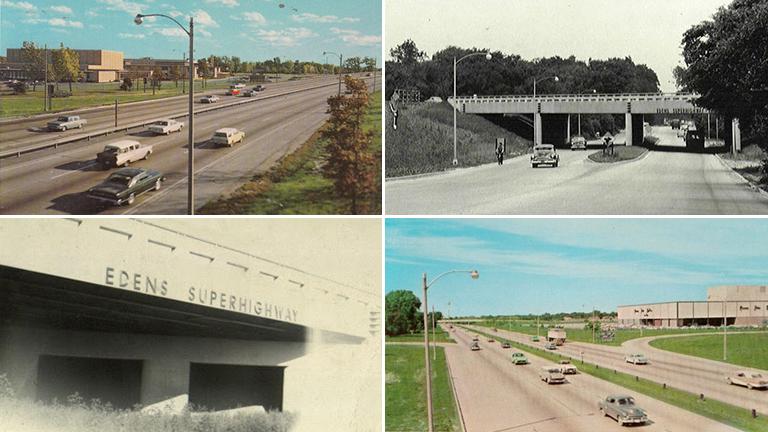 How did Edens Expressway get its name? When did the plan start to develop? Who had the idea? What were the obstacles? When did construction begin and end? What properties were displaced and by what process?
– Jim Hutten, Wilmette
Edens Expressway was named for a man who reportedly never owned or drove a car. William G. Edens was a banker who began a campaign in 1912 to pave Illinois' roads that raised $60 million in bond issues. When he started, there were only 30,000 cars in the whole state and most roads were dirt. He lived long enough to dedicate the superhighway named for him four decades later. Many articles credit him with "pulling Illinois out of the mud."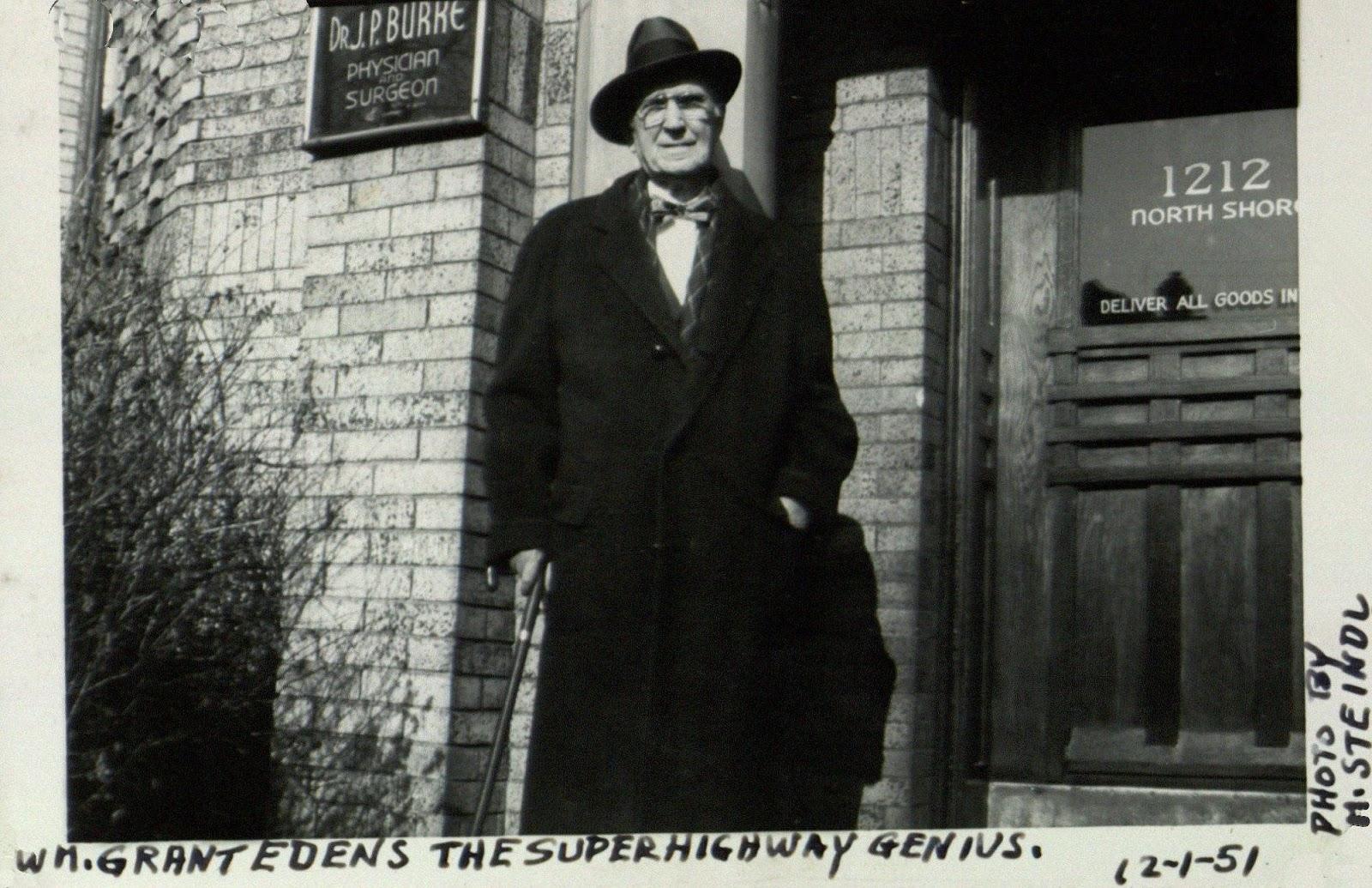 Proposals for what was at first called Edens Parkway and later Edens Superhighway date back to the 1930s. It was part of a movement to build expressways as more people bought cars and streets and rural highways became clogged.
The Cook County highway department proposed the route running from Peterson and Caldwell north to the Cook County line in Highland Park. In 1947 the county estimated it would spend $8.3 million to buy the land for the proposed route.
One obstacle was land owners who wouldn't sell. In this case the county acquired the property through condemnation. Another obstacle was funding. At one point the county sued the state for promised money from gasoline taxes. A third obstacle was that it ran through the low-lying Skokie Valley mentioned in the last question. An enormous drain had to be built as much as 50 feet underground in places where the highway ran below grade.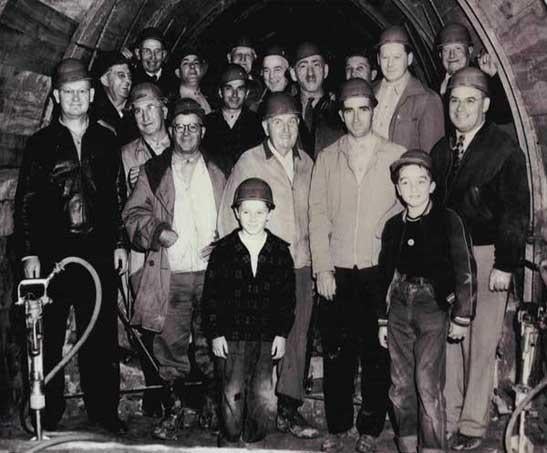 One of the little boys in this 1949 picture (above) is Andrew Plummer, whose father was the chief drainage engineer on the project. This is from Plummer's fantastic website about the building of the Cook County Expressways. 
The original plan called for four lanes, two in each direction. The later expansion to six lanes was always part of the plan. Construction finally began in October 1949 and the highway opened on a snowy December day in 1951 as the Chicago area's first true expressway. Dignitaries, including Edens himself, age 88, took shelter under the Peterson and Caldwell overpass for the ribbon cutting. Edens is second from the left in this photo.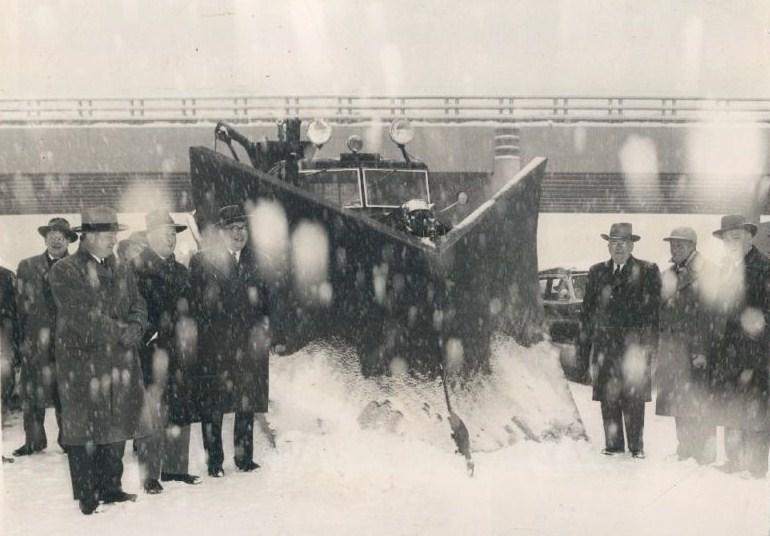 Edens died in 1957 at age 93. He is interred at Memorial Park in Skokie almost within sight of the Old Orchard Road exit off the Edens expressway.
---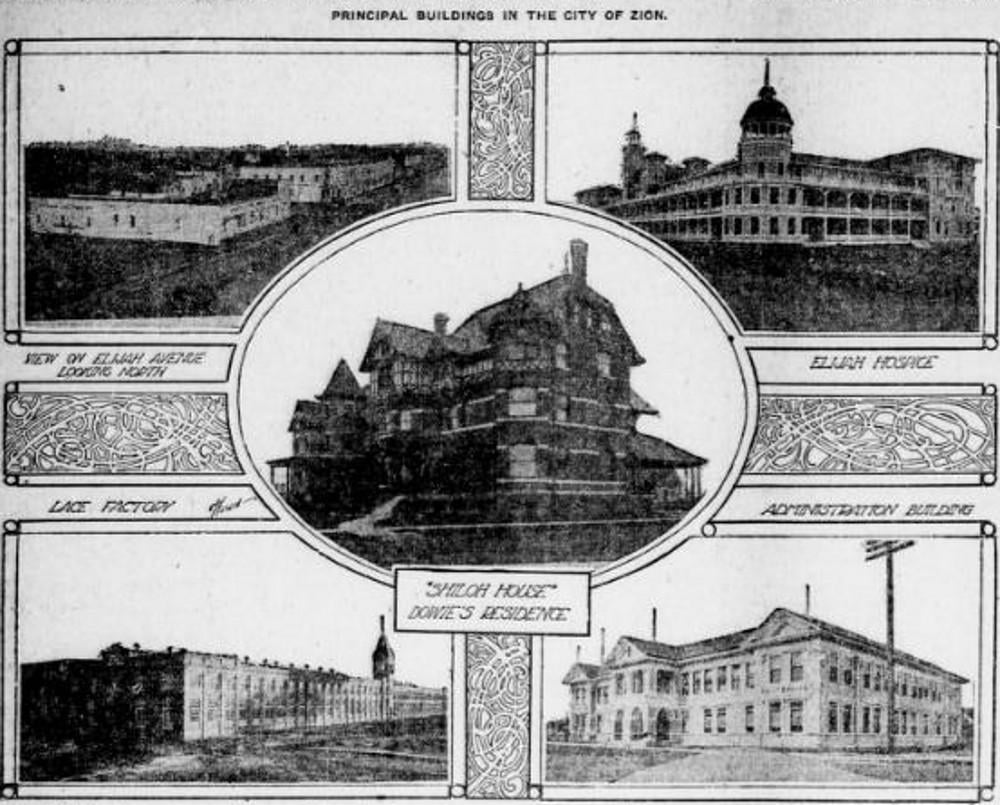 Zion please! We have a history. We could be a tourist destination. We have a state park. Let Chicagoans know that we are more than a decommissioned power plant!
– Eric Ziegler, Zion
Our viewer is right – in addition to the beautiful Illinois Beach State Park and the Zion Nuclear Power Station, which was decommissioned in 1998, Zion has a fascinating history. Viewed from the heavens, you can see that part of Zion was laid out in the shape of the British flag. On the ground, you'll notice the street names are drawn from the bible and all roads lead to a church at the center of town. These are the lasting legacies of Zion's founder, a British-born faith-healer named John Alexander Dowie.
Dowie attracted a following in Chicago at the 1893 World's Fair, where he claimed to cure everything from convulsions to crossed eyes, ailments that he preached were the work of Satan. He promised to lead his followers away from evil by building them a "heaven on earth."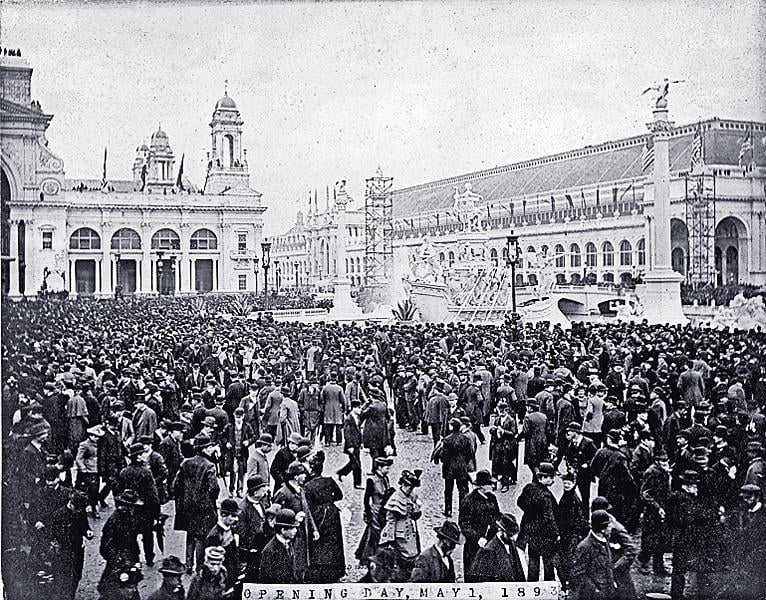 Dowie bought a patch of barren land north of Chicago in 1899, and transformed it into a 10-square-mile paradise, where members of his Christian Catholic Church could live life as God intended.
Billboards reminded residents of the strict moral code. Ladies had to wear skirts. There was no spitting on the sidewalks. There was no alcohol consumption. And check out this sign prohibiting tobacco!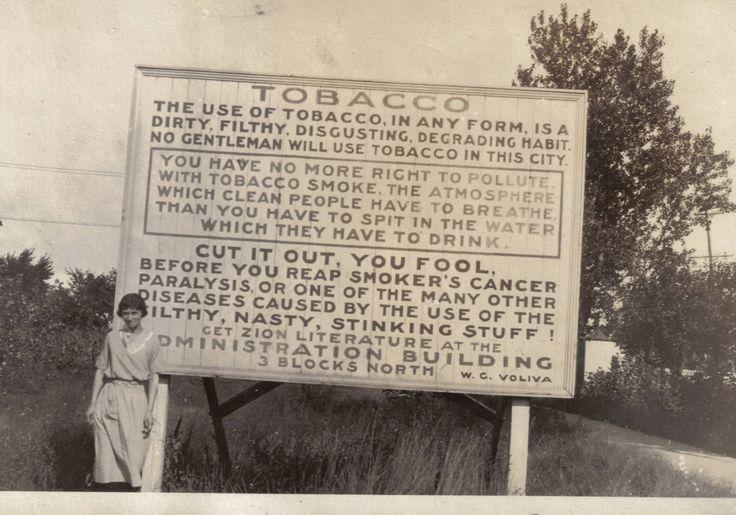 These laws were enforced by the "Zion Guard," whose holsters contained not guns, but bibles. Any contraband they seized was displayed in Dowie's church on a wall of shame – among the trophies were crutches and canes, because they believed in divine healing so medical care was forbidden.
Dowie's church owned virtually everything in Zion, including the factories and stores where the townspeople worked. In exchange, residents got an 1,100-year lease on their property — long enough to ensure the second coming.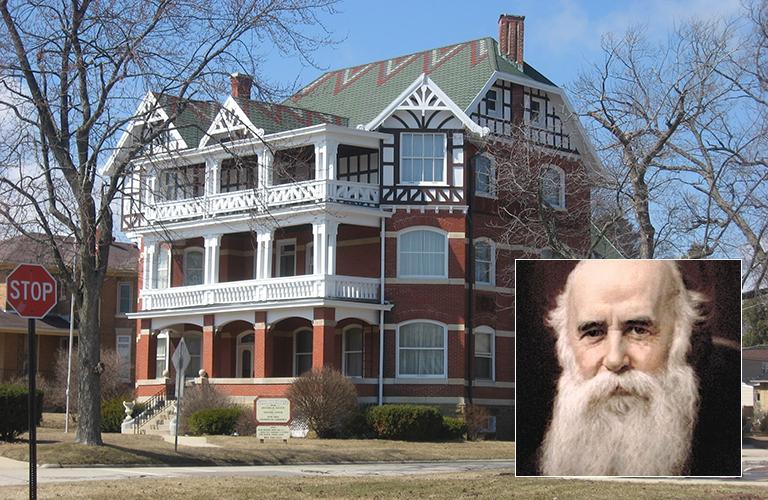 Shiloh House in Zion. Inset: John Alexander Dowie.
Dowie, meanwhile, lived in this beautifully appointed mansion, Shiloh House, at the center of town.
In the end, Zion's church-controlled economy was a failure. Within just a few years of its founding, the town went bankrupt and Dowie skipped town to Australia. He did return to Zion during the last year of his life and died at Shiloh House in 1907.
---
Sign up for our morning newsletter to get all of our stories delivered to your mailbox each weekday.
---
More Ask Geoffrey: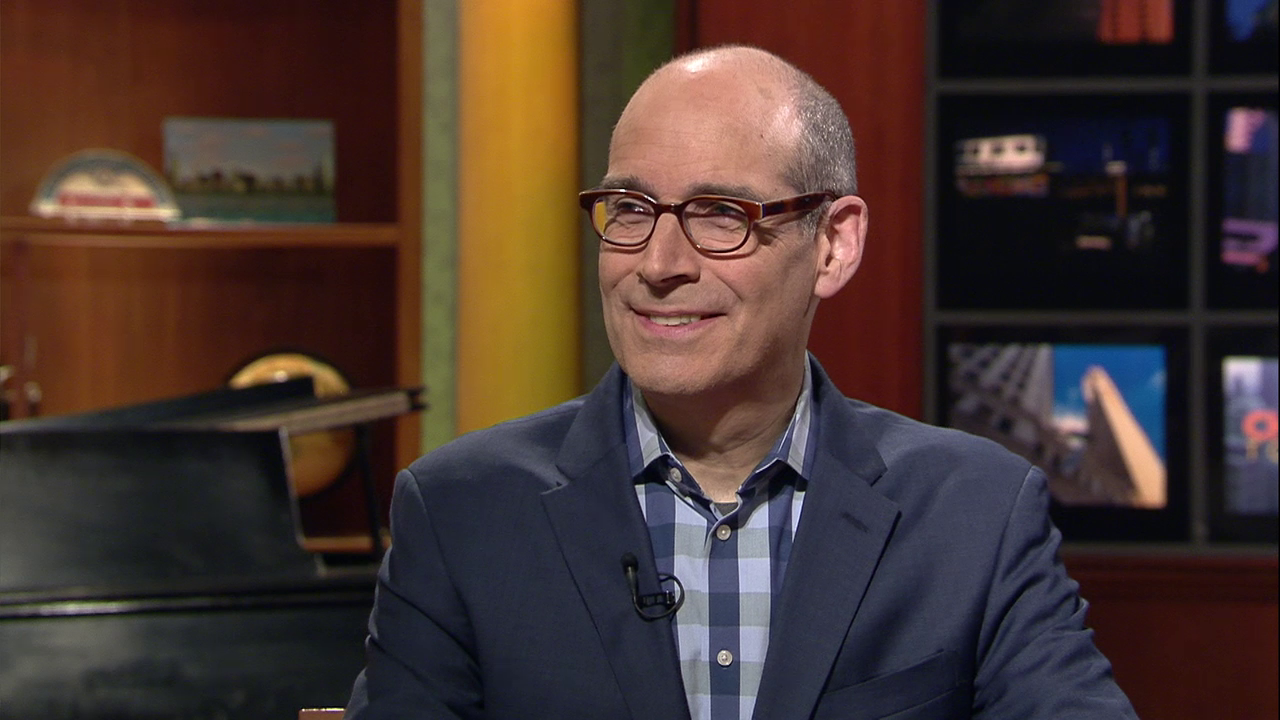 Did you know that you can dig through our Ask Geoffrey archives? Revisit your favorite episodes, discover new secrets about the city's past, and ask Geoffrey your own questions for possible exploration in upcoming episodes. Find it all right here.
Do you have a question for Geoffrey? Ask him.
---