The video cannot be displayed.
It was a heartbreaking loss for the defending Stanley Cup Champion Chicago Blackhawks.
The Hawks were down 3-1 in the series against the St. Louis Blues, but clawed their way back to force a seventh game in the first round of the playoffs. But the storybook comeback ended Monday night when the Blues broke a 2-2 tie in the third period with a goal by former Hawk Troy Brouwer. 
This series has been an emotional roller coaster for the team and fans. At the end of a very physical Game 4, a frustrated Andrew Shaw called a referee a homophobic slur.
---
The Blackhawks and the NHL dealt swiftly with the winger's hurtful outburst. He also apologized and accepted his one-game suspension and $5,000 fine.
"I am sincerely sorry for the insensitive remarks that I made last night while in the penalty box," Shaw's statement of apology reads. "When I got home and saw the video, it was evident that what I did was wrong, no matter the circumstances. I apologize to many people, including the gay and lesbian community, the Chicago Blackhawks organization, Blackhawks fans and anyone else I may have offended. I know my words were hurtful and I will learn from my mistake."
Chris Hine, the Chicago Tribune's Blackhawks beat reporter, came out a month before Shaw's meltdown when he wrote about homophobia in sports. 
In that article, Hine writes:
"LGBTQ rights in this country have come a long way, but one of the final frontiers in that fight is for inclusion in sports, especially in the major pro sports leagues where less than a handful of athletes — former NBA player Jason Collins and defensive lineman Michael Sam — have donned a jersey as openly gay men even though statistics suggest there are several gay, bisexual or questioning men playing professional sports. Gay rights activists have fought to dismiss the stereotype that gay men are not considered masculine enough to play sports on a professional level."
Hine said he thought Shaw's apology was sincere.
"I've known Andrew Shaw now for the better part of a year," he said. "I really don't think he meant any harm to the gay community."
After Shaw delivered his apology, which Hine watched in person, the two had a chance to talk. Hine said that Shaw knew about the column he had written, in which he came out as openly gay, although the two had never spoken about it.
"He wanted to say, 'I'm not that kind of guy and I hope that you don't take it the wrong way,'" Hine said.
He assured Shaw that they were fine, but said he wanted to let Shaw know the potential impact of the slur he used.
"I said, 'I've had friends that have used that word before they knew I was gay,'" Hine said. "I've had that experience before, of people using that [word]. I just wanted to let him know that the word can hurt. It can impact people who may not be as comfortable in their own skin, who may be struggling with coming out of the closet, especially a potentially gay athlete who may not be so sure of himself around his teammates.
"The intent may be different from the impact. That word can have a big impact on someone's life."
---
Related stories from "Chicago Tonight"
April 22: Blackhawks player Andrew Shaw is fined and suspended for a gay slur. Joel Weisman and guests discuss this news and other stories of the week.
---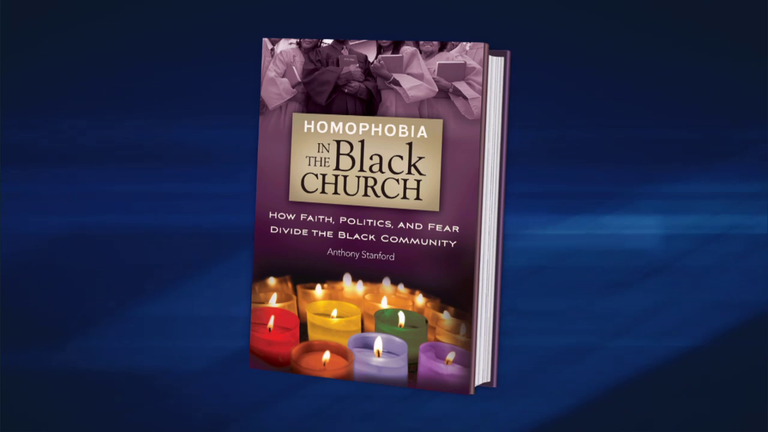 New Book Explores 'Homophobia in the Black Church'
October 2013: African-American churches are among the fervent opponents of same-sex marriage. The topic is the subject of a new book called "Homophobia in the Black Church: How Faith, Politics and Fear Divide the Black Community."
---