People who took public transportation to the Cook County Court building today at 26th and California were surprised to find that the lockers they used to protect their phones were gone. And with a courthouse cellphone ban in effect, it left many not knowing what to do.
As usual at 9 a.m. on Monday mornings there's a rush of people into the courthouse for various hearings—to support family and friends who have a hearing, maybe they're a witness in a trial.
But as of this morning, the lockers those folks used to store their phones were just removed. And with the cellphone ban, that created quite a few issues.
The public defender's office says some people left and ran home to return those phones, making them very late for court.
But "Chicago Tonight" spoke with a few folks for whom that trip would've been too long. Some were desperate enough to park their phones with the food vendors outside at a couple bucks a phone.
Others just took their chances.
"I met a stranger today to actually hold my phone for me till 11 o'clock," Waleisha Kendrick said.
"I walked in and the lockers weren't here, and I was like, 'what do I do?' I just asked the officers over there and I'm not sure what's going to happen. I think they're going to hold on to it or maybe they'll let me go in with it. I don't know yet," Jerry Schulz said.
FYI: People who were in the courthouse for probation hearings or meetings with their officers were allowed to bring their phones into the courthouse, so Schulz was allowed in with his phone.
Representatives from the sheriff's office were on hand to help Monday, but that won't happen every day.
Sheriff's Communications Director Ben Briet ended up just hanging on to phones for people because no one wants them to miss their court appearances.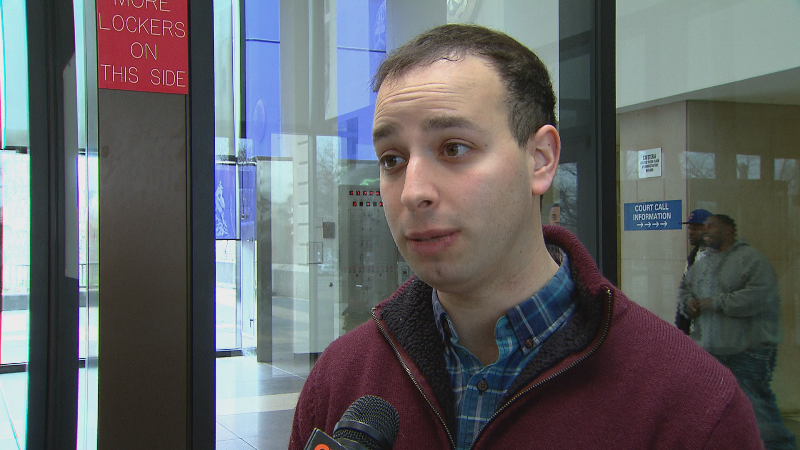 Ben Briet "We had an army of sheriff's staffers, including myself, who were here this morning to sort of case manage, work with these people, knowing that were likely to be problems like this, to try to help them on a case-by-case basis," Briet said.
"In some cases, we were able to succeed. We would literally send people sprinting to the judge for a certain person to explain the situation, to see if he or she would be willing to make an exception, sign a quick written order allowing person X to have a cellphone in courtroom Y—so occasionally those efforts were successful, more often than not, they were not."
Cellphones have been banned for members of the public for three years, why this change?
The decision was made by the Cook County Facilities department, which reports to Cook County Board President Toni Preckwinkle's office.
A spokesperson for her office explains that about a year ago, the vendor for those lockers walked away from their contract.
Facilities staff has been managing the lockers, but they've reported instances of weapons or drugs being found in the lockers.
In addition, both Cook County Homeland Security and the sheriff's office expressed concern about the security of having such lockers inside the courthouse.
So, on Feb. 19 Facilities informed the Office of Chief Judge Tim Evans of plans to remove the lockers.
Evans' office sent out a press release on March 18—that's 10 business days from today, the date it became effective.
Neither the sheriff's office nor the Public Defender Amy Campanelli believes that was enough time for the word to spread as widely as necessary, since not everyone reads the newspaper.
What's more, they're not sure a total ban on cellphones is the best policy.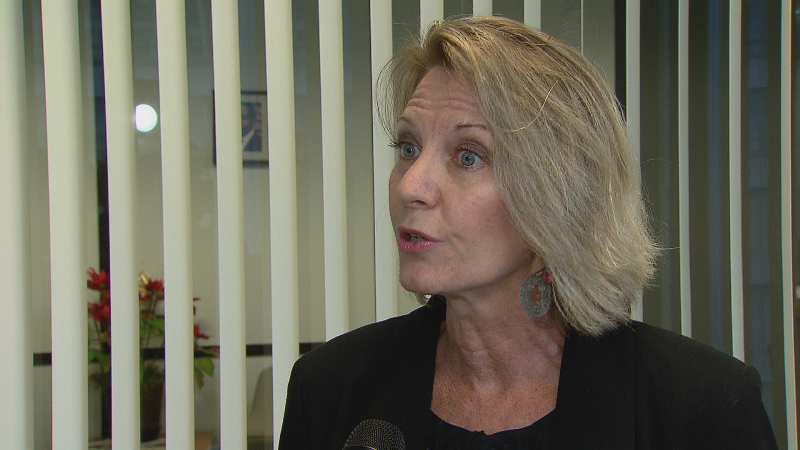 Amy Campanelli "We think the ban is too broad. It's just oversweeping, it doesn't take into account people need their phones, they need to communicate with their lawyers, with their family members. Perhaps, they're running late after court and they have to take care of their day care situation or a sick parent at home," Campanelli said.
"Everybody needs their phone. It's just too broad and it doesn't prevent things from happening. We have the sheriffs in the courtroom who keep order, and in the beginning of court when they open court, they tell everyone, 'you must put your phone away. You must turn your phone off. Do not take it out.' And that's what the sheriffs are for."   
A spokesperson for Chief Judge Tim Evans' office says that the cellphone ban in the courtroom was issued back in 2013 to protect witnesses, attorneys and judges from intimidation.
And they say the sheriff's office recently told them that its deputies still would not be able to prevent people from secretly recording video or audio if everyone were allowed to keep their phones.
Follow Brandis Friedman on Twitter: @BrandisFriedman
---