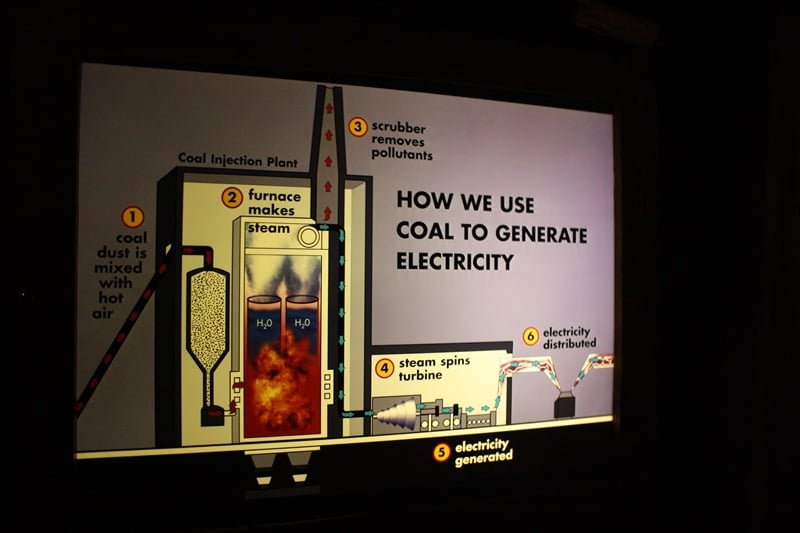 Detail of the Museum of Science and Industry's coal mine exhibit. (Chloe Riley)
"People get very emotional about coal," the vaguely Australian voice on the phone assures me. "Because it's the poster child for evil carbon."
That's Peter Bryant, who knows a thing or two about mining. And he's being facetious about the evil carbon.
Bryant leads the Kellogg Innovation Network (KIN) Catalyst, a program out of Northwestern University which makes recommendations for change and growth opportunities within the modern mining industry. We're having a chat about coal in part because of a sort of emotional reaction I had to the Museum of Science and Industry's coal mine ride – a childhood favorite which, upon a recent visit, seemed slightly behind in the factual department when it came to the current state of coal mining in Illinois.
The Land of Lincoln, if you didn't know, is one of the country's major coal-producing regions, along with states like Wyoming and Montana. But on a nationwide scale, coal's been hurting. In 2013, coal accounted for 39 percent of total U.S. electricity, down from around 50 percent throughout the mid-2000s. As fracking makes natural gas more cheaply available, one research report estimates that less than a third of U.S. power will come from burning coal by 2030.
Despite those numbers, Bryant says we're still stuck with coal for some time. But due to a growing negative perception, much of the research around coal mining is beginning to be cut.  
"Coal's definitely going to be with us another 20 or 30 years in significant levels, especially in places like Illinois where the coal's easily accessible, cheap to get at and has a low carbon footprint," Bryant continues. "So we've got ourselves in this perverse situation. We're going to have coal for a long time, but we've destroyed all the value and motivation and the available funding for research."  
Illinois, too, has seen major funding slashed for clean coal initiatives this past year. But I didn't learn that at the Museum of Science and Industry's coal mine exhibit, where negatives around mining, both from an environmental and economic standpoint, seem to be omitted.
CLEAN COAL
As a kid, the Museum of Science and Industry's coal mine was a welcome field trip distraction – a chance to travel into a deep dark place and cruise on something more akin to a Disney World ride than an educational tool. I loved the heck out of it.
However, a more recent visit left me perplexed. The ride's still just the same – the Davy lamp test with the controlled explosion, the pretend drop 600 feet down, the shadowy tram ride – but the after part seemed off. As always, the ride finishes in a room with equipment that looks like it's from the early '90s – all boxy computers and yellowing maps. Various plaques praise the benefits of coal and how its by-products can be manufactured into housing materials and cement.
But it was the wall of information about "clean coal" where I started to have trouble. Added in 1997, the wall periodically gets updated with newer, more relevant information, but during my tour, it referred to an organization called the Illinois Clean Coal Institute, an arm of the state which provides funding and research opportunities to universities and private companies looking to develop clean coal technologies.
There's just one problem. The Illinois Clean Coal Institute doesn't exist anymore. The $10 million program, largely run by a branch of Southern Illinois University, was shut down by the state last year.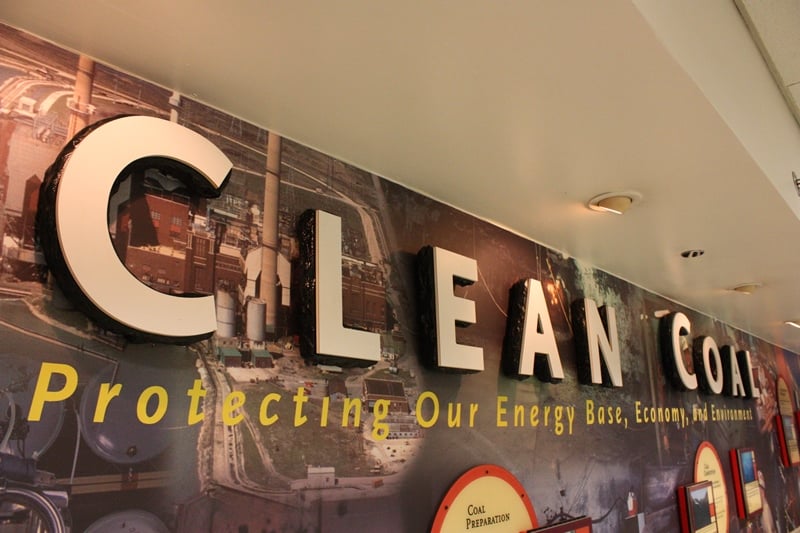 Detail of the Museum of Science and Industry's coal mine exhibit. (Chloe Riley)
So, I've got two questions at this point. One: Was the state right in defunding the institute? Is coal just so obviously not the way of the future? And two: Why doesn't the coal mine ride mention this development? This is, after all, the Museum of Science and Industry we're talking about here. Isn't the museum obliged to provide schoolchildren (and thrill-seeking adults like myself) the most accurate and up-to-date information possible?
COAL IN ILLINOIS
Let's start with the decision to close that institute, which had previously received state funding for some 34 years. According to Jim Garvey, former head of the Illinois Clean Coal Institute, it was a poor choice which has affected both research and actual patentable technologies that were being developed around clean coal usage.  
"A lot of these things that have direct economic value to the state have been pretty much put into suspension and might be lost forever. It's a crying shame to see that it had to stop so abruptly," Garvey says.
Garvey says it's his understanding that the state dropped the institute due to uncertainty about the future of coal in Illinois.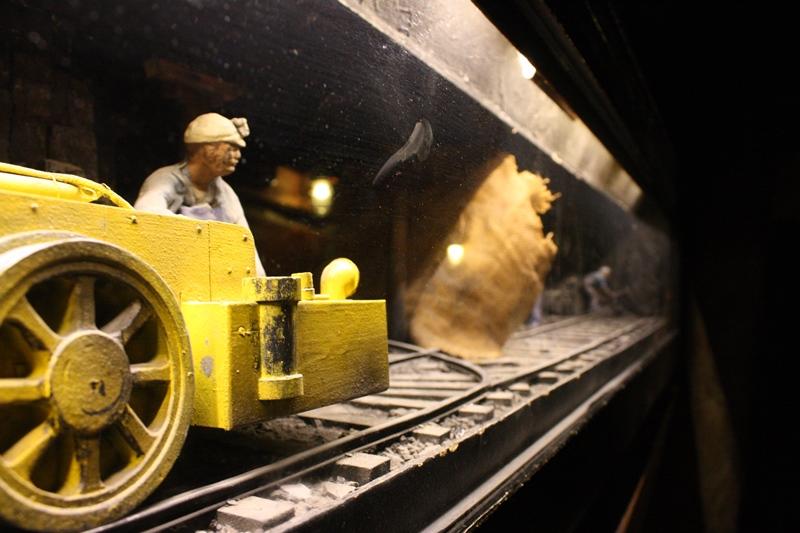 Detail of the Museum of Science and Industry's coal mine exhibit. (Chloe Riley)
Catherine Kelly, a spokeswoman for Gov. Bruce Rauner's office, said the decision was made as part of the solution to solving the unbalanced budget of the previous fiscal year.
But it isn't just the state pulling away from clean coal efforts. Last February, the federal government pulled funding on FutureGen, a $1 billion plan to renovate a coal-fired power plant in central Illinois that had been in the works since 2003. More recently, President Barack Obama announced a temporary halt to new coal mining leases on public lands. In August 2015, the U.S. Environmental Protection Agency rolled out its Clean Power Plan, which for Illinois means coal power plants will have to significantly reduce their carbon dioxide footprint.  
"There's been some argument that [the Clean Power Plan] is designed to put coal plants out of business," says Peter Bryant. "Because it's very hard to achieve those rates even within the current technology."
THE COAL MINE RIDE: PAST AND FUTURE
The Museum of Science and Industry's coal mine exhibit opened during a time far removed from power plants.
At its core, the mine ride is really a replica – one man's attempt to mirror a museum he perceived as being top of its class. When Museum of Science and Industry founder Julius Rosenwald first visited Munich's Deutsches Museum in 1911, the museum's coal mine exhibit was considered pioneering at the time. Years later, when Rosenwald opened the MSI in 1933, his was the first museum in North America to have interactive exhibits like the coal mine, which was based on an actual shuttered mine in southern Illinois.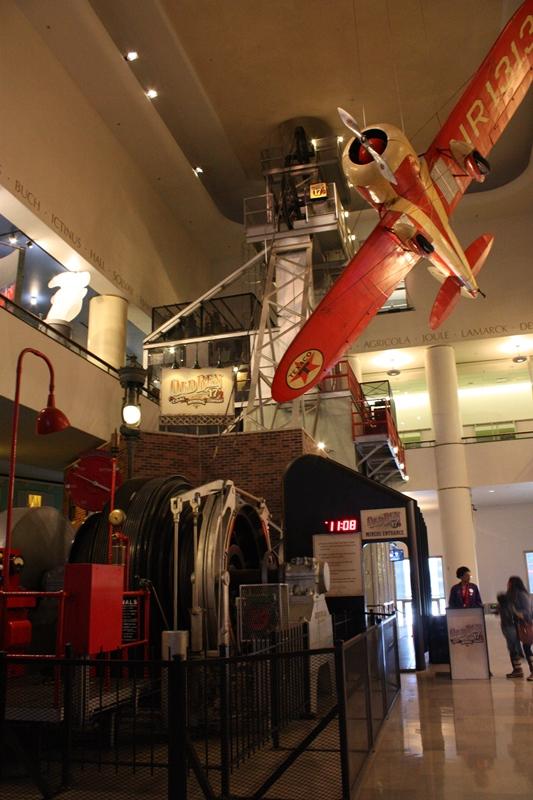 The coal mine ride at the Museum of Science and Industry. (Chloe Riley)
For quite a period, authenticity was the order of the day for the coal mine ride. Throughout the 1970s, former miners gave the tour – an experience which involved plenty of hijinks, according to interviews by the Chicago Tribune. And, if you can believe it, the mine had real coal in it up until 1997 when the last of the stuff was finally removed due to the hazard caused by its extreme flammability.
That same year, the ride got a face-lift, with new machinery and a heightened awareness that the current science of coal mining – not just its nostalgia and history – should also play a role in the ride's function. The clean coal wall was also added, bringing with it a dynamic element focused on modern mining practices.
That $1 million renovation, which included the ride's newer coal mining equipment, was funded by the Marmon Group, a company founded by Jay and Robert Pritzker which manufactures coal mining equipment, among other things.
The group's funding of the upgrade doesn't amount to a conflict of interest, according to Kathleen McCarthy, the Museum of Science and Industry's head curator and director of collections. She says it's common for the museum to partner with private industry in order to provide the most relevant information.
As to the discrepancies in the coal mine exhibit, McCarthy says the museum was aware of the dated information about the Illinois Clean Coal Institute, but was unable to change it due to the business of the holiday season. She said the wall will soon be updated accurately, including potential information about the environmental hazards of coal mining, which the exhibit currently lacks.   
"Technology is continually changing and the change is only getting more rapid," McCarthy says. "So it's sort of built into our DNA to monitor that, watch that and then make sure that we keep in sync."
According to McCarthy, adding new information to an older exhibit like the coal mine is difficult – physical panels must be taken down and replaced, mechanics must be brought in for repairs. Which is in part why the museum's shifted to more virtual experiences, like aspects of the permanent exhibit Future Energy, added in 2013. There, guests interact with parts of exhibit as they would a video game. Which, unlike a coal mine, can be easily reprogrammed, updated.  
So we have some answers. Similar to coal mining in Illinois, the museum's coal mine ride is a kind of relic, stuck to a certain degree within the limitations of its nature. If you venture over anytime soon, channel the kid inside you. Have fun in the dark, but don't forget the light either.
Follow Chloe Riley on Twitter: @chloeriley84
---