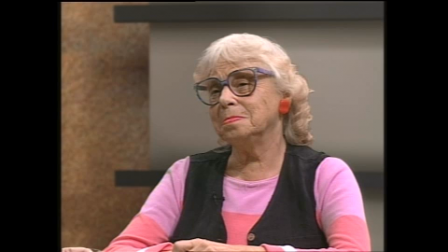 Lois Weisberg on Chicago Stories in 2000.
Chicago's former Cultural Affairs commissioner Lois Weisberg, who resigned from that post just five years ago in the midst of departmental budget cuts and disagreements, has died at the age of 90.
Weisberg, the longest-serving cabinet member of former Mayor Richard M. Daley, spearheaded that mayor's Department of Cultural Affairs in 1989. She died Wednesday night in Palmetto Bay, Florida, where she had been living near family, according to reporting from the Chicago Tribune.
Under Daley's tenure, Weisberg carved out a memorable arts niche in the city. She was responsible for Cows on Parade, a playful public art display of 300 decorated fiberglass cows that stood throughout the downtown area. She touted the ongoing World Music Festival and SummerDance series. In the 1970s, she founded the organization Friends of the Parks and also led a campaign to save the Chicago South Shore and South Bend Railroad. Alongside Maggie Daley, she created Block 37, an art program for students which ultimately evolved into After School Matters in 2000.  
Both she and Daley ended up leaving their posts in 2011, with Weisberg citing her disapproval of the former mayor's decision to merge her department with the Mayor's Office of Special Events. At the time, Weisberg told music critic Jim DeRogatis, "I resigned because I felt that they had overlooked me. They merged these departments, and I didn't approve of it. Once they merged the two departments and put me in charge of everything, they still didn't ask me anything or tell me anything."
In Malcolm Gladwell's 1999 New Yorker profile of Weisberg, he wrote, "Lois is a type — a particularly rare and extraordinary type, but a type nonetheless. She's the type of person who seems to know everybody, and this type can be found in every walk of life."
Mayor Rahm Emanuel offered the following statement of remembrance:
Lois Weisberg made it her mission to weave the arts and culture into the social fabric of the City of Chicago. As Chicago's Cultural Affairs Commissioner, Lois revolutionized the role that arts and culture can play in building a better Chicago. From our public spaces to programming for our youth, Lois brought art and culture into the lives of every Chicagoan. The Taste of Chicago, the Chicago Blues Festival, and the Gallery 37 job-training program are just some of the pieces of her large and lasting legacy. Amy and I extend our deepest sympathies to Lois's family and her countless friends during this difficult time. We give thanks for her extraordinary service to the City of Chicago."
---
'Chicago Stories'
Lois Weisberg was featured on an episode of WTTW's "Chicago Stories" in 2000. 
A description of the show reads: In this episode of "Chicago Stories," our cameras follow Lois on a day at the office. Then John Callaway goes one-on-one with Lois, exploring everything from her childhood in Chicago's Austin neighborhood to her current role as Chicago's "Queen of Culture."
Watch the full episode, below.
---