The Chicago Bears will not make the playoffs this season and are guaranteed a losing record.
That's the grim reality of their 21-point loss to the Vikings at TCF Bank Stadium on Sunday. The ugliness happened early and often throughout the afternoon.
Matt Forte's 35-yard run on the first play from scrimmage was negated by a holding penalty on rookie center Hroniss Grasu. The Bears next two possessions ended in sacks. Jay Cutler connected with Alshon Jeffery for his only catch of the game with about six minutes remaining in the first half, a 10-yard touchdown reception that cut the Vikings lead to 10-7.

"I'll say right now, you will find out what we have in the locker room, who's going to fight and who's going to try to finish this out the right way these next two games."
–Jay Cutler
---
The opening possession of the second half brought more unpleasantness. Vikings defensive end Brian Robison beat right tackle Kyle Long to the outside, sacked Cutler, stripped the ball, and recovered the fumble. Minutes later the Vikings were in the end zone again. Cutler provided a fourth quarter lowlight when he threw his eighth interception of the season, leading to another Vikings touchdown three plays later.
Running back Matt Forte added a four-yard touchdown catch, but it was too little too late, as the Bears fell to 5-9 and Minnesota improved to 10-4 in the NFC North.
The Bears have two games remaining. Next Sunday they're on the road against the Tampa Bay Buccaneers (6-8), led by former Bears head coach Lovie Smith.
---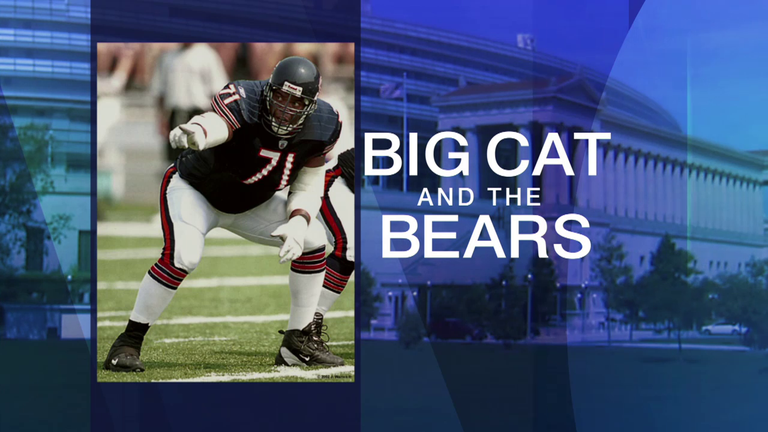 Join us every Monday on "Chicago Tonight," as former Bear James "Big Cat" Williams joins Ann Kreiter to give us his take on the game.
---
Notable quotes:
Head Coach John Fox
Are there any one or two things that have happened this month that you think have changed since you guys played so well against Green Bay, and have not been the same team since?
"No, I just think that we have not improved. We have had some injuries. Today's game was unusual. Then we fell behind and had to throw it a little more than in prior games to stay in the game. I think we gave up more sacks than we had as well. We were -2 in turnover ratio, we were not very good in red area defense, and our third down defense continues to struggle as it has all year long. I think matchup situations hurt us but we are going to be marching forward, and we will find guys that will be part of our core."
What did you like about the surprise onside kick?
"It was well executed. I thought our special teams all in all did well. Robbie Gould had a 51-yarder and I thought that was a plus, and obviously the execution of that surprise onside kick in the third quarter. There were bright spots but not enough of them."
Quarterback Jay Cutler
What got you guys so out of rhythm today?
"Same stuff as most of the year, big call with a big run. Interception with a big sack; our protection was a little shaky today. Some more penalties. It doesn't matter who we played today, we weren't going to win with our offensive football."
Thanksgiving night, you get the big win and it seems like you're right in the middle of things, what's the mentality after these last three weeks as it's slipped away?
"It's tough. I know the locker room is down, but like Coach said, and I'll say right now, you will find out what we have in the locker room, who's going to fight and who's going to try to finish this out the right way these next two games."
Running Back Matt Forte
After the penalties and negative plays began piling up, what was the mentality inside the huddle? Was it frustration, were you guys able to push forward?
"It's frustrating, but we don't let it get to us. As you can see, we went out there a put a few drives together. At the end, we were still trying to go down there and score and that's the mentality that we have, but we ran out of time. It kills your drives and momentum. These last three or four weeks we've had way too many of them [penalties]. It's taking a toll on us, you can tell. We'll have a big drive or play going and then it gets called back. If we negate that, it's a whole different ballgame."
Notable stats:
• Linebacker Willie Young dropped Vikings quarterback Teddy Bridgewater for a 10-yard loss, his fifth straight game with a sack. Young joins Brian Urlacher (2000) and Steve McMichael (1983 and 1991) as the only Bears players to record a sack in five straight games in a single-season since sacks first started being officially recorded by the NFL in 1982.
• Jay Cutler threw two touchdown passes against the Vikings. His first touchdown in the contest, a 10-yarder to receiver Alshon Jeffery was the 200th of Cutler's NFL career. He's the 39th player in NFL history to reach 200 career passing touchdowns.
• Kick returner Deonte Thompson had 153 yards on five kickoff returns (30.6 ypr). Thompson now has 352 yards on 11 kickoff returns over the last five games for Chicago since being elevated to the active roster on Nov. 10. Thompson's 32.0 kickoff return average is highest in the NFL this season among players with at least 10 kickoff returns.
• The Bears started the second half by recovering an onside kick, as Sherrick McManis recovered the kick by Robbie Gould. It was the first onside kick by Robbie Gould recovered by Chicago since he joined the team in 2005.