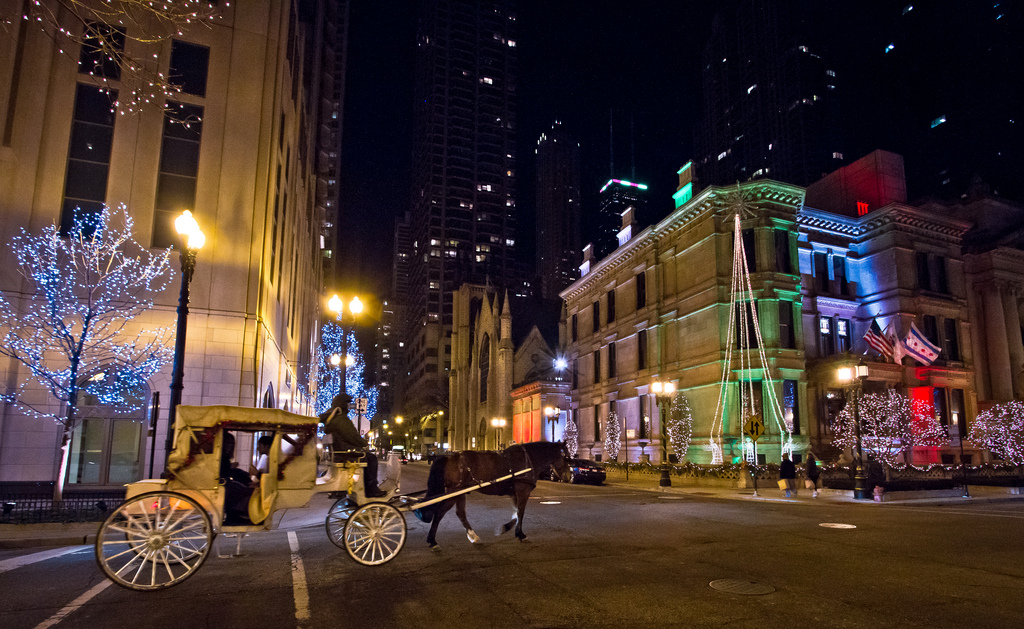 (Natasha Jelezkina / Flickr)
Ready or not, the most wonderful time of the year is here. "Chicago Tonight's" celebratory guide to the sights, sounds and tastes of the season will have you reveling in the spirit.
---
Nov. 27 – Jan. 3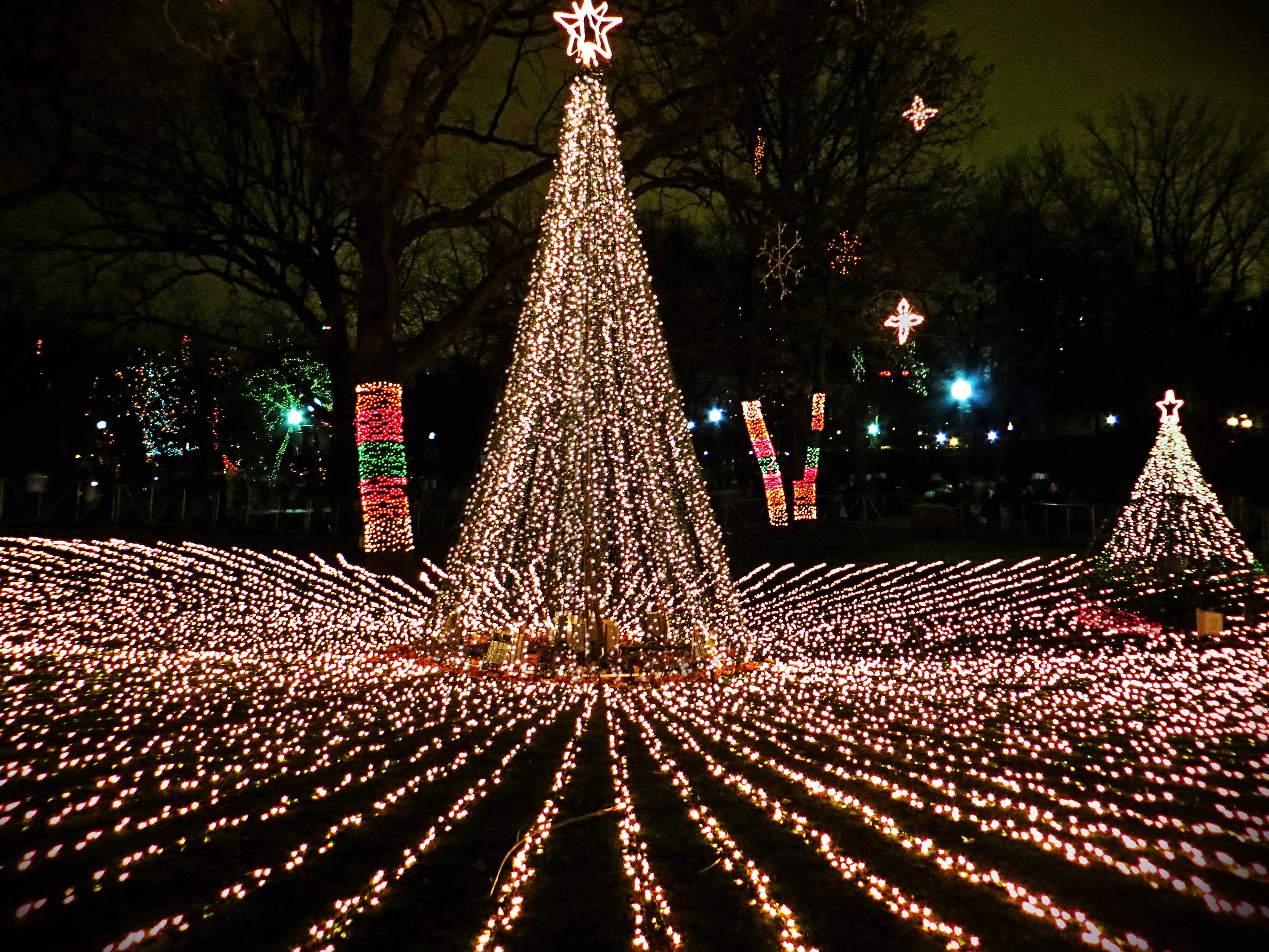 ZooLights
Lincoln Park Zoo, 2001 N. Clark St.
Celebrate the holidays with wildlife in the city and over 2 million lights at this annual holiday outing. Aside from the animals themselves, the event features 3-D luminous displays, musical light shows, ice carving, photos with Santa and plenty of other seasonal activities, including another opportunity for an outdoor skate.
Hours: The zoo lights up from 4:30-9 p.m. Friday-Sunday through Dec. 6; and daily from Dec. 11 through Jan. 3. Free.
---
Nov. 27 – Jan. 3

(Courtesy of Chicago Botanic Garden) Wonderland Express
Chicago Botanic Garden, 1000 Lake Cook Road, Glencoe
Gorgeous foliage, live entertainment, ice sculpting, caroling, indoor snow and thousands of lights highlight this annual celebration of the holidays and nature. Stop by the Model Railroad Garden to see over 80 detailed replicas of Chicago buildings and landmarks. New additions to the model this year include the Maggie Daley Skating Ribbon, Chicago "L" trains and famous corpse flowers Spike and Alice. Other special events include a Hanukkah concert Dec. 6 and a Christmas concert Dec. 12.
Hours: Open from 10 a.m.-5 p.m. through Dec. 17; and 10 a.m.-7 p.m. Dec. 18 through Jan. 3. Closed Christmas. For complete schedule and ticket information, click here.
---
Nov. 27 – March
Maggie Daley Skating Ribbon Opening
Maggie Daley Park, 337 E. Randolph St.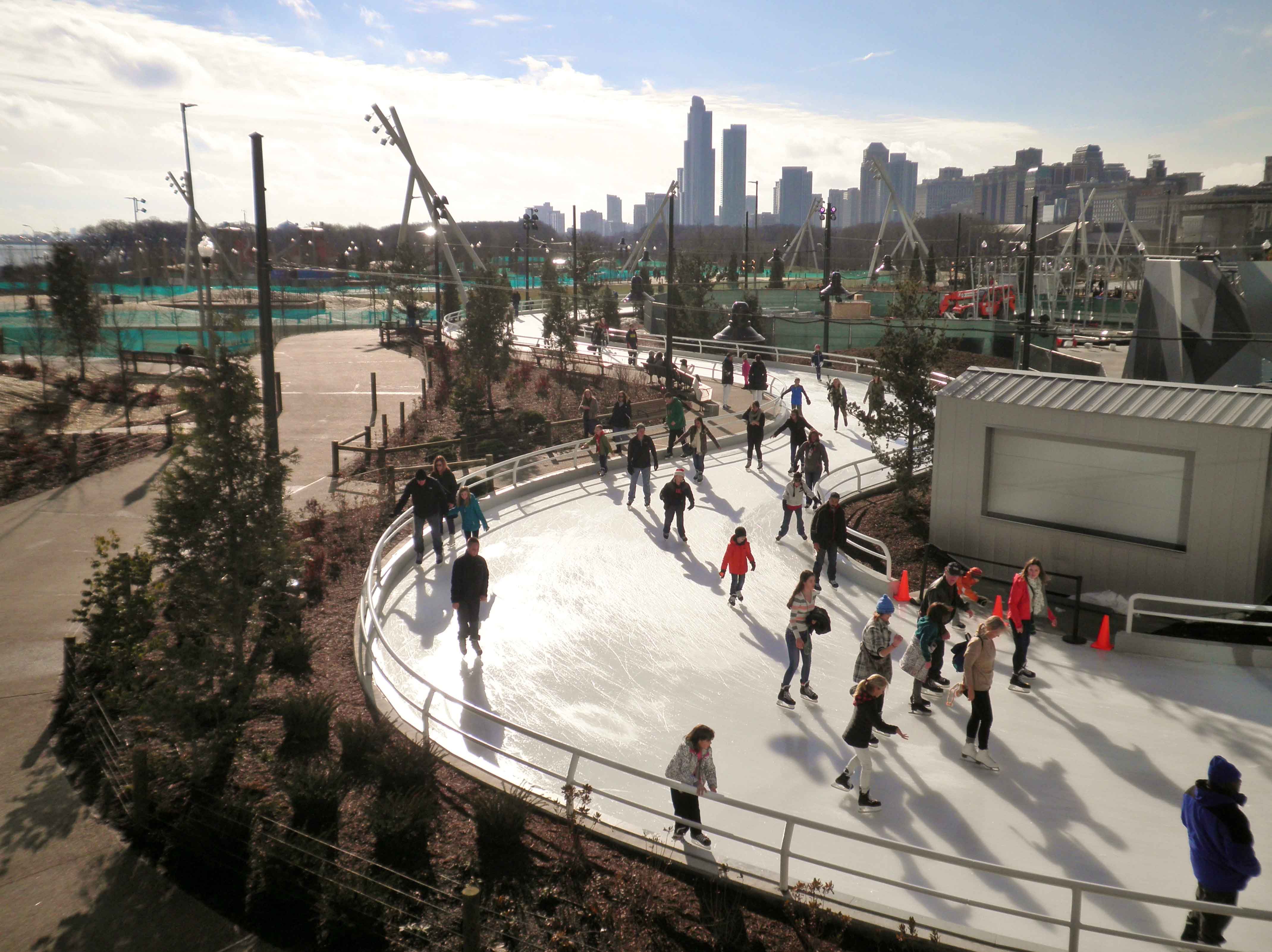 Now in its second year, the ribbon offers a new twist to the cardiovascular workout of ice skating as the path winds through rolling landscape with the Chicago skyline as its backdrop. Part ice rink, part racetrack, the ribbon dips and bobs with the ebb and flow of the city on this quarter-mile, 20-foot-wide course. Get out there.
Hours: Noon to 8 p.m. Monday through Thursday; noon-10 p.m. Fridays; 10 a.m.-10 p.m. Saturdays (open until 9 p.m. after Jan. 2); 10 a.m.-9 p.m. and Sundays. Admission is free, skate rentals are $12 and locker rentals are $2.
---
Dec 5 – Jan. 10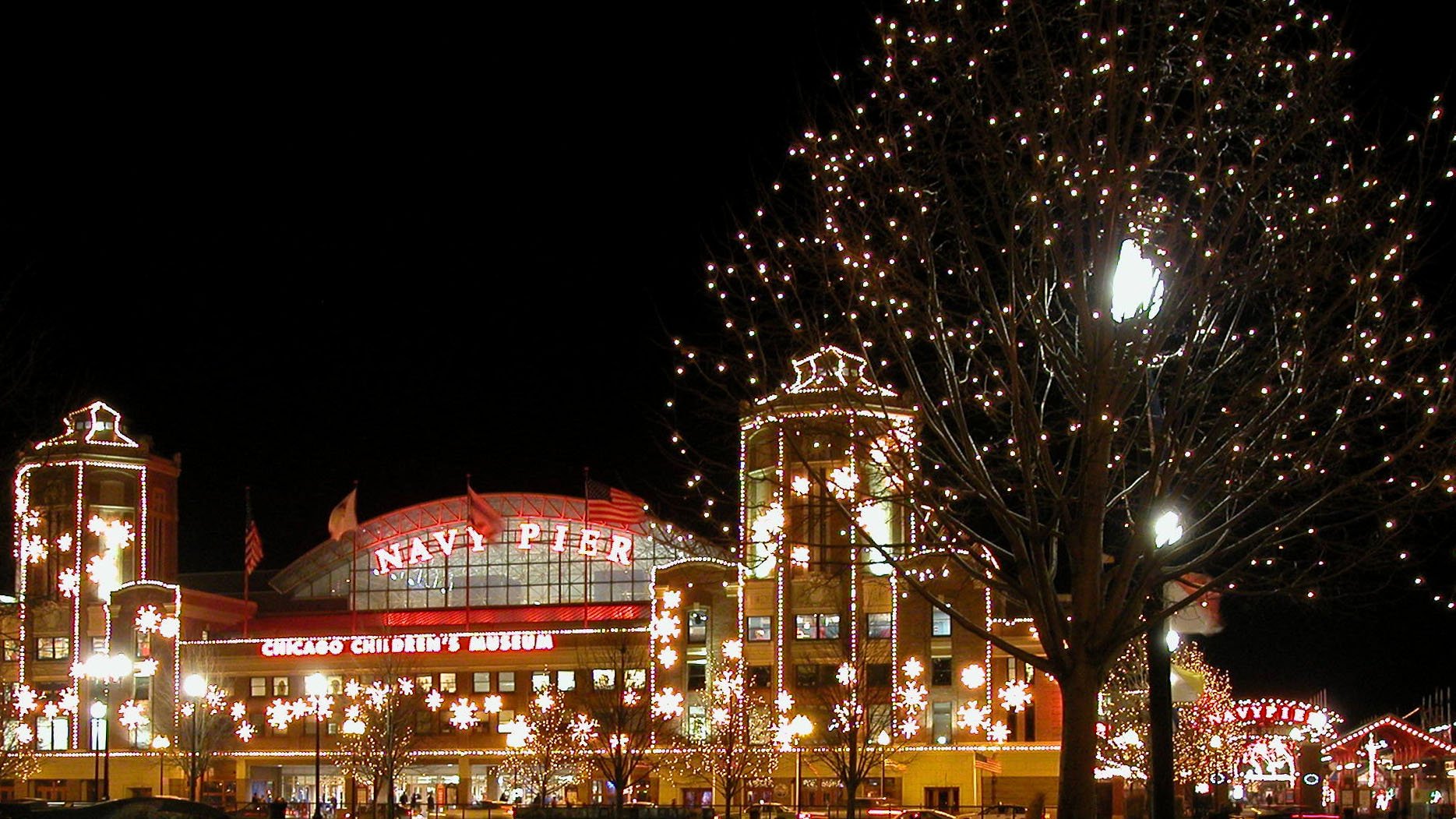 Winter Wonderfest
Navy Pier, 600 E. Grand Ave.
The annual family friendly indoor festival returns to Navy Pier for its 15th year with a Chicago Blackhawks ice skating rink and numerous attractions and rides, including a 50-foot-tall Ferris wheel. New in 2015: miniature golf, a toboggan tunnel and a "reindeer express train," "Kringle carousel" and more.
Hours: Open daily from 10 a.m.-8 p.m. Sunday through Thursday; 10 a.m.-10 p.m. Friday and Saturday, with special hours from 10 a.m.-5 p.m. Dec. 7 and 24, and Jan. 4-7. Closed Christmas Day. General admission costs $9-$10. Parking at Navy Pier is $20.
---
Dec. 5 – 31 (Select Dates)
Holiday Magic at Brookfield Zoo
3300 Golf Rd, Brookfield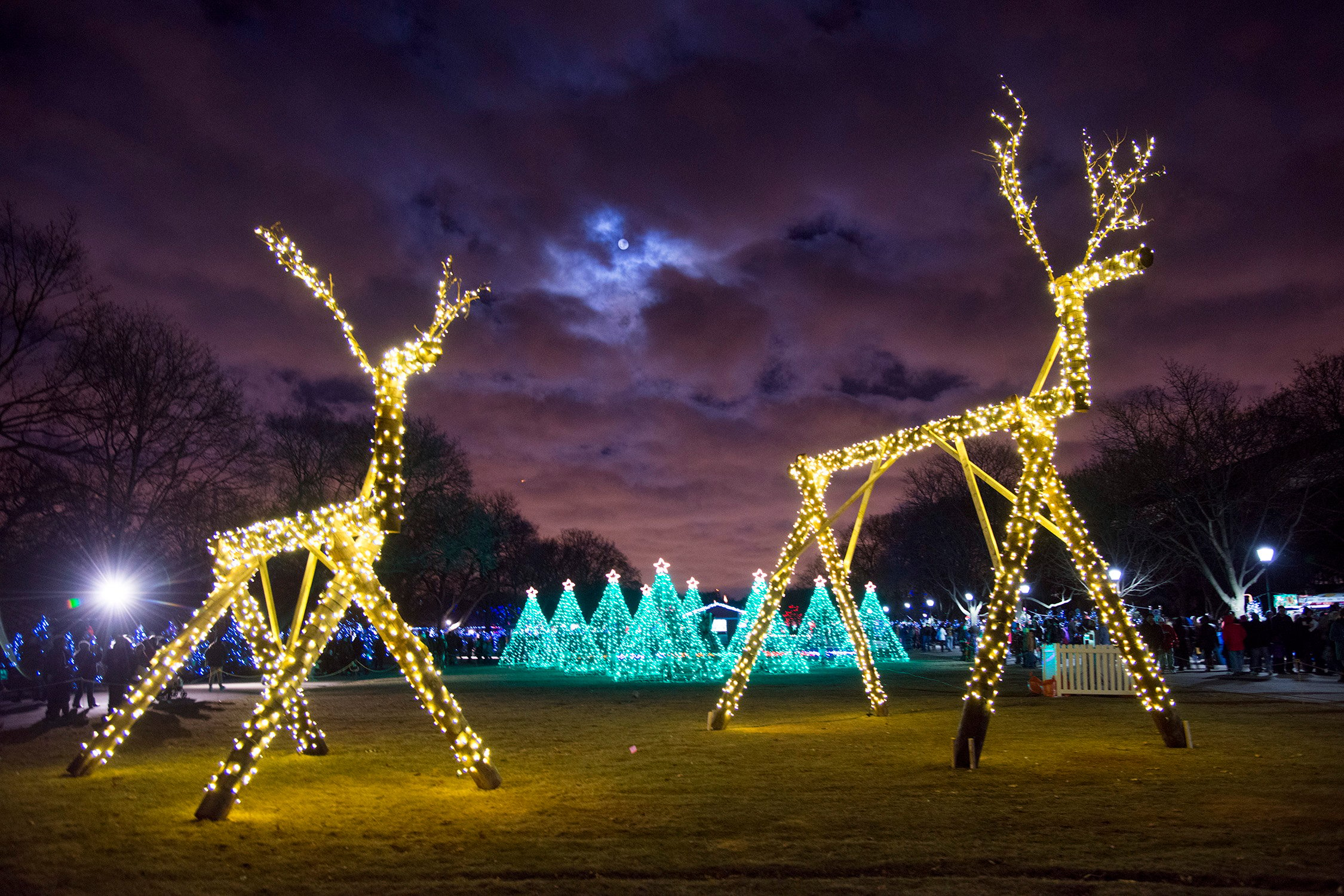 Billed as "Chicagoland's largest lights festival," this illuminated landscape features over one million twinkling LED lights lining the zoo's walkways, along with nearly 550 decorated trees and a new interactive display. Sing carols to the animals, catch ice-carving demonstrations and visit the Holly Jolly Theater for live entertainment from 5 to 9 p.m.
Hours: 10 a.m.-9 p.m. Saturdays and Sundays in December; 10 a.m.-9 p.m. Dec. 28-31 with festivities beginning at 4 p.m.
---
Continues through Jan. 4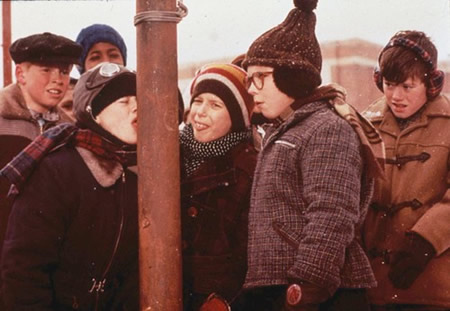 A Christmas Story Comes Home
W.F. Wellman Exhibit Hall at the Indiana Welcome Center, 7770 Corinne Drive, Hammond, Indiana
Writer Jean Shepherd's experiences growing up in Hammond, Indiana tell of adult and adolescent obstacles that Midwestern families can relate to. The classic film "A Christmas Story," which takes place in the fictional town of Hohman—named after one of Hammond's busiest downtown streets—helped put Northwest Indiana on the map. Now Hammond is returning the gesture with an exhibit that features six animated window displays depicting different scenes from the film, with names like "Flick's tongue and the triple dog dare," "Higbee's department store window" and "It's a major award."
Several film-themed special events are held along with the exhibit, including a mashed potato-eating contest (Dec. 19) and a weekly Wednesday event for pets, who can be photographed with jolly old St. Nick on top of Santa's Mountain for $6—$1 of every photo will be donated to local shelters. Located 30 miles south of downtown Chicago at the intersection of I-80/94 and Kennedy Avenue South.
Hours: Exhibit is open most days from 8 a.m.-5 p.m. Hours do fluctuate on some dates. For complete information on hours, click here.
---
Continues through Jan. 10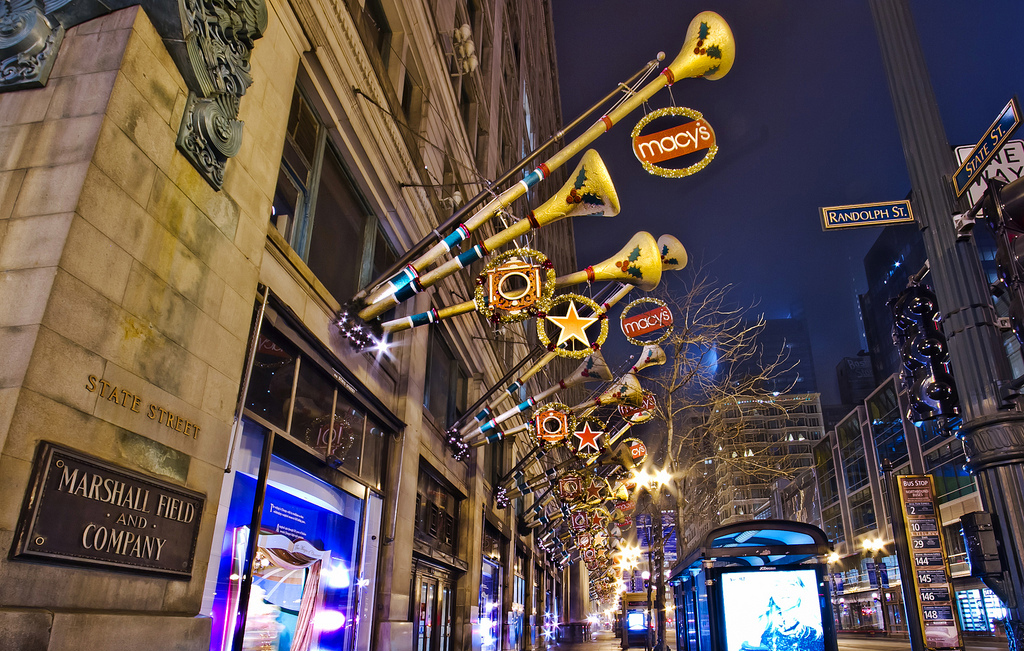 (Natasha Jelezkina / Flickr) Macy's Holiday Windows and Great Tree
111 N. State St.
Holiday dining and shopping traditions culminate at the former Marshall Field's department store. The 45-foot-tall great tree is on display in The Walnut Room restaurant on the store's 7th floor, continuing the tradition to 108 years. Can't get a reservation at the restaurant? The two-story tree, which is decorated with over 2,000 ornaments and 6,600 sparkling lights, is also visable from inside the store's 8th floor. Perhaps no holiday season would be complete in Chicago without checking out Macy's holiday window displays. This year's display, titled "Santa's journey to the stars," tells the story of a boy's Christmas adventures across the galaxy after he receives the gift of a magical telescope.
Hours: Walnut Room hours do fluctuate. For complete information on hours, click here.
---
Continues through March 6
Ice Skating at the McCormick Tribune Ice Rink
McCormick Tribune Plaza, Millennium Park, 201 E. Randolph St.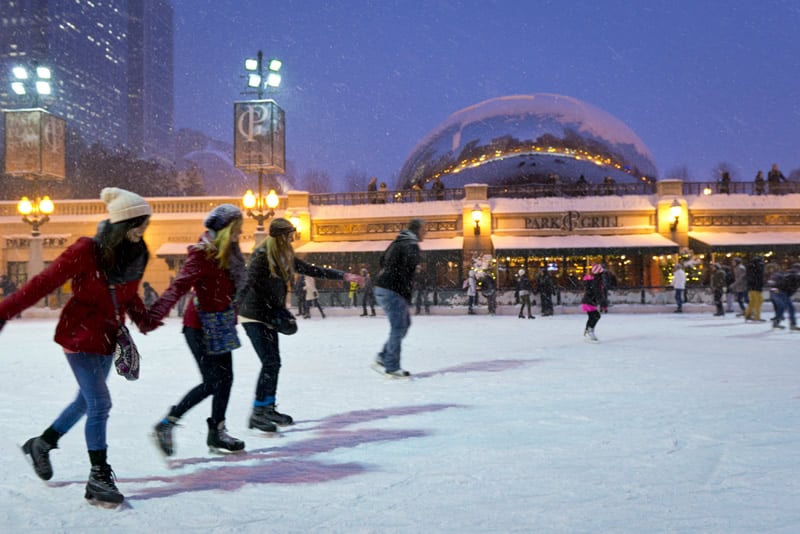 (Courtesy of Chicago Department of Cultural Affairs and Special Events)
Lace up and hit the ice as the city kicks off the winter season at this 15,910-square-foot outdoor rink. Warm up with hot chocolate and snacks from the Park Grill Café. Take advantage of free skating lessons one hour before the rink opens on Fridays, Saturdays and Sundays. With views of the Michigan Avenue skyline and a backdrop of the park, the rink has been drawing 100,000 skaters annually for the past 14 years.
Hours: Open noon-8 p.m. Monday through Thursday; noon-10 p.m. Fridays. Weekend hours do fluctuate. For complete information on hours, click here. Weather permitting. Admission is free, skate rentals cost $12.
---
Continues through Jan. 3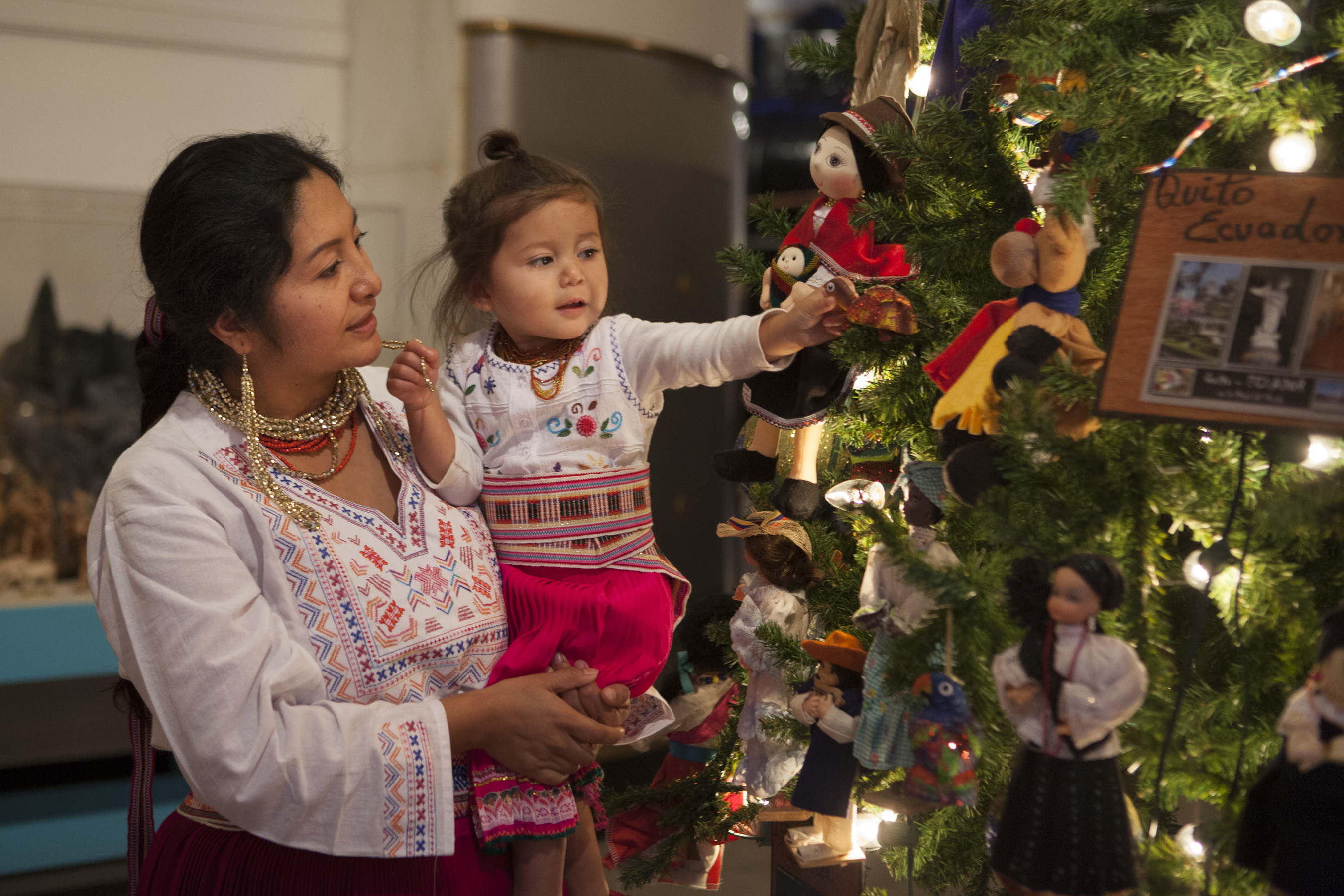 Volunteers, dressed in traditional Ecuadorian clothing, decorate the tree of Ecuador. (J.B. Spector, Museum of Science and Industry) Christmas Around the World and Holidays of Light
Museum of Science of Industry, 5700 S. Lake Shore Drive
The museum showcases more than 50 trees, each uniquely decorated by volunteers from the city's ethnic communities to represent diverse cultures and worldwide holiday customs. The museum's 45-foot grand tree features 30,000 lights with artificial "snow" falling periodically throughout the day around the exhibit, which is tied into the theme of the museum's "Robot Revolution" exhibit. School choral groups perform on the holiday stage on the weekdays; ethnic song and dance performances take place on weekends.
Hours: Open daily from 9:30 a.m.-4 p.m. Closed Thanksgiving and Christmas. Exhibit is included with museum admission. For complete information on admission rates, click here.
---
Continues through Jan. 2
Illumination: Tree Lights at The Morton Arboretum
4100 Illinois Route 53, Lisle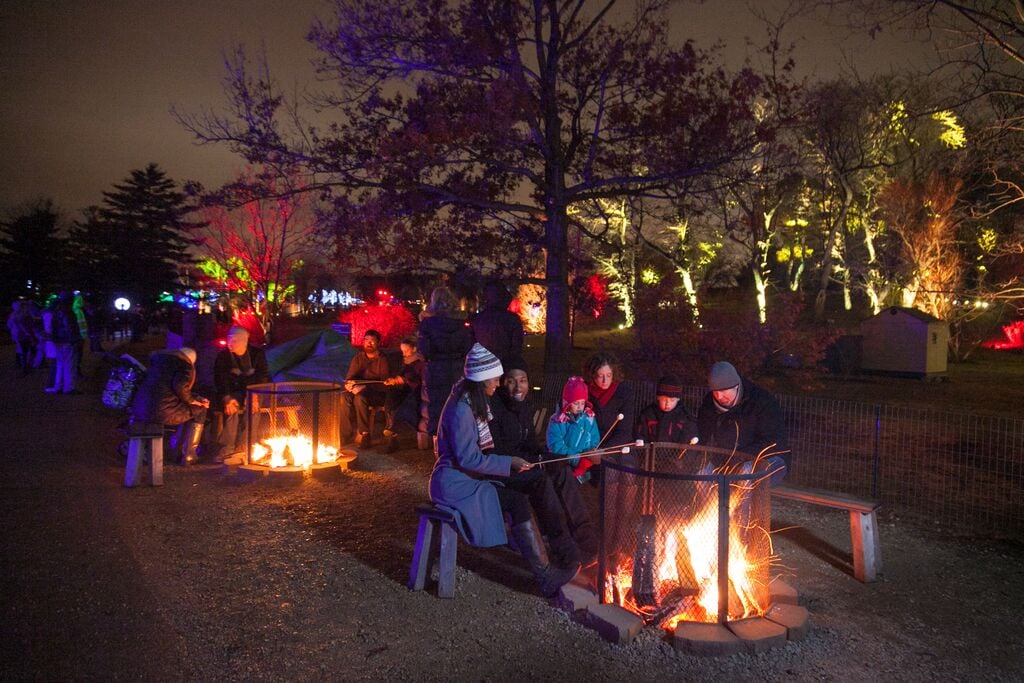 (Courtesy of The Morton Arboretum)
A one-mile interactive walk through this outdoor tree museum offers a fusion of nature with theatrical video displays, thousands of programmed LED lights and synchronized symphonic music recorded by the Chicago Symphony Orchestra—all incorporated into the landscape. Interact with trees that respond to voice or touch and stroll through the "Crystal Promenade," where 24 chandeliers light your way through the forest. Warming stations are available and live entertainment completes the experience.
Hours: Open daily from 5-9:30 p.m.; last entry at 8:30 p.m. Schedule and ticket prices vary, for complete information, click here.
---
More fun holiday event roundups from 'Chicago Tonight'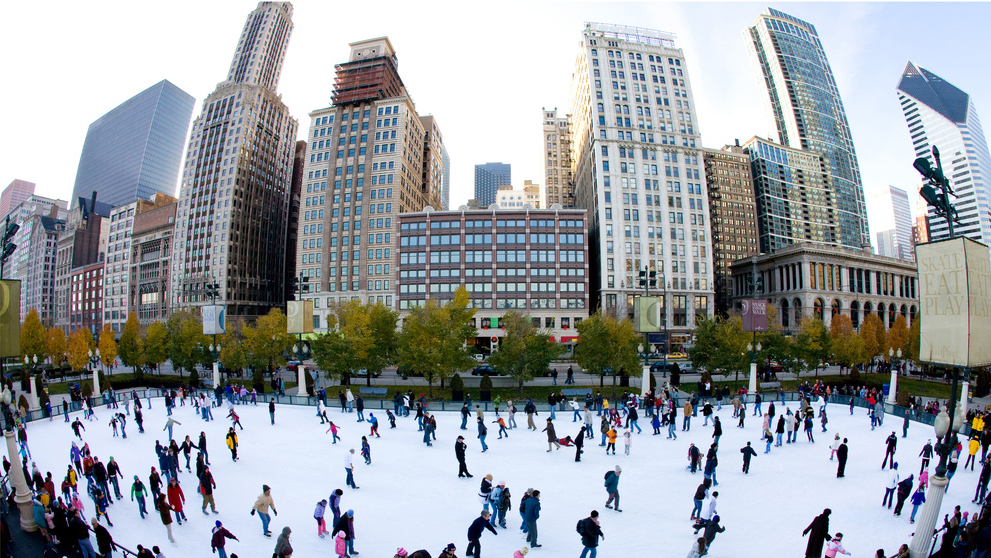 Ice Skating in Chicago: Outdoor Rinks Serve Up Frozen Fun
Get the scoop on where to lace up your skates this season.
---