The St. Louis Rams scored easily on their opening drive, but the Bears defense recovered quickly to deliver it's best performance of the season. Rams star rookie running back Todd Gurley averaged just 3.8 yards per carry, well below his 5.6 average. Offensively, the Bears continue to thrive under new head coach John Fox and offensive coordinator Adam Gase. Quarterback Jay Cutler had a career day, completing 19 of 24 passes for 258 yards, three touchdowns and no interceptions. His passer rating of 151.0 was his best ever, and the second highest quarterback rating by a Bears quarterback since at least 1960. 
For the second straight game, Cutler connected with tight end Zach Miller for a spectacular 87-yard touchdown reception to tie the score at 7-7. Miller added a 2-yard touchdown in the second quarter. 

"I was looking up at the Jumbotron and I saw them closing in and I gave them one swerve over to the right and I was lucky to get to the end zone."
–Zach Miller
---
Rookie running back Jeremy Langford, subbing again for the injured Matt Forte, was the workhorse of the offense. He racked up 182 yards from scrimmage, and his performance earned him this glittery statistic: Langford is just the third player in Bears history with 100 receiving yards, one rushing touchdown and one receiving touchdown in a single game. Langford shares that statistic with Pro Football Hall of Famers Walter Payton and Gale Sayers.  
The Bears (4-5) return home to Soldier Field to take on the Denver Broncos (7-2) at noon on Sunday. 
---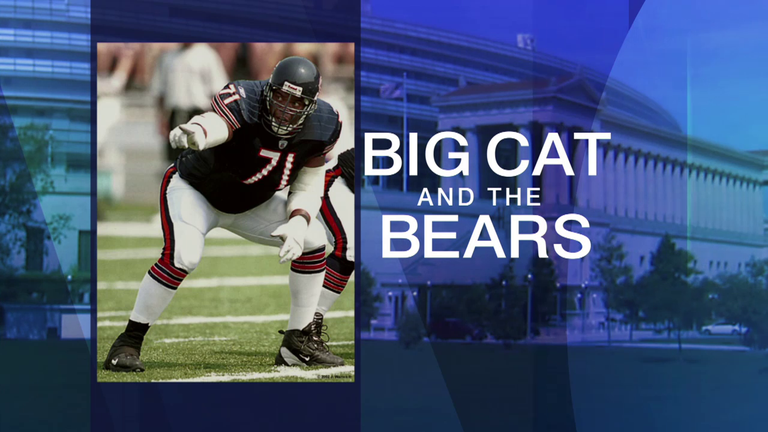 Join us every Monday on "Chicago Tonight," as former Bear James "Big Cat" Williams joins Ann Kreiter to give us his take on the game.
---
Notable Quotes
Head Coach John Fox
On the progress of Zach Miller: "He is a guy we saw a little bit of film on a year ago in camp and early in the season he had an injury. We liked what we saw and we liked his makeup and we had coaches that knew of him or people who spoke with him. He fits our mold and he just needed to stay healthy and he has. He has been a big, good producer and I think he has earned his production as we go."
On if this is the best game Jay Cutler has played: "Without watching the tape it is pretty hard. I really liked one of his audibles on a third down play. He continues to kind of amaze me with what we are doing and how hard he works out. Obviously, we are all evaluated by how we execute on Sunday. It is up there as one of our better games as a team."
Quarterback Jay Cutler 
On how  he felt offensive coordinator Adam Gase was able to control the game: "We knew coming in that this was an unbelievable defense. Their pass rush, two cornerbacks, safeties coming down to fill in the holes. You try to just control the game with some formation stuff, try to get the ball out quick. We knew we were going to need to run the ball consistently and efficiently to be able to compete with these guys. We just got some big plays. Guys on the outside were making some plays. The offensive line blocking the front and blocking downfield made my life easy."
On if he was surprised Miller was able to get past the secondary on the 87-yard touchdown: "I think that's the surprising part of it. There wasn't anything to it. It was a quick out, we run it all the time. He busted it back inside, broke a tackle, and outran '22' (Trumaine Johnson), one of their starting corners. The guy had an angle on him and he made a good move and finished it. That's what we've been preaching more and more of. It's hard to go, especially a defense like that, 10 yards a clip, five yards a clip. It's hard to do that against this team. So to be able to rip off some big ones, some one-and-dones, it was nice."
Tight End Zach Miller
On his first touchdown: "After I made the initially guy miss, Alshon (Jeffrey) threw a great block and then once I got by him it was just – don't get caught. I was looking up at the Jumbotron and I saw them closing in and I gave them one swerve over to the right and I was lucky to get to the end zone."
On his second touchdown catch: "The second one was just a great call. We installed it during the week.  It's a simple pop pass, sell run, where we chip the defensive end and hopefully get linebackers or safeties to come up like on the run and then get behind the defense. Initially, I thought it was going to be dead in the water because of the way they lined up. And then we snapped the ball and the defensive end really didn't play anywhere. I was expecting him to shoot the gap on the goal line and he really didn't do what I thought he was going to do. So it was just a matter of getting off of him and finding a space in the back of the end zone."
Notable Stats:
Quarterback Jay Cutler connected with Zach Miller for an 87-yard touchdown and Jeremy Langford for an 83-yard touchdown. It is the first time in Bears history that a quarterback has thrown two touchdown passes of 80 or more yards in a single game.
 Running back Jeremy Langford had seven receptions for 109 yards and one touchdown catch, the most by a Bears rookie running back in franchise history.
Linebacker Willie Young recorded his first career interception, picking off Rams quarterback Nick Foles and returning it 39 yards.