Few architects working today have achieved the notoriety of Frank Gehry. He's designed buildings in his inventive, sculptural style in Paris, Bilbao, Los Angeles and here in Chicago's Millennium Park. Despite his worldwide notoriety, the new book "Building Art: The Life and Work of Frank Gehry" is the first major biography to look at Gehry's long life, complicated personality and singular approach to architecture.
Joining us is the author Paul Goldberger. He's a Pulitzer prize-winning architecture critic and a contributing editor at Vanity Fair. He previously worked for The New Yorker and The New York Times.

Young Frank Gehry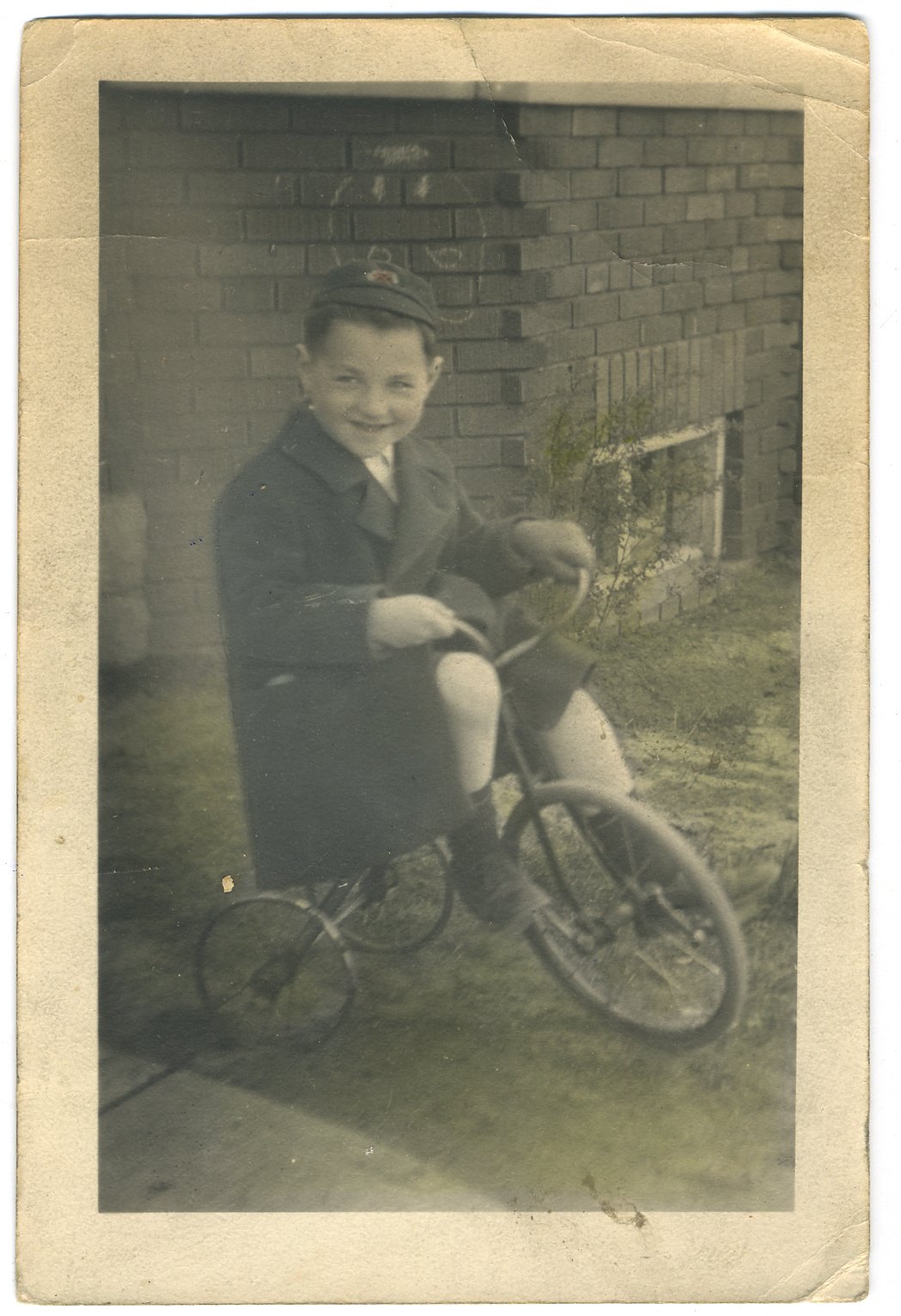 (Gehry Partners LLC) "He had a very, very difficult childhood and a father who he loved, but who was a difficult, proud and unsuccessful man who failed at many, many careers, and took out a lot of his resentment on Frank, kept telling him he was just a dreamer, he would never really amount to anything in a practical way," said Goldberger.
"There was a practice among Jews in a certain generation, of a certain time–Eastern European Jews–not just in Toronto but in a lot of places. They would buy a fresh fish and have it swim around in the bathtub for a day or so, and then kill it and turn it into what was called gefilte fish.
"He would accompany her to the market and buy this fish, and then watch it when he was a little boy, swimming in the bathtub, and be fascinated by it. The fish became an image in his mind that actually really persisted all through his life and is one of his favorite forms. He's used it and replicated it in many many ways: lamps, even buildings, sculptures and so forth."
---
Dutch Colonial house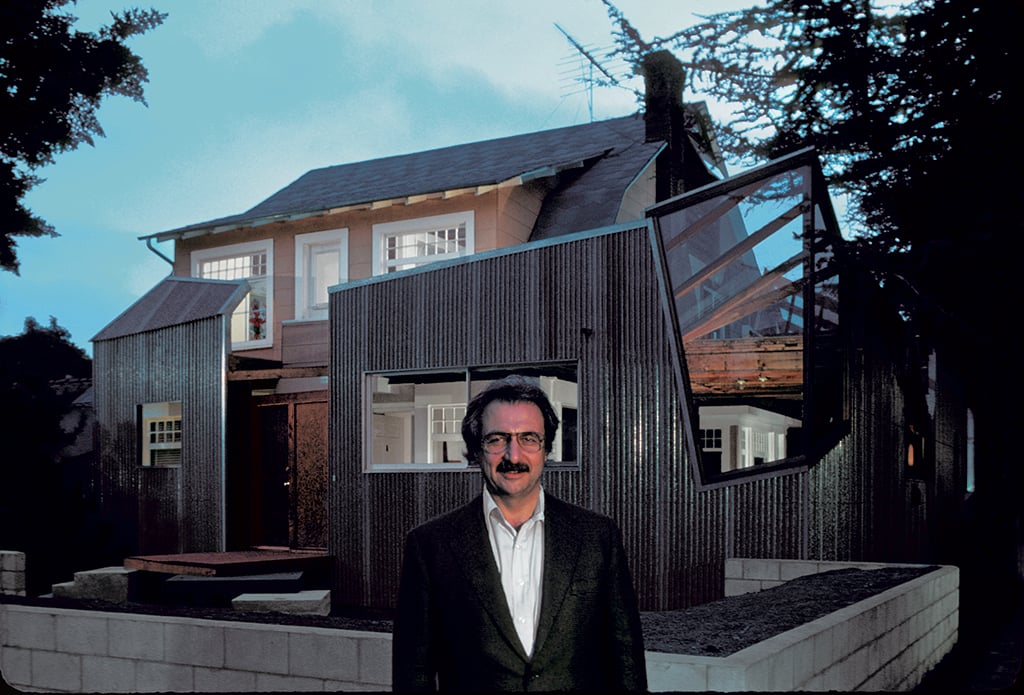 Frank Gehry stands in front of his newly completed house in Santa Monica, 1978. (Gehry Partners LLC)
"It's a wild house," Goldberger said of the house in Santa Monica. "It's a house he did in 1978 with his second wife. It's a fairly ordinary suburban Dutch Colonial house that he then started taking apart and doing crazy things with but didn't obscure completely. The house is almost like a struggle between the past and the present: You see the old house, you see his new style. He used a lot of very ordinary materials but in very different ways. He hung out in those days more with artists than architects. He loved the way the artists of Los Angeles used ordinary things and made collages out of them and different things. He really found that energizing and exciting and he turned it into architecture."
---
Walt Disney Concert Hall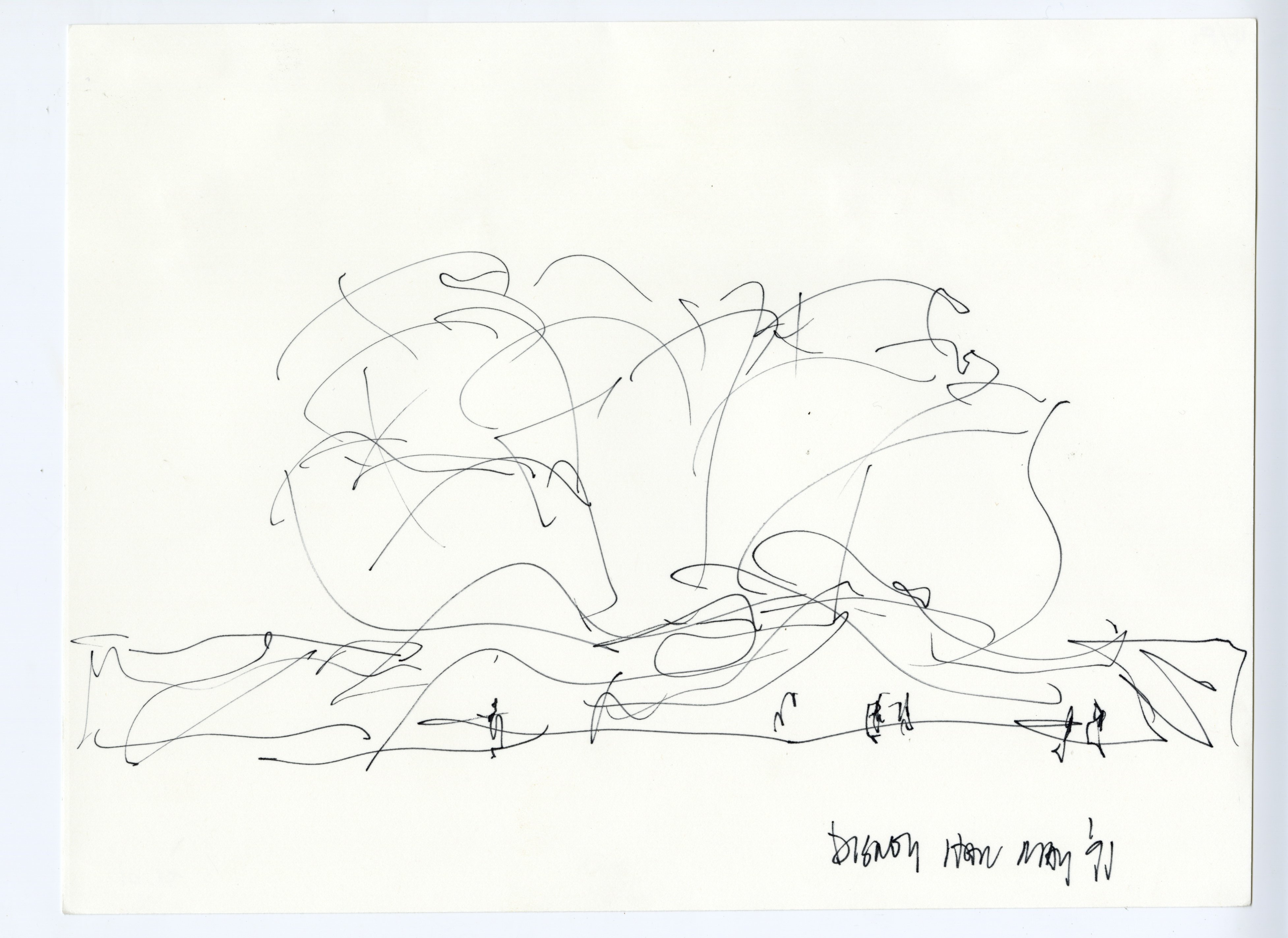 Sketch of the final design of the facade of Walt Disney Concert Hall. (Gehry Partners LLC)
"The Disney Concert Hall in Los Angeles started with a $50 million gift from Lillian Disney, Walt Disney's widow," Goldberger explained. "They were very grand, important people and they wanted a very grand, important architect. They held a small competition, but Frank Gehry, who was thought of at that point as kind of an outlier and a slightly crazy, cutting-edge guy who did weird things with plywood and chain link fencing and all that–not elegant and grand–nevertheless came up with a wonderful design. The committee that was charged with making a choice preferred him.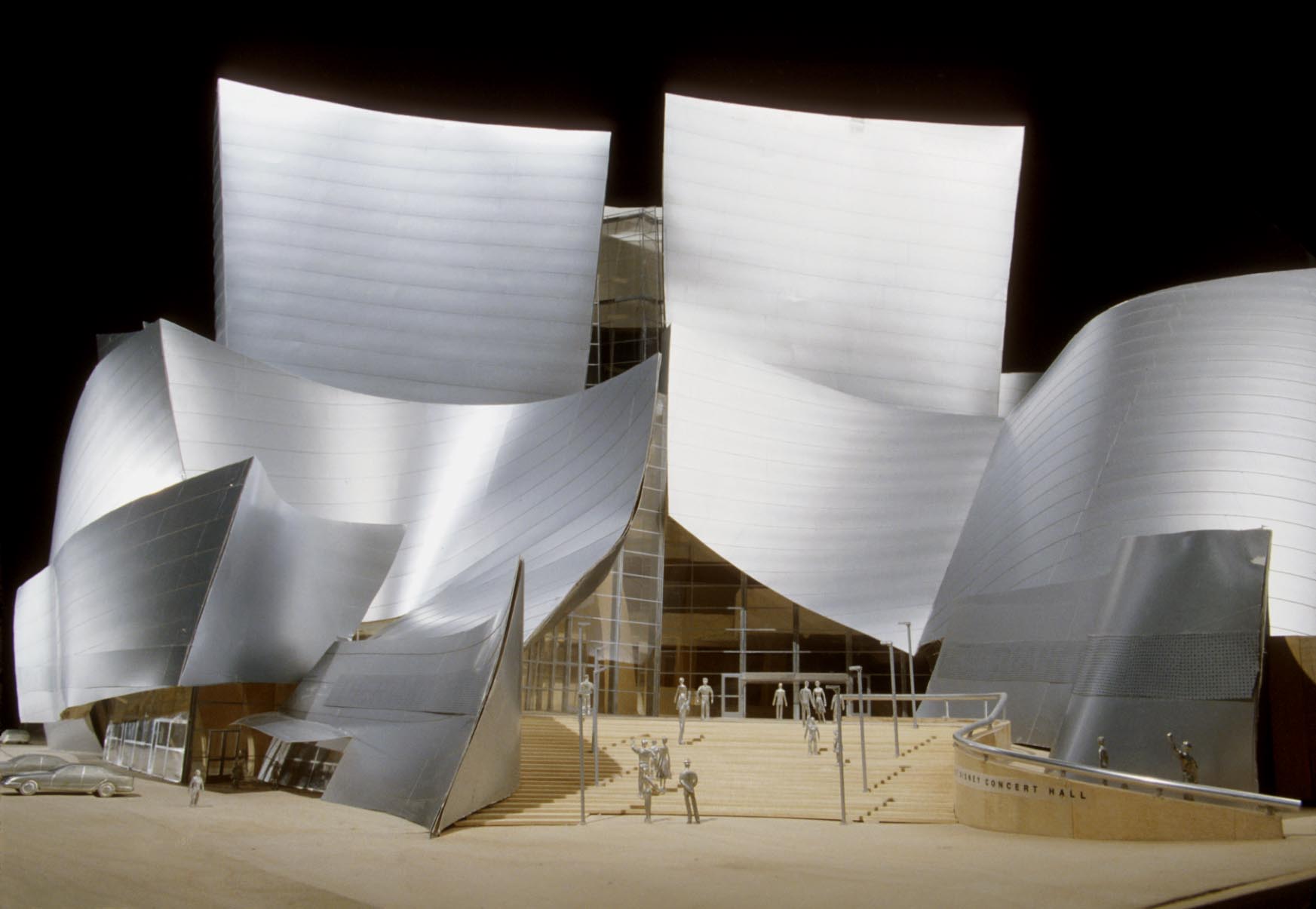 Final model of the main entry of Walt Disney Concert Hall. (Gehry Partners LLC)
---
"Chicago Tonight" correspondent Elizabeth Brackett interviewed Frank Gehry on Feb. 3, 2000. Watch the interview below.
More photos from Gehry's life and work.
Below, an excerpt from Goldberger's book.
1 Night of the Supermoon

The guest list for the party that Bruce Ratner, a New York City real estate developer, gave in the unfinished 72nd floor penthouse of his new apartment tower in Lower Manhattan on the night of March 19, 2011 was unusual for an event celebrating the opening of a new real estate project. The singer and activist Bono showed up; so did several artists, including Chuck Close and Claes Oldenburg. There were actors like Ben Gazzara and Candice Bergen; the art dealer Larry Gagosian; Harvey Lichtenstein, the longtime head of the Brooklyn Academy of Music, the hotelier Ian Schrager and celebrated journalists like Morley Safer, Tom Brokaw and Carl Bernstein. These and other famous names had not come to get a preview of the steel-clad building, even though it was then the tallest residential tower in the city and the question of what its apartments would be like had been the subject of much speculative talk around town. Neither were most of the guests friends of Bruce Ratner. The celebrities—and about three hundred other somewhat less recognizable people—were friends and acquaintances of a short, somewhat stocky, gray-haired man with glasses, dressed in a black t-shirt and black suit jacket, who spent much of his time standing near the windows on the north side of the penthouse, which had a spectacular view of the Manhattan skyline and the towers of the Brooklyn Bridge. He had designed the building, and he was arguably the most famous architect in the world.

Frank Gehry had turned 82 two and a half weeks earlier, and Bruce Ratner decided that a birthday party for the architect would be the perfect way to mark the tower's completion. It would also encourage everyone to forget that 21 months earlier, Ratner had abruptly fired Gehry from another job, even bigger than the apartment tower: designing the master plan and the buildings for Atlantic Yards, a huge real estate project his company, Forest City Ratner, was preparing to erect over rail yards in downtown Brooklyn that was to contain seventeen buildings, including a new arena for the Nets basketball team, which was moving to Brooklyn from New Jersey. Gehry had produced an arena design and schemes for several skyscrapers as well as an overall plan, and his involvement gave Atlantic Yards the air of a more serious enterprise than the usual large commercial real estate project. But after winning preliminary approval for the

project based on Gehry's plans, Ratner replaced him with another firm and ordered up buildings that were simpler and presumably less expensive than the ones Gehry had designed. Gehry was shaken and angry about the decision, which required him to lay off many of the architects who were working on the project in his office back home in Los Angeles. His frustration was compounded by the fact that he could only express his unhappiness in private, since he was continuing to work on Bruce Ratner's tall apartment building for lower Manhattan, and he could hardly get into a public spat with him. He seethed inwardly, as he usually did when something did not go as he had hoped. He was not fond of confrontation, and he had generally managed to get his way by being friendly and easygoing, not by acting the role of the temperamental artist.

That suited Bruce Ratner just fine, since he did not want to be remembered as the

developer who had fired Frank Gehry. He much preferred to be known as the developer who had given Gehry the opportunity to build the tallest apartment tower in New York. After firing him from Atlantic Yards, Ratner was doing all he could to connect his name to Gehry's in a different way. He had called the new Lower Manhattan tower "New York by Gehry," agreeing with his marketing advisers that he was selling Frank Gehry as much as anything else at 8 Spruce Street—that Gehry's reputation was such that his name could mean as much as views, closets, fancy kitchens, big windows, or even the ultimate factor in real estate, location. There had never been a Frank Gehry apartment tower in New York before. There had never been a Frank Gehry skyscraper anywhere before, for that matter. Gehry was known for museums, concert halls, houses, academic buildings and smaller commercial buildings, and his Los Angeles-based firm, while large—it employed about 150 people at the time of the birthday party—was not the sort of place that churned out office towers by the dozen. It was more of a gigantic artist's atelier, a big workshop centered around the creative imagination of its founder, who in the years leading up to the opening of the New York tower had designed two of the most acclaimed buildings of the last generation, the Guggenheim Museum in Bilbao, Spain, which opened in 1997, and the Walt Disney Concert Hall in Los Angeles, finished in 2003. When Vanity Fair polled 90 of the world's leading architects and critics in 2010 and asked them to name the five most important buildings erected since 1980, the museum in Bilbao was the overwhelming winner, with three times as many votes as any other building anywhere in the world. "Therefore it seems fair to conclude," the magazine pronounced, "that the 81-year old, Canadian-born Gehry is the most important architect of our age."

The extraordinary shape Gehry had conceived for Bilbao, a swirling, curving structure covered largely in titanium, inspired the architect Philip Johnson, who toured the museum a few months before its completion, to proclaim it "the greatest building of our time." It stood as evidence of Gehry's ability to envision form that had not existed before: exhilarating, robust, and baroque in its richness and complexity. The museum could not be called anything but modern, but it was not your father's modernism. Its unusual form bore no resemblance to the stark glass boxes that most people identified with modern architecture.

Because Gehry enjoyed making models out of paper and from time to time would

crumple up pieces of paper and use the resulting shape as a starting point for figuring out what he wanted to do, his designs were thought by many people to be casual and random. It was the same misconception that people had made fifty years before about the paintings of Franz Kline or Jackson Pollack. Gehry's buildings were no more the result of accident than Pollack's drip paintings, and at their best, they possessed a similar kind of strange, new, intense and energetic beauty.

Excerpted from BUILDING ART by Paul Goldberger. Copyright © 2015 by Paul Goldberger. Excerpted by permission of Knopf, a division of Penguin Random House, LLC. All rights reserved. No part of this excerpt may be reproduced or reprinted without permission in writing from the publisher.