On this Veterans Day we hear from two men who served their country and are now featured in a new book of remembrances by Chicago-area veterans.
The book, "I Remember: Chicago Veterans of War," features the memories of 50 veterans who served in World War II, Korea, Vietnam, Bosnia, Iraq and Afghanistan. 
In the book, their memories are listed consecutively with numbers for each entry instead of names, portraying the collective memories as those of one veteran. Interested readers can discover the individuals behind the memories via the book's bibliography. Interested in a copy of the book? You can request a hard copy or digital download for free. 
---
TRANSCRIPT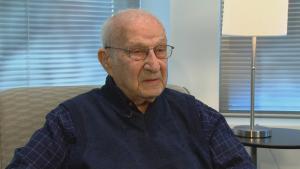 Gilbert Elenbogen Gilbert Elenbogen: As a 114-pound 18-year-old from Chicago, I went to Italy with the 15th Air Force as a flight engineer on a B-24.
Eddie Arruza: 91-year-old Gilbert Elenbogen, or Bogie as he was known by his brothers-in-arms, still has clear memories of his time in Italy 72 years ago. It was 1943, the height of World War II and he was barely out of high school in Chicago when he found himself in what was then called the Army Air Force conducting bombing raids over Nazi Germany.
GE: I did my job and I guess I was proud of it maybe, but so was 10 million other people. You were not exclusive by what you did. It was just what everybody did. 
EA: Elenbogen is one of 50 U.S. military veterans featured in a new book called "I Remember: Chicago Veterans of War." It's a project by DePaul University professor and author Chris Green who says he was moved to learn more about veterans after seeing a one-man play at Chicago's Court Theatre called "An Iliad." In the play, the actor recites a long list of wars that have occurred over the last 2,000 years.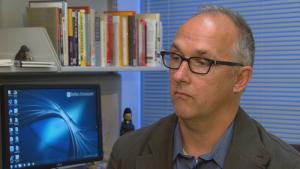 Chris Green Chris Green: You know, I'm not a veteran. I know very few veterans but I also realize I only heard about war from, for the most part, politicians. So I wanted to hear from soldiers about their experiences with war. 
EA: Professor Green says he began searching for veterans to take part by attending VFW barbecues and slowly gaining the confidence of the former servicemen and women. Among them was one of the youngest veterans in the book, 30-year-old Rolando Zavala who did one tour of duty in each Iraq and Afghanistan.
Rolando Zavala: Within the first week of being there, I, myself, was hit as well as another one of our soldiers and thereafter it just progressed. It continued to be for the whole summer. It was chaotic.
EA: The veterans were asked to write a recollection of their time in the service beginning with the phrase "I remember." This is part of what Rolando remembers.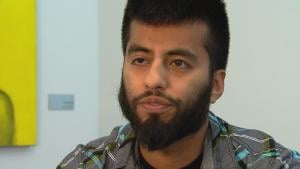 Rolando Zavala RZ: I remember waking up day after day thinking it was only a matter of time before I was hit again. The messed up part was that we were all OK with it. It wasn't a question of am I going to get hit? It was merely, is it going to be my left leg that's going to be blown off or my right leg?
EA: Bogie's remembrance in the book deals with his older brother, who was 10 years older than him, who was also in Italy during World War II.
GE: As a clerk in Naples, Bernie saw the shipping orders of my arrival in Naples. I remember one evening when I and another six guys in my tent were in our cots in sleeping bags to keep warm. Our conversation was interrupted as the tent door opened and in walked my brother Bernie. I was so excited I jumped out of my sleeping bag without unzipping it. I had not seen him in over two years. 
CG: In these memories you see love and rage. You see fear and courage altogether somehow and I think that was one thing once I started recognizing that, that was something that I edited for: the contradictions that often come with war.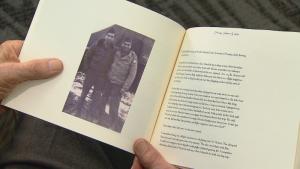 EA: The book offers some rare insights and revelations by veterans -- many of whom are reluctant to open up about their time in combat. Rolando Zavala says four years after returning to civilian life he is still struggling with what he experienced in Afghanistan.
RZ: I prefer not to join large groups of people, not even my own family members. I just cannot. I tend to start hyperventilating in traffic, speed bumps—especially here in Chicago potholes. I'll hit one and then my heart will go from zero to 100 as soon as I feel that bump.
EA: Gil Elenbogen says his generation was no less susceptible to the effects of warfare, but he says there may have been a difference between what Studs Terkel called "The Good War" and the conflicts that followed.
GE: Well, I think that if people think it's right, everybody will get behind you, and people volunteer and do their duty and do what's asked of them. I think the other wars that we've had were questionable, and I think people getting out of it had more mental problems than we did.
EA: Professor Green hopes the book, which is free to anyone who wants it, helps bridge the divide between the few who serve and the many who benefit from their service.
CG: This idea of a book being like a City Hall where veterans can stand up on Memorial Day or Veterans Day to at least be honest about what they experienced. I think the very least we can do is listen.
EA: And for those who want to listen, 50 of Chicago's proud veterans are ready to tell you their stories. For "Chicago Tonight," I'm Eddie Arruza.
---
Below, we've included two veterans' memories with their corresponding names and photos from "I Remember: Chicago Veterans of War."
Ned B. Ricks, Vietnam War veteran (Big Shoulders Books)

Ned B. Ricks, Vietnam War veteran
Branch: U.S. Army
Rank: Vietnam: Captain; Retired as a Major
Platoon/Battalion: In Vietnam: served in the 1st Air Squadron, 9th Calvary, 1st Calvary Division (Airmobile). Commanding Officer of Troop C, 1st Squadron, Cavalry, First Field Forces Vietnam.
Tour of Duty: July 1970 to July 1971
Regular Army from 1968 to 1975 and the US Army Reserves until 1993: 25 years of commissioned service.

"I remember loud engulfing noise: painful, inescapable noise. As a combat arms officer, noise was the job: the screech and wail of a tank's metal parts grinding, and the piercing high-pitched sound of a helicopters' turbines. All that was base-line noise. Combine that with the shattering, diaphragm thumping concussions of weapons and you have a recipe that deadens the ability to think. Repetitive concussions of heavy machine gun fire, sharp crackles of rifle fire, detonations of mortar rounds or mines exploding. Tank main gun cannons could beat the breath from your chest with their shockwaves. But you must manage the violence around you, must think and communicate in the midst of it. The radio light comes on in your vehicle and you must connect: Is it the artillery adjusting your fire? The Air Force sending jets? One of your platoons in close contact with the enemy? The medivac helicopter needs a smoke grenade popped to find your LZ? The task is much like being inside a trash can full of fire crackers being rolled down the world's longest staircase. But the radio call light still glows and you must try to answer.

Ned B. Ricks, Vietnam War veteran (Big Shoulders Books)

I remember colors. The fresh green of newly issued jungle fatigues, so new they hadn't been washed yet. Then seeing the faded green, almost light gray, of an officer's uniform who is awaiting his flight back to the states. He shared the barracks, but not the same reality. He didn't want to talk in case, somehow, that would delay his departure back to "the world." The jungle could be many shades of green. Not like the old Tarzan movies, but a forest of varying hues. The soil could be fertile black in many low-country rice paddies. The ground elsewhere could be an umber or sienna rust, dust or mud, depending upon the season. Then there were the brown of areas sprayed with Agent Orange. And the black of the dead trees in the same regions poking skyward as if after a forest fire. Not burned, but killed all the same. And those of us who operated in the area carried that poison back with us in our body's cells to kill us later. And the sky could be blue, supporting puffy clouds and providing backdrop for palm trees, looking like a poster for one of those 1930's airline Clipper travel jaunts. Or it could be filled with dark, roiling gray storm clouds shedding their rain day in and day out for months. Clouds that blocked the sun."

Elaine Little, In Bosnia as "Peacekeeper" and Afghanistan 2004-2005 (Big Shoulders Books)

Elaine Little, In Bosnia as "Peacekeeper" and Afghanistan 2004-2005
Branch: U.S. Army
Rank: PFC, Warrant Officer 2
Platoon/Batallion: 341st MI BN in Chicago (National Guard)
Service length: 15 months
Roles: Interrogator in Afghanistan, broadcast journalist in Bosina, Psychological Operations Specialist, Russian Linguist, Morse Code interceptor, motion picture specialist.

"I remember Sarajevo. The snipers were gone. But there were still casualties. A local was hit and killed by falling bricks from a decaying building.

I remember there were little red crosses affixed to a rope that kept you from walking too close. 

I remember the Bosnians did not like us on the whole. We were too late. Where were we when the markets were bombed and people picked off?

I remember my first and last Special Forces mission in Afghanistan. We traveled in a convoy from Bagram to Jalalabad. I remember snow-capped mountains and ice-strewn streams.

I remember being excited to leave Bagram where I worked as an interrogator at the detention facility. I was now sent to search Afghan women crossing the border from Pakistan.

I remember being pleasantly surprised by the Special Forces' lack of bravado.

I remember that I never once felt like an interloper or an impediment—I felt respect.

I remember I experienced the truth that war is as much about waiting and preparation as actual engagement."
In the video below, Gilbert Elenbogen reads his entry in "I Remember: Chicago Veterans of War."
---