This weekend marks an important annual date on the city's arts calendar. That's because the art fair SOFA Chicago docks at Navy Pier the first weekend of November.
SOFA stands for "sculptural objects and functional art," but the content of the fair has an even broader scope. 
Donna Davis, Fair Director for SOFA Chicago, says you can expect to see modern and contemporary art and design, objects and sculpture. This year, SOFA also includes painting, photography and works on paper.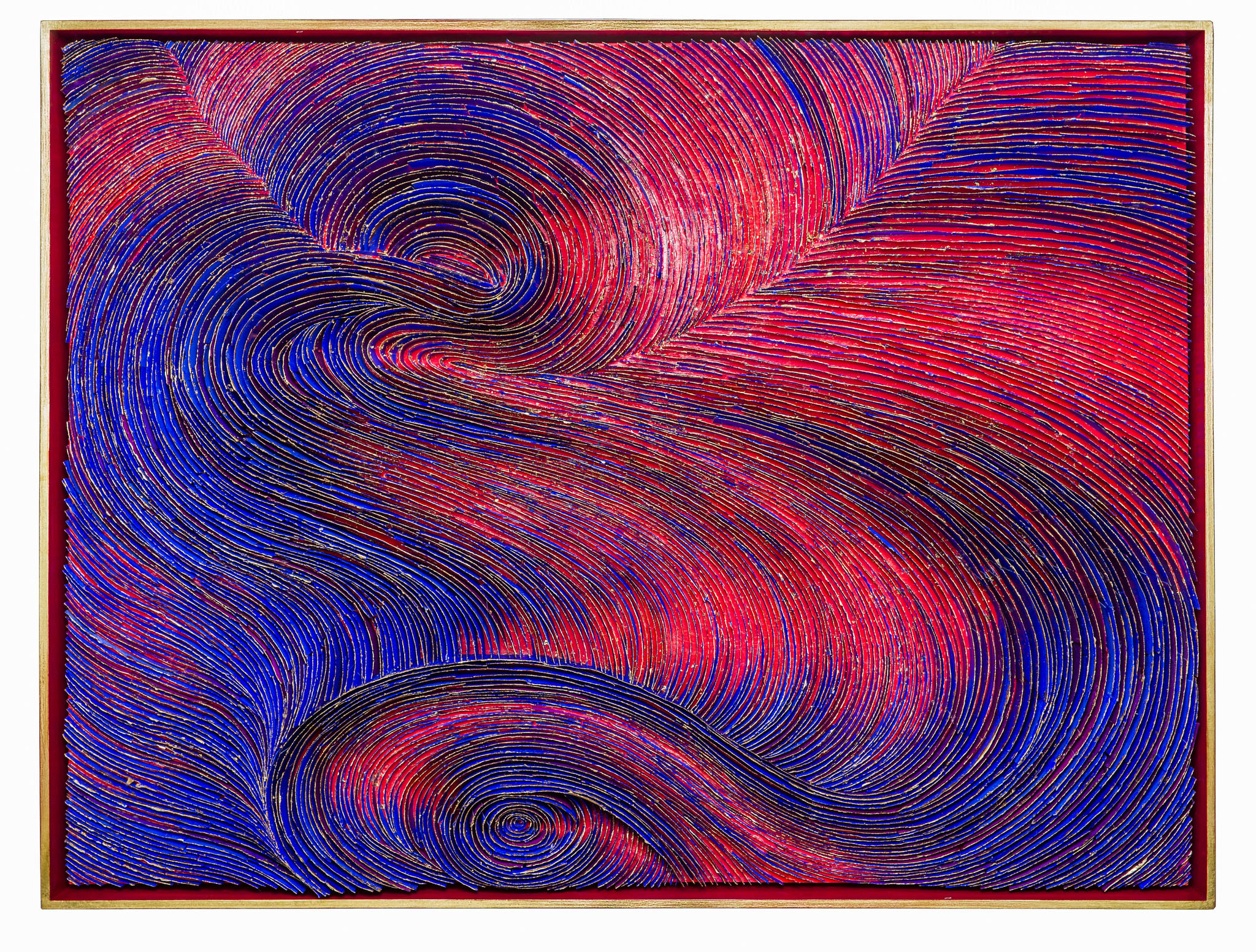 Katherine Glover, 'The Wave is Continuous,' 2015. (Courtesy of SOFA Chicago)
"You'll see world-class galleries showing fiber, glass, ceramic, wood and studio jewelry," Davis said.
The nearly 70 galleries represented at SOFA include both local stalwarts and visiting galleries from around the world, including those from London, Paris, Turkey and Italy. 
"This is the only art fair we do," said Suzanne Brett of Kirra Galleries in Melbourne, Australia. "We've been doing it for 12 years now. It's so expensive to bring our artwork over from Australia – to go anywhere really – and this is the best fair, as far as we're concerned, in the world.
"In Australia we don't have the demographics to support our artists," she added. "We don't get much government help either, and if we didn't bring a lot of our artists here then they wouldn't be able to survive. By bringing them here they're able to connect with collectors from all around the world. Otherwise a lot of our artists have to pack shelves in supermarkets.
"We've made a lot of friends with collectors over the years and they've taken us in under their wing. We've got our Chicago families here now," said Brett.
Davis says that many exhibitors return year after year. "They like to come back," she said. "But we also have 17 new exhibitors this year, which is a record for us."
Chicago's Ann Nathan Gallery has been participating since the fair started in 1994 in the basement of the Sheraton Chicago Hotel. 
Selected works
If the range of work can feel overwhelming, there's a kind of critic's choice they call SOFA selects.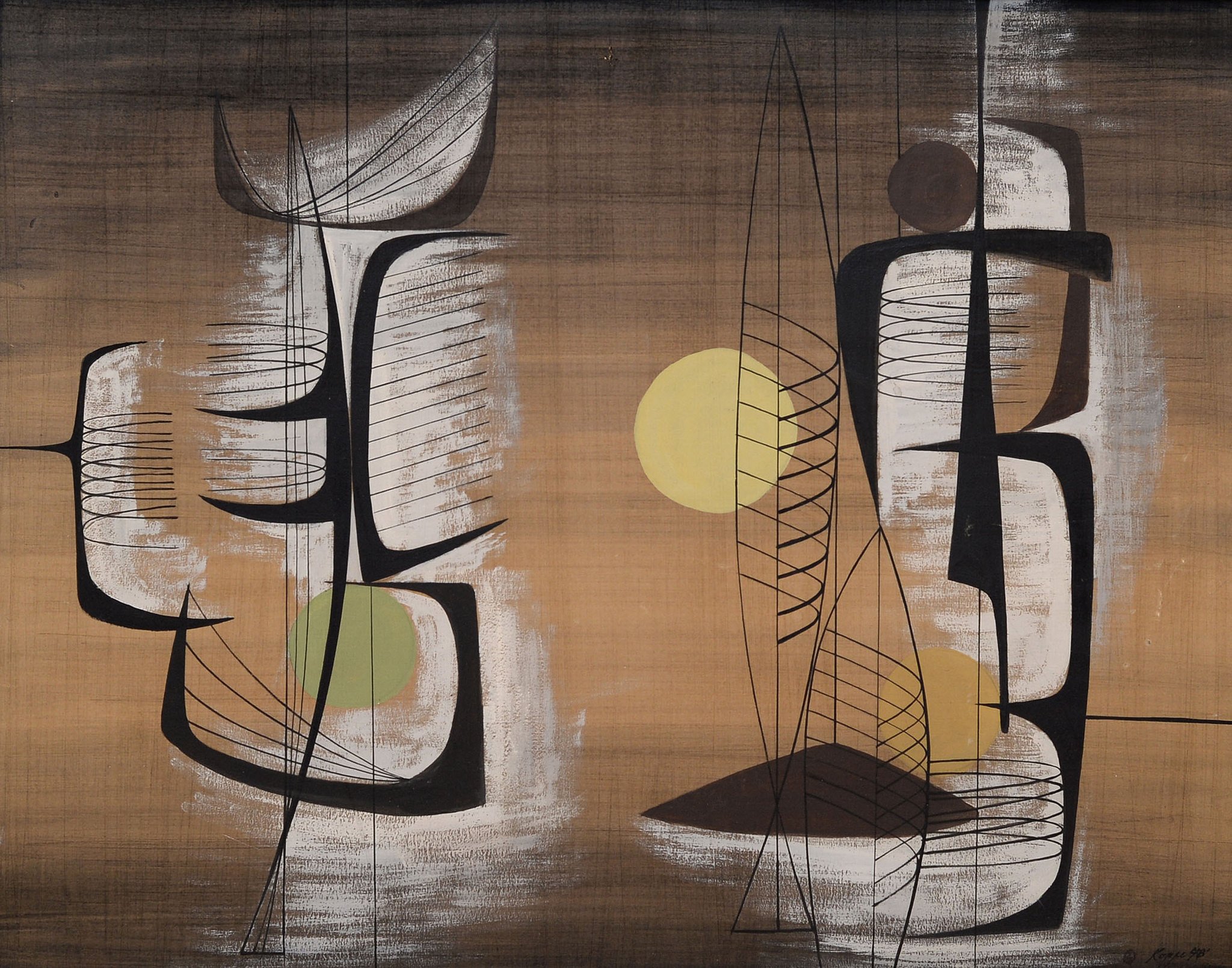 SOFA selects: Richard Koppe, 'Moonlight Night,' 1948. (Courtesy of SOFA Chicago)
"It is a selection noted tastemakers – curators, critics, designers, architects – who select their favorite pieces in the fair before the fair opens," Davis explained. "You can go to SOFAexpo.com and select 'Sofa selects' and see those people who have chosen those pieces and why."
A recent effort called Connect involves students from around the country, including the Illinois Institute of Technology, the Pratt Institute in New York City and the University of Iowa.
"This is the third year of  Connect," Davis said. "We instituted that for the 20th anniversary of the fair and we have six schools from around the country doing a student design competition, installations that have been created by students with faculty supervision, and this will be juried and there will be one award for Connect that will receive a cash award."
Perhaps prize-winning students can earn enough to buy something at the fair.
"There are very young galleries showing emerging work, which is affordable," Davis said. "And you might find pieces for several thousand dollars but then you'll also find mid-career and very established artists where you'll find museum-quality pieces that are higher in price range."
At big art fairs, it is hoped that artistry translates to energy.
"It's energizing the collectors," Davis said. "We know that we're getting a lot of museum groups coming in to see the fair this year, people coming in from all over the country."
Nathan also sees the annual fair as a way to energize folks. "It energizes the crowd that reads the newspaper, the TV watchers and all that, to come see what's new in art, what's happening, what's going on," she said.
---
SOFA Chicago runs Nov. 5-8 at Navy Pier's Festival Hall, from 5-9 p.m. Thursday; 11 a.m.-7 p.m. Friday-Saturday; noon-6 p.m. Sunday. General admission tickets cost $20; $15 for seniors and students. Get more information and tickets here.