The fifth of six planned parallel east-west runways is now officially open at O'Hare. It's the latest in the years-long O'Hare Modernization Program aimed to increase capacity and efficiency at the airport. But the flight paths cover some of the densest areas of the city, and residents on the Northwest Side have voiced their concerns about increased noise pollution for much of the last year.
How does today's runway opening affect that?
The runway is located on the far south end of the airfield, along Irving Park Road, and it cost $516 million to build. It'll eventually handle about 9 percent of O'Hare's arriving flights, and they will all be coming from the west, so it won't impact the areas east of the airport. It's the fifth of six planned parallel runways – the last one, if completed, is slated to open in 2020; and an existing one extended in 2021.
Two diagonal runways that avert any flight path over Chicago neighborhoods will eventually close as well.
Airplanes land over the city heading west 70 percent of the time at O'Hare; 30 percent of the time, they land from the west heading east. This new runway will only be used during that 30 percent of the time the planes land from the west.
Aviation Commission Ginger Evans says it will reduce the traffic on the existing runways by a small fraction – so residents in existing flight paths will see noise pollution eased a bit.
"This runway gives O'Hare the capacity to use this in combination with two other existing runways to more fully utilize what we call east flow," Evans said. "So that'll balance the noise exposure over what has been experienced in the past."

Today's groundbreaking was attended by a host of public officials, but one decided to stay away. He says the project is not accomplishing its intended purpose, and that it's not worth the cost to Northwest Side residents.
---
But residents that make up the Fair Allocation in Runways coalition say the new runway will not help solve any of the noise pollution from existing east-west runways.
They also say they don't understand why the city is touting the new runway if it's only going to be used for a small percentage of flights. The city and FAA has said it would shut down the diagonals for that same reason. FAIR also says an entire new community will be socked with noise pollution now.
"You can't concentrate everything in these six highways in the sky that are over people's heads all the times," said FAIR's Colleen Mulcrone, a resident of the Mayfair neighborhood on the city's Northwest Side. "The reality is there are new communities who are going to get noise that never had it before, who probably never saw it coming."
Today's groundbreaking was attended by a host of public officials including former U.S. Transportation Secretary Ray LaHood, who called it a win-win for the city and region; and Mayor Rahm Emanuel. But one public official, a Northwest Side state senator, decided to stay away. He says the project is not accomplishing its intended purpose – to expand capacity at the airport, and that it's not worth the cost to Northwest Side residents.
"It just makes common sense to go reevaluate the plan," said State Sen. John Mulroe (D-Chicago). "Part of the plan should be keeping those diagonals intact, because those are two runways that could spread out the noise. And they happen to go over the Kennedy Expressway to the northeast, and industrial areas to the northwest, instead of the current east-west runways that are concentrated over densely populated residential areas."
Mulroe sponsored legislation that the governor passed that would allow O'Hare to operate with 10 runways. That plan would allow them to keep the diagonals open. A public meeting will be held on Monday to go over some of the noise mitigation proposals Commissioner Evans and the city have put forth, including insulation of homes, different landing patterns, and possibly rotating runways so one set is used for a period of time, then shut down so another set can be used for a period of time – to spread out the noise.
---
Earlier this summer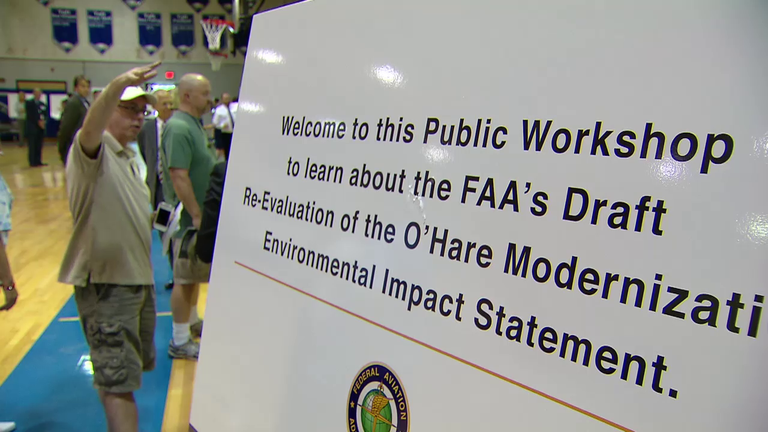 Residents Sound Off at FAA Public Meetings on O'Hare Noise
Northwest Side neighborhoods such as Norwood Park and Edison Park were represented when residents showed up at an FAA workshop mid-August to voice their concerns as a new east-west runway is set to open in October.
---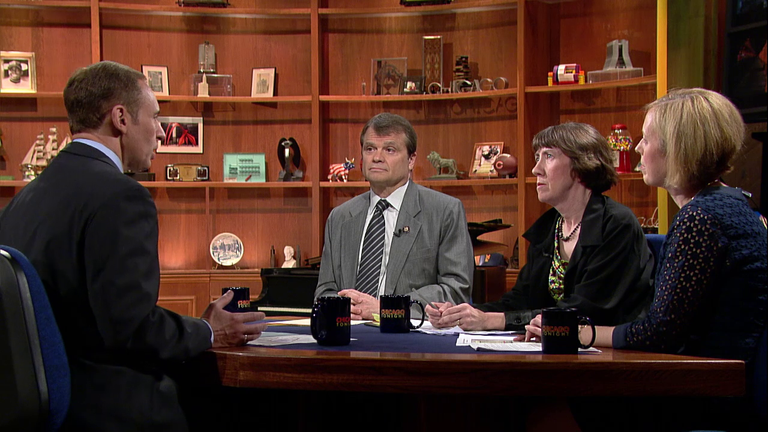 Noise Complaints at O'Hare Skyrocket
Complaints about jet noise at O'Hare International Airport topped more than 400,000 in May. In July, Gov. Bruce Rauner signed legislation that will increase the number of runways allowed at O'Hare in an effort to mitigate jet noise.