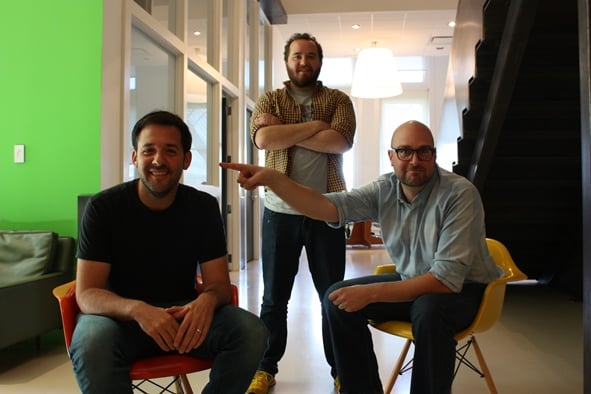 Cap Gun Collective Executive Producer Matt Abramson, Cap Gun Producer PJ Fishwick, and "Teachers" co-creator Matt Miller (Photo / Chloe Riley)
The past year's been good to Chicago production company Cap Gun Collective. The group, which has offices in Chicago and LA, was behind the pilot for "Bobby & Iza," which won NBC's Playground Contest last month, and additionally produced the web series that led to TV Land's "Teachers," now helmed by "Community's" Alison Brie and set to premiere in January.  
Started in 2009 via the group's co-founders, Matt Abramson and Alex Fendrich, Cap Gun's business model is a balance between a director-centered commercial production and Cap Gun TV, the development studio where the group can focus on developing original content. Much of that content taps into the self-deprecating, playful voice of Chicago's improv scene, where both Abramson and Fendrich have roots.
Light pours generously into the offices at Cap Gun Collective, which shares its multicolored walls and high ceilings with Whitehouse Post, a post production company that does much of that work for Cap Gun. A fridge generously stocked with three different kinds of La Croix stands like a beacon at the front entrance where 20-year-olds hover and look generally busy. At one point, the building at 54 W. Hubbard St. saw a different variety of young people. In 1924, Nathan Leopold and Richard Loeb – the duo of wealthy teens who murdered Bobby Franks – spent 32 days in the building back when it was the former Cook County Criminal Court Building.
But now, in lieu of blood and scandal, a plate of flatbread rests on a table, surrounded by sandwiches filled with quinoa, avocado and something that vaguely passes for kale. Sitting eagerly around the sandwiches are "Teachers" co-creator Matt Miller, Cap Gun Producer PJ Fishwick, and Abramson, the group's executive producer who's also a dead ringer for John Cusack circa "High Fidelity."  
Chicago Tonight: So how did Cap Gun Collective come about?
Matt Abramson: So Alex [Fendrich] and I were working together at the time. He was on the Second City resident stage, I was an ad agency producer. But we were working together on some projects from time to time and we really liked working together. And when we set up Cap Gun, the idea was for it to function two-fold. One is as a commercial production company. So we could be soliciting commercial work from the ad agencies but then also – with all the resources we had as a production company and then being partnered with Whitehouse – we could almost work as, like, a studio. There's so much creative talent here in Chicago that when we weren't shooting commercials, we wanted to take the energy and resources, partner with creative people and try and develop content and shows in longer form.
(Watch an interactive ad directed by Matt Miller)  
---
CT: To a certain degree, it seems like many Chicago actors – especially within the improv scene – reach a place where they've had it and move on to LA. Is the flight from Chicago real in the same way when it comes to production?
Matt Miller: It's more an actor-centric problem. Chicago is a really great place for performers in that you can make a living doing a lot of different things. For improvisers it can be tough in that the jobs that pay the best are super competitive.
MA: Matt's right. We try to keep our plate full with projects constantly, but at the end of the day, there's just more opportunity for actors and writers and shows being produced out on the coast.
PJ Fishwick: But when it comes to independent production, it's a lot easier to make something in Chicago. First of all, if you're in LA, it's a such a production-savvy place that you're not gonna find locations that are just excited to be a part of it and just give you access to a school or something. You're gonna end up paying $6-$10,000 for that weekend to shoot at that school. Everybody there knows the deal. Same thing with houses and neighborhoods and permits – it's just a lot harder to get anything shot. And then as far as crew, [New York and LA] are both just way more expensive cities to live in. So if you're making independent content on a limited budget, it's  lot harder to get a crew to work for free or at a cut rate on an independent passion project – because they need to eat.
MA: But it's not just that. There's also a wonderful sense of community here.  There are artists with a lot to say, unique points of view, super talented. Matt's directing career really started with "Teachers" and now he's one of our busiest commercial directors.
PF: Absolutely. I think one of the things that attracted me to "Teachers" when Matt sent me the script was kind of its Midwest sensibility. I hadn't seen a show written entirely by six women, starring six women with that point of view.
CT: And Matt, what's your backstory with The Katydids – the all-women improv team that stars, writes and co-produces "Teachers." How did you guys come up with the idea?
("Teachers" teaser video)
---
MM: Katy Colloton, who is one of The Katydids, was my intern at the casting office at one point and had also acted as an assistant stage manager on some of the shows I directed. They had a pilot offer with another production company in town and they approached me about directing that project. I read it and I didn't really love it. But I met with them and I loved them. And I left the meeting knowing I wanted to work with them. And then a couple weeks later, I was listening to the radio and they did some survey on the top five most admired professions and one of them was "teachers."  And then later that same day, I heard another survey that listed teachers as one of the top three most adulterous professions. And I thought, oh there's something there (laughs). And that was the kernel of the idea that was like, oh, this would be a really funny thing to explore with The Katydids because elementary schools are really female-centric places and I thought it would be just a very natural match for them.  
CT: You guys are also responsible for the pilot episode of "Bobby & Iza," a comedy series from Chicago actors Bobby Richards and Avery Lee, which just won NBC's playground contest. How did that come about?
PF: Well they knew The Katydids because Bobby used to shoot a bunch of their stuff.  And he was actually supposed to be a digital producer for the first season of "Teachers in L.A.," but they had been in touch with NBC about this contest for a while at that point.
MA: Right. Basically I knew the key was to hear what Bobby and Avery had to say, but then also get them talking to PJ too. For us, it was an exciting project from the start. They had this thing, they really wanted to partner with us. They thought they were asking a favor, but we were just really excited for the chance to work with these guys and work on an NBC competition.
CT: And what's the status on that – will Cap Gun have a role in "Bobby & Iza" moving forward?
(Pilot for "Bobby & Iza," which was directed by Cap Gun's Alex Fendrich and produced by PJ Fishwick)
---
PF: It's completely up in the air.
MA: We want to, the creators want us to. They've expressed that, which is great. It would be great to keep the team together.
CT: How would you describe Cap Gun's voice and style in terms of the types of content you choose and the way you go about producing it?
MA: I feel like a lot of the comedy content projects have originated with people who are in Chicago or spent time here. And I think a lot of that is people with improv at the root of their training.
MM: Most performers coming out of the Chicago scene have spent time doing theater or worked onstage and that automatically informs your perspective on the work, versus actors who might not have that background and who have just worked on camera. You have a better sense of ensemble, of working together. And I think all of that is pretty palpable in the work. You can feel the ensemble training and the fact that actors know more than just how to smile and drop the line.
PF: As far as style, when I'm looking at scripts, I'm looking for originality and depth. And I think that's one thing too – you see a lot of stuff made on the coasts and it's made fairly inexpensively and, personally, I'm just tired of seeing Millennials in an apartment talking. That is like an anathema to anything I wanna make. But it's about depth too. Like, does this project have a world we can build around and can it expand and be grown into something bigger?
MA: Yes, that's exactly it. We're not trying to produce this stuff as a showcase for a single performer. It's a story or a world that we wanna get in there and be able to develop something that can have a longer life and can continue to be developed.
CT: What projects do you guys have in the queue now that you see as the next "Teachers" or "Bobby & Iza"?
MM: We have another web series coming out that's called "Sickos" which takes a different spin on the medical company. A lot of actors and a lot of artists in general have odd jobs to make ends meet and one of these odd jobs is sometimes working as a standardized patient, which means pretending to be sick in order to help doctors with their bedside manner. So it's about that world – the weird world that is learning how to fake Chlamydia (all three laugh). We'll probably have that out before the end of this year.
MM: I'm not officially part of Cap Gun, but I've really enjoyed my affiliation with them and I think one of the things they do really well is empower the artists that work with them. And the buzz is really good. All of these projects that come knocking on their door are a result of people like The Katydids saying, "we had a great time." The quality of their work is strong, but furthermore, the relational aspect of doing business is really good. And I mean, if you can't have fun while you're making comedy, what's the point?