Robin Williams, George Harrison, Janis Joplin, Neil Young: Just a handful of the celebrities collectively shot by iconic 1960s photographers Pattie Boyd, Henry Diltz, and Carinthia West – all currently exhibiting work at River North's Hilton Asmus gallery starting Thursday.
Boyd, a former model and first wife to both George Harrison and Eric Clapton, was the inspiration for the love songs "Something" and "Layla." Considered one of the great music photographers of the 20th century, Diltz has shot over 400 album covers, including James Taylor's "Sweet Baby James" and "Morrison Hotel" from the Doors. A former actress and journalist, West hung with and photographed the likes of Anjelica Huston, Helen Mirren and Carly Simon – photos that remained packed inside shoeboxes until just recently.
All three spoke about their love for photography, the rock stars they mingled with, and why – after all – George Harrison was the cutest Beatle.
CHICAGO TONIGHT: Pattie, many of these photos in the exhibition were in storage for years and have only recently seen the light of day. Why was that?
PATTIE BOYD: I think that what happened was, I went into a deep depression and declined and didn't want to look at those photos at all. And then after about 10 years I started to have a look and see what there was. And I was quite surprised. Because somebody suggested that I might have some photos for an exhibition. And I said, sure, but the most I could have possibly is three photographs.
CT: What made you pick up a camera and start shooting?
PB: When I was a model, I worked with an awful lot of photographers obviously, and my boyfriend at the time was a photographer. And so I thought it might be interesting to see the other side of the camera. And I saved up my modeling money and bought my first camera – a Pentax – and started photographing my friends.
CT: Henry, you shot that iconic James Taylor album cover for "Sweet Baby James." A great shot, but it was actually more of an afterthought, is that right?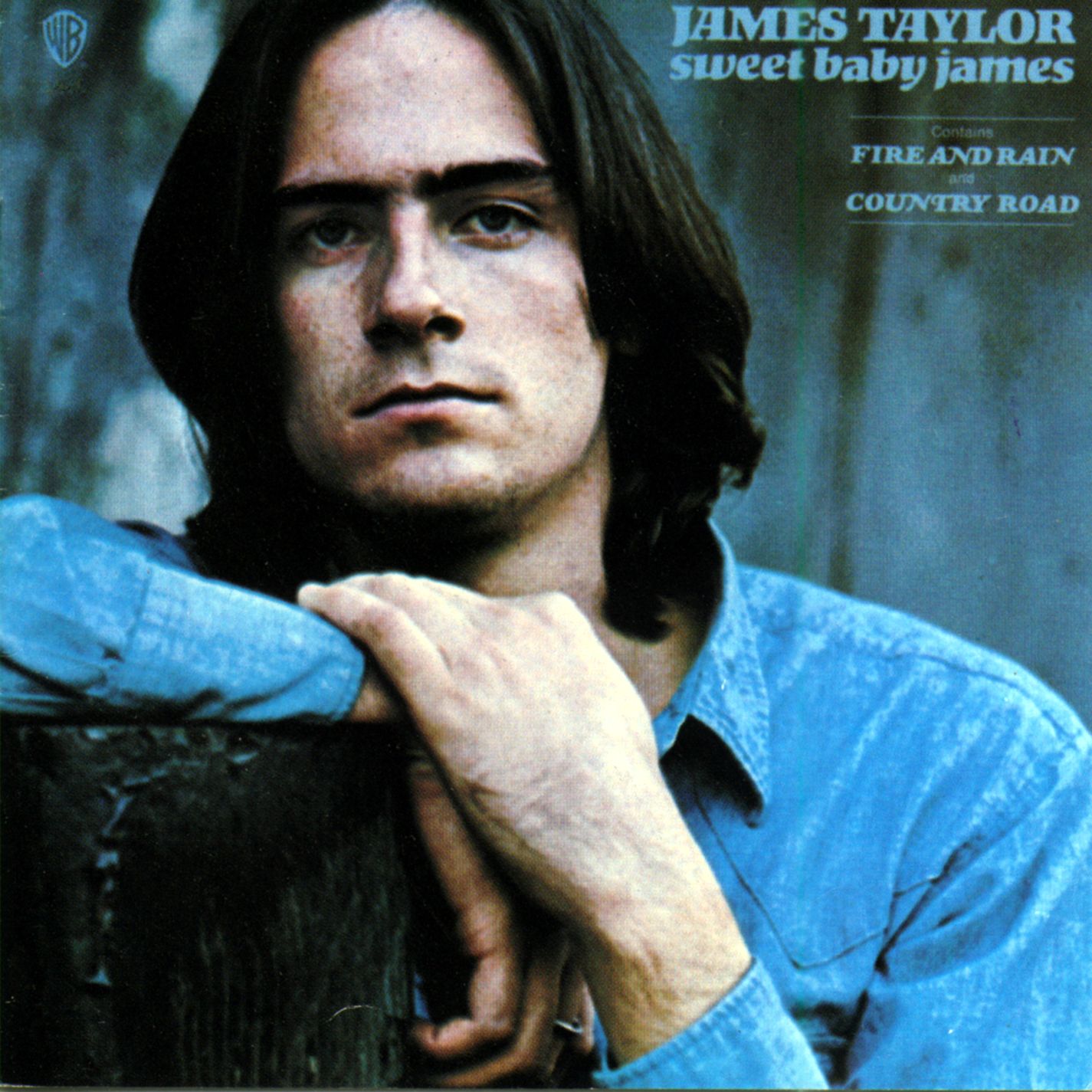 Henry Diltz: His manager wanted me to take publicity photos and that meant black and white, because in those days newspapers wouldn't print color photos. So publicity photos meant black and white in the '60s. But I had my second camera – my color camera – just in case, because I liked to do slideshows in those days for my friends. And when [Taylor] leaned on that post, I took a lovely black and white shot. And I thought, well, we got that. Now I want a color shot for myself. So I took the color shot and then the art director or manager saw it and they used it for the album cover.
And it's funny because that became one of my favorite all time songs – "Sweet Baby James" – I used to put both of my little children to sleep singing that. But when you take the photo, it's way before you ever hear the song because he hasn't finished recording the album yet. So I'd never heard the song. Same thing happened with "Desperado." It's a great song, a very poignant song, but I took the album cover and later heard the song.
CT: You also took a photo of Paul McCartney and Linda Eastman that ended up on the cover of Life Magazine.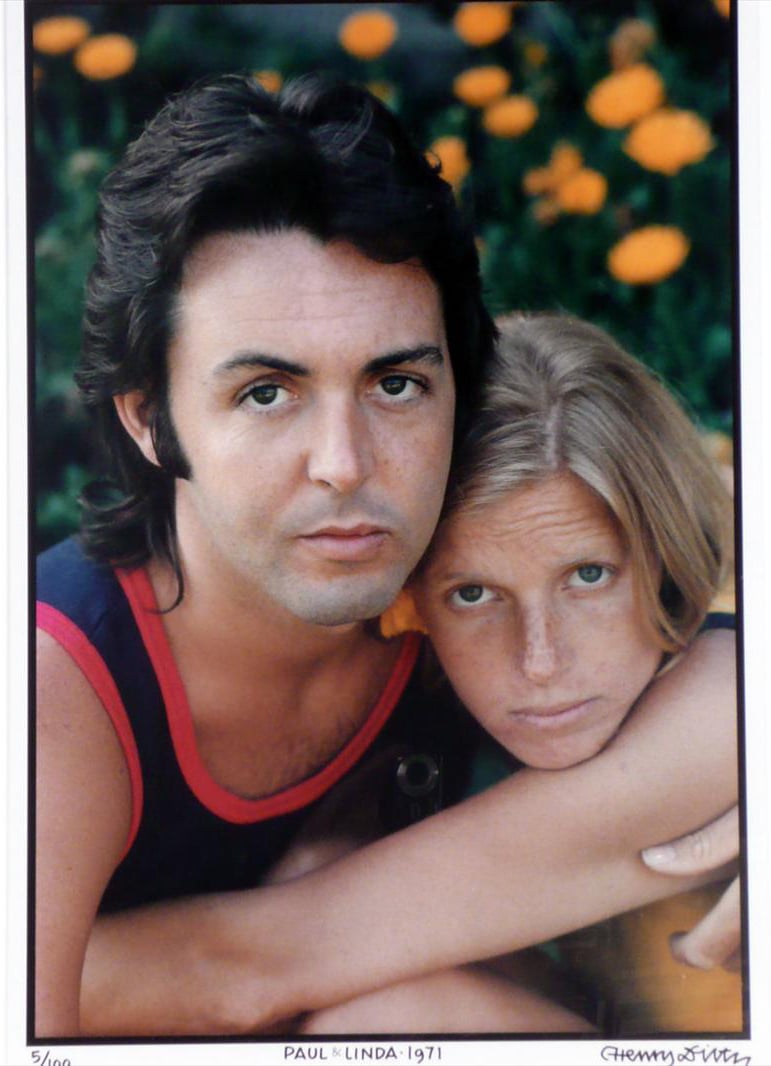 HD: Another accident, yes. We were fellow photographers – I met her in a photo lab, we were getting our film developed. And then some time later, I was quite surprised to see she had married Paul McCartney. And then she called me one day and wanted me to take pictures of both of them. So I went and spent the afternoon shooting photos around the pool and then Linda said, "We need to see these because we want to pick one out for the cover of Life Magazine."
CT: And Carinthia, a lot of your own photos were packed up in boxes for many years.
Carinthia West: Well it's like what we've been saying about the "accidental picture," the one you didn't realize you'd got. And I think mine was the Carly Simon picture, where she throws her head back and laughs and there's the twin towers, which of course was not in the plan. So now, it was a kind of magic and resonance to it compared to when I took the picture. I love that, sometimes, when I show that photo to the young, they think I've photoshopped it.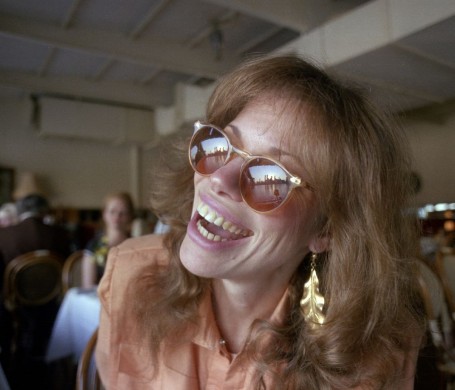 CT: You were a journalist for a time and before that, you acted. At one point, Eric Idle cast you in a Monty Python spin-off, is that right?
CW: Yes. And you know, of course, it is impossible to work with Monty Python because they play all the women so you know, you get left with the part where you're sort of desperately trying to edge off someone with a handbag wearing a dress. [Laughs]
CT: Pattie, you were married to both George Harrison and Eric Clapton – you have some really amazing candid shots of each. Was there a difference in the way you approached shooting them?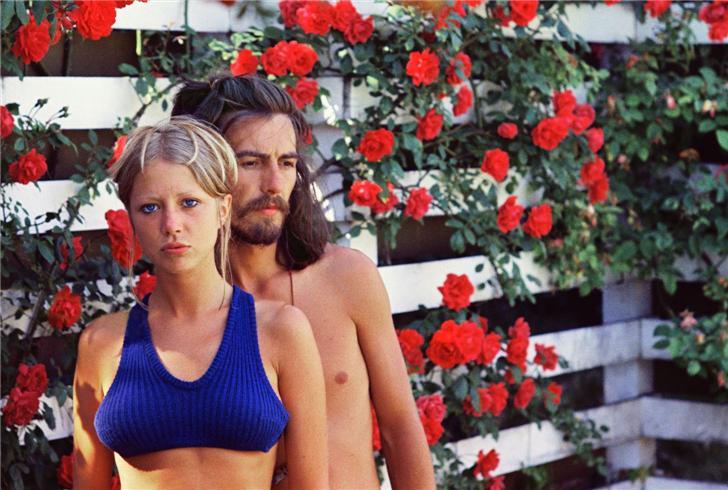 PB: They didn't mind being photographed, although Eric got a bit annoyed eventually. I think maybe I took too many polaroids of  him. It was that clicking sound he hated – It wasn't musical enough. [Laughs]
CT: There's also that great black and white self-portrait you took where you're sitting on a bed, with your blow dryer and hairbrush on the floor. Sort of a great vintage selfie. Do you remember what you were doing at that time?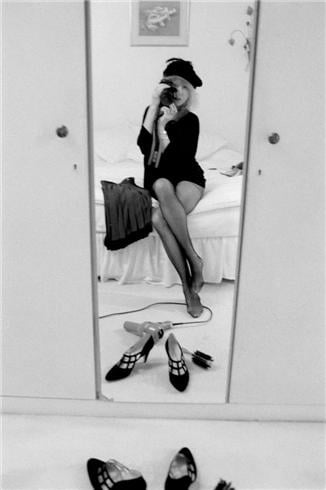 PB: I was going out for dinner and I was a bit early so I was getting dressed and I was just playing around with my camera while I was sitting on the bed, photographing the cats and whatever. And then I put this hat on and was looking in the mirror and I thought, I'll photograph this hat. And I'm not completely dressed, because on the bed is my skirt, so I hadn't really jumped into it yet. I didn't for one second think all these years later that it would be hanging on a wall somewhere.
CT: Henry, you took that iconic black and white shot of Janis Joplin clutching her microphone.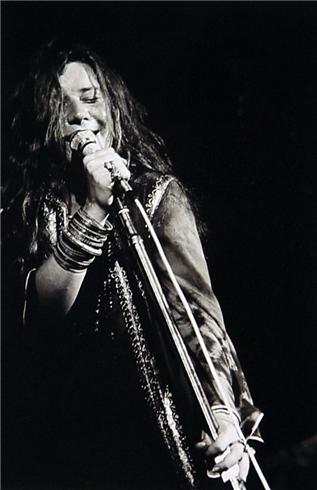 HD: That was at Woodstock and I had an all-access pass because I was working for Michael Lang, the producer. All the other photographers had to stand down in the pit, so they were looking up and couldn't see as well. But they had built a special platform just three feet below the end of the stage for the film crew and so throughout the whole weekend, I would be up on that with the film crew on either side of me saying – you can't be here, this is only for the film crew. And I'd say, no, it's okay, I've got an-all access pass. [Makes fighting, grunting sounds] But the end of the stage was close so I got right up there taking that picture. It was great.
CT: You've never been formally trained as a photographer. But your photos seem to indicate subjects who trust you, who carry a lot of warmth.
HD: The technical part is fairly easy. The rest is just your feeling. How to frame it and when to push the button. I'm looking for it to make me feel good. I'm looking for that moment when it's balanced and it's the right moment. When it feels exactly right I push the button without really thinking about it.
CT: Did all of you make the transition to digital photography with ease?
PB: Oh, you have to.
HD: It's the new way of doing it. And there are advantages – you can keep all the pictures and give them all away. When you shoot transparencies, there's no negatives, so forever I was shooting things and then having to give them all to somebody.
CT: Is there something romantic in photography that's gone now with the advance of digital?
PB: Oh yeah. I love when you're doing a job in color and going to the lab and then they just do a test strip – your first two images, they test and you can make them darker or lighter or whatever. And then they develop the rest. And so that was exciting, waiting for that to come back. I've also quite often found that the best shot would be the last one on a roll of film. It's really weird.
HD: Always. Because it works up to that final moment. It gets better and better and then, bang, right at the end.
CT: Carinthia, you have this beautiful shot of Robin Williams, who died in 2014. In the photo, he's sitting at a table with a great dane and a little boy. How did that come about?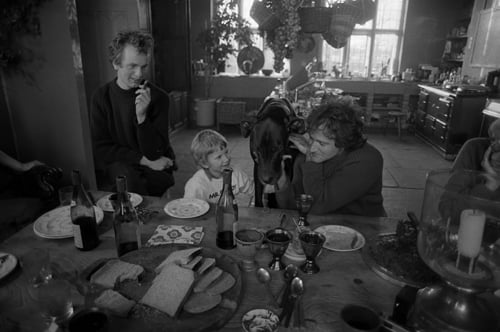 CW: They came to stay with me for Christmas in England – he and his first wife. And Robin had just come off "Popeye" and was exhausted and spent most of the first day on the sofa.  And I think that photo was the first time he had gotten up for a meal. He actually saw it before he died and said, rather sweetly, that he didn't get the poignancy of it at the time. He said, I think I remember the dog.
CT: What about that beach picture of Anjelica Houston wearing a pink dress and pearls?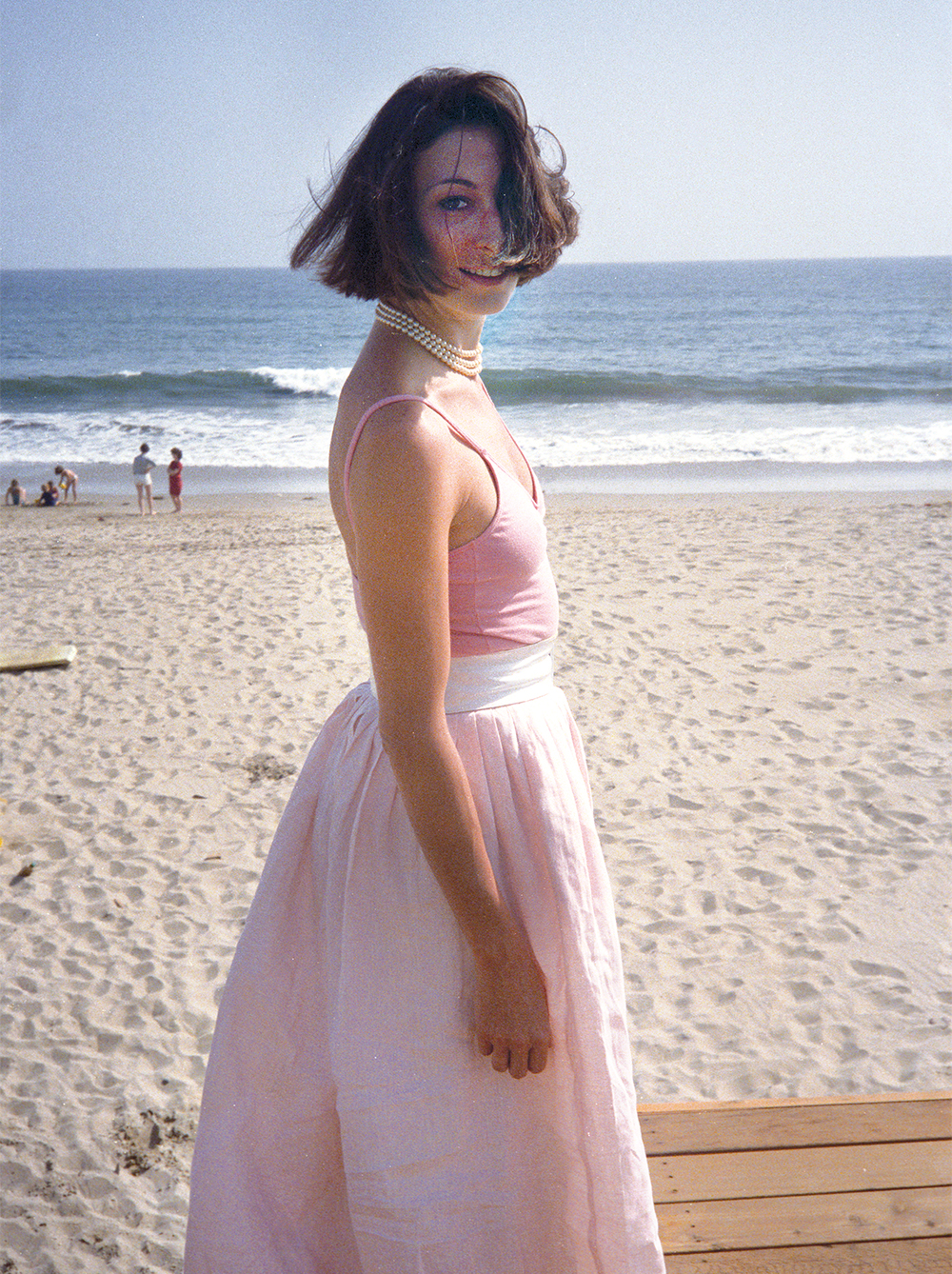 CW: We were doing a play in downtown L.A. We had to get drunk every single night on this badly written play. And it was such fun, we had the biggest laughs together. But we had to drive downtown and step over drunks into this seedy little theater. And one day Jack [Nicholson] and her father and all these huge bigwigs came down and they wanted to see if she was really serious about her acting. So that beach shot was like, let's go to the beach and dress up. We had a lot of adventures together and she's one of my best friends.
CT: Pattie, you took that photo of George Harrison at his estate at Friar Park with this huge double rainbow – was that just good timing?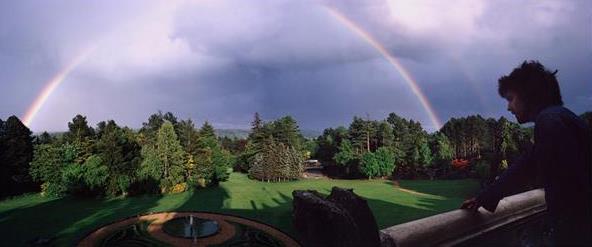 PB: It was good luck – I was going to visit George for tea and we were chatting and went up to the top of the house. And the sky was looking so weird and then this rainbow appeared and then it ended up being a complete rainbow.
HD: I'm sure George arranged for that.
PB: [Laughing] He did, he was showing off.
CT: In "Hard Day's Night," which launched you into the world of the Beatles, it's Paul McCartney who throws on the bowler hat and comes over and flirts with you in the film. But you ended up with George.
PB: There was a chemical attraction really. I seemed to be drawn to him, he seemed to be drawn to me and we started chatting. And I think George was better looking.
CT: Carinthia, you dated Mick Jagger for a time – what was it like to photograph him and other celebrities like David Bowie and Ronnie Wood?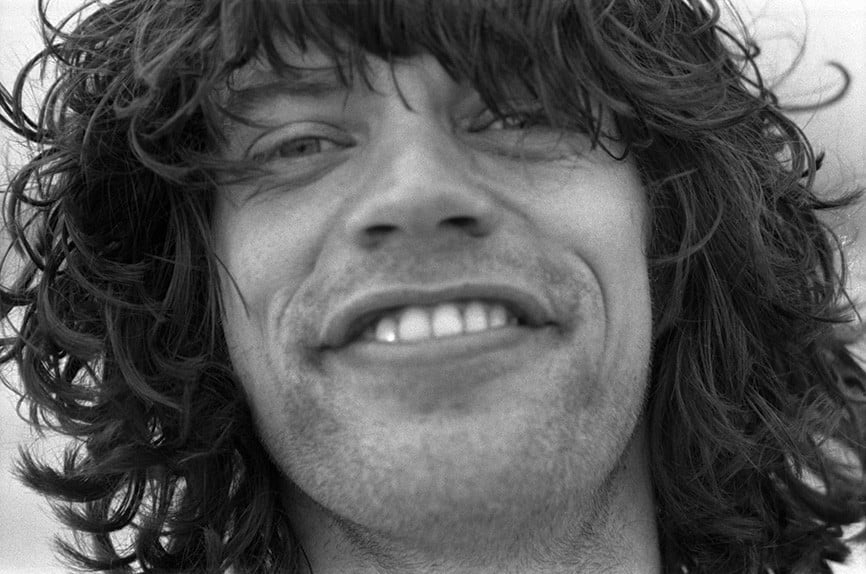 CW: It's hard to explain, and I think Pattie would agree, but they're just your mates. Like Henry was just saying, it's a moment in time where it's just your resonance with them. They look good in that second. And also, these were people in the prime of their lives.
HD: There's another kind of photographer that's pushy and aggressive and make a certain kind of picture, but I think the three of us are more – we document, we're more gentle about it. Flies on the wall.
---
The photography exhibition "Visions of a Magic Time: Iconic photographs of the music and culture of the '60s and '70s" is on display at Hilton Asmus gallery, Sept. 18-Dec. 20. Go here for more information.