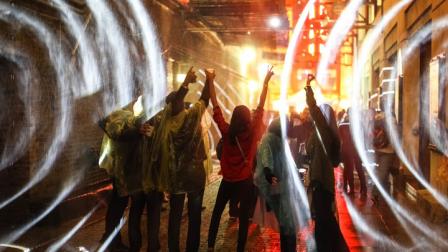 Previous public installation piece from Chicago Loop Alliance (Photo / Jennifer Catherine Photography)
A little-known alley in the heart of downtown area gets a mini-makeover Friday evening when a pop-up fashion show takes the stage.
The free event, a partnership between nonprofit business group Chicago Loop Alliance and visual artist Cheryl Pope, includes an AstroTurf runway, suspended T-shirt installation, interactive performances, live music and styling from over 20 Chicago fashion designers and artists.
Pope, an artist in residence at the Cultural Center, has a history of transforming large spaces using performance art. In August, in collaboration with the city, she transformed a gallery at the center into a boxing ring intended to engage visitors and young people about non-violent conflict resolution.
In a 2011 performance piece, Balancing Stacks, she stacked dishware until it toppled over.
The themes of the runway show – a mix of ready-to-wear and avant-garde styles – will revolve around questioning fashion as it relates to transformation, psychology, and physicality.
Guests who RSVP in advance will receive a complimentary drink ticket at the event, which runs from 5-10 p.m. at Sullivan Center Alley (located on Monroe Street between Wabash Avenue and State Street).