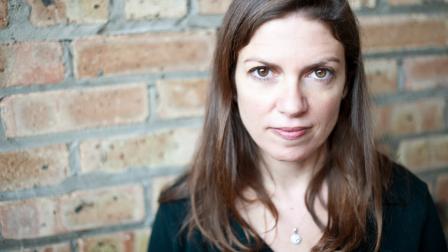 Chicago director Kimberly Senior (Photo c/o Goodman Theatre)
Directing Disgraced is something Kimberly Senior's really good at – this current incarnation at Goodman Theatre marks her fourth time at the helm of the play, which tracks a Muslim-American lawyer's downward spiral in his chase for the American dream. The work was a first for playwright Ayad Akhtar – it went on to win the 2013 Pulitzer Prize for drama before ultimately landing on Broadway for five months.
Notably this past year, the Chicago-based Senior, whose directing career spans 20 years, directed The Diary of Anne Frank at Writers Theatre (where she's also a resident director), in addition to Goodman's production of Gina Gionfriddo's Rapture, Blister, Burn. The day after Disgraced opens at Goodman, she'll switch gears and start rehearsals for Marjorie Prime at Writers; next spring she goes on to direct yet another production of Disgraced at L.A.'s Mark Taper Forum.
Senior sat down with us – Disgraced coffee mug firmly in hand – to talk about the qualities of the play that continually draw her back.
CHICAGO TONIGHT: This is your fourth time directing Disgraced. You started at American Theatre Company where it was developed in 2012, then on to New York's Lincoln Center Theater, Broadway, and now back in Chicago at Goodman. Both American Theatre and Lincoln Center are smaller spaces whereas Broadway's Lyceum seats over 900 and Goodman seats just under that. What does a larger space do to the play's intimate material?
KIMBERLY SENIOR: One of things I initially thought was successful about the play was that it was so intimately rendered that, like, the subtlety of pulling up a sleeve meant something. And I was like, how will we ever see that when 940 people are watching it at once and I was terrified of losing some of the intimacy and detail of gesture. And then the day we moved into the [Lyceum] theater, I was like, oh no, this is where the play belongs. In this old theater with history on this huge scale. Because the scale of what the people are going through in the play is that enormous. The thing is – it's not realism, the play. It looks like realism but it's not. It's larger than life. And so the trick is convincing the audience that they look like us and behave like us but really the way the events are packed in there, it's like realism plus.
CT: You've been so close with Disgraced playwright Ayad Akhtar these past four years – through Disgraced's different incarnations and, more recently, via your work in developing the world premiere of his play The Who and The What at La Jolla Playhouse. What does that relationship look like?
KS: Yesterday I was texting with Ayad and you know, he hasn't been here at all. He's not involved, he hasn't been involved in casting. He doesn't need to be anymore, he's moved on and he should.  But I said to him, 'I can't wait for you to see it, I hope you like it. I think I'm making this play for you. This is my love letter to you. It's like, I want you to see what we made and now that you have objective distance, I hope you can watch it.' I just feel like this is the most realized version of the play he and I first spoke about four Octobers ago. And I think it's because of my depth of understanding of his intentions for the play. I can't believe I'm allowed to keep directing this play. It's such a gift, every day.
CT: You've said before that picking up Disgraced felt like the first contemporary American play you'd ever read. What did you mean by that?
KS: I think it's why it won the Pulitzer Prize. It's a play that captures an American moment. I think there are a lot of fantastic writers, but what Ayad was doing and what I read in that moment – he was drawing from the rich theatrical cannon we have and drawing back on our ancestors. And you can see the roots of Greek tragedy and Shakespeare and Arthur Miller and Edward Albee – it's all packed in there. Then he was taking that and integrating his own ideas and our own moment and what came out of that machine was innovation. I think he's really bold. Having a Pakistani character say to an African-American character, 'You think you're the n-word, I'm the n-word.' That is on our stage in a mainstream way.  I will never forget – it was at [American Theatre Company] during the final scene, it was just Abe and Amir onstage. And [Ayad] looked at me and said, 'No one wants to watch two brown men talking together onstage. They won't care about them.' And I just wept and I thought, oh that is not true at all.
The other thing is, why do we have art, why do we have poetry, why do we have music? And most of the time, I'm gonna give you the answer, it's because we can't understand love. Like, the rhythms of the human heart make zero sense. And I think that religion is the other thing that we can't understand because it is so ephemeral. And where do we stand? Do we hate it, do we love it, do we run from it? And these questions are so unsolvable, I think they also drive why we tell stories. I think in a sense, that's the trauma at the center of the play – that both religion and love are. There's an attempt to understand where, in particular, Emily and Amir stand with their relationship to those two things.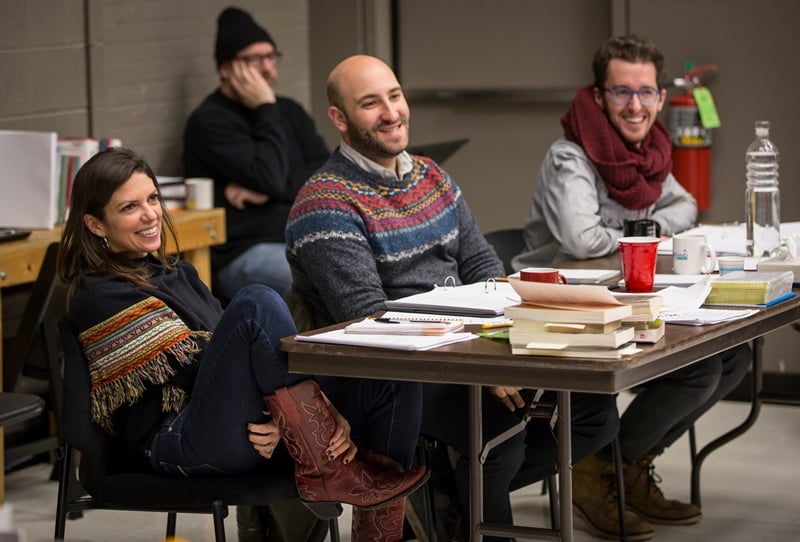 Kimberly Senior and Associate Director Nate Silver at rehearsal for Disgraced at Goodman Theatre
CT: In the play, we watch Amir, a Muslim-American lawyer, struggle with issues of religion and race as his wife, Emily – a white painter – looks on. The play's final scene involves a crucial moment between the two – wasn't that scene added in the final stages before the play's opening at American Theatre Company?
KS: (Laughs) There've been like, 700 rewrites of that scene. There's a version where Emily doesn't come at all and Isaac comes. There's a version where the nephew Abe and Amir are left contemplating the portrait together, which is actually an image I kind of miss – the sort of two generations of men. But it actually took away from Amir's journey. There was a version of scene four where we saw Abe sort of praying at the top of the scene, and I always sort of loved that – seeing something holy and transcendental after such brutality, but I think some of the connections audiences made were inaccurate. There's been so many versions – Emily wasn't always the last person onstage with Amir. Her accountability for what happened didn't really happen until the Lincoln Center version.
CT: Can you expand on that? What do you mean by Emily's "accountability"?
KS: Ayad is a writer who really writes in the room. He's amazing at plot and idea and he comes up with a fantastic structure that has remained, honestly, almost unchanged in many ways. In particular with Emily, she's a character that I don't think Ayad or I fully understood at the beginning of the play. We understood what she needed to do, as a device, but there was a feeling after [American Theatre Company's production] that she was blameless somehow. And what I love about the play is, everybody's right all the time. But Emily's character felt a little soft or delicate at first. You know, like, her sort of refusal to see that she was painting her husband as a slave. And that's become clearer over the iterations. And through the events of the play, Emily is also able to grow. And she's able to say, 'My work was naïve and it came from a limited perspective.'
CT: American Theatre Company artistic director PJ Paparelli, who was killed in a car accident this past May, originally pushed hard for the show's development back in 2012, yes?
KS: He was the initial engine. He brought the play to me and PJ created a theater and a space where he was trying to push the conversation about American contemporary theater. He was very passionate about this play and was responsible for a lot of the initial dramaturgical work on it. He, Ayad and I spent a lot of time together and PJ was the person who came in and continued to push us towards excellence. Little known fact: After the play opened – and it was very well received – I looked at Ayad and I said, 'It's not done.' And we talked to PJ about it and in a completely unorthodox situation, we went back into rehearsal for two weeks after the play opened. PJ was someone who very much subscribed to the same thing Ayad and I did which is, you're never done. It's always a thing in motion, it's always living. Don't stop, don't stop, don't stop.
Previews for Disgraced at Goodman Theatre start Saturday, Sept. 12. See Goodman Theatre's website for more information.
Interview has been condensed and edited.