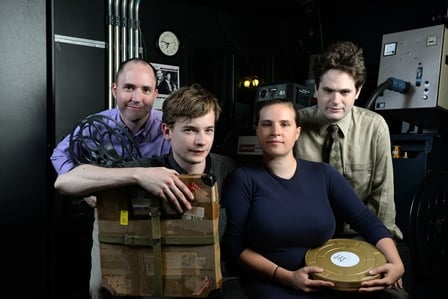 NEIU assistant professor Shayne Pepper, left, and NWCFS members, left to right, Julian Antos, Rebecca Hall and Kyle Westphal. The Northwest Chicago Film Society kicks off its fall season of 35-millimeter film screenings on Wednesday at the auditorium at Northeastern Illinois University in the North Park neighborhood.
The nonprofit organization was founded in 2011 by Julian Antos, Rebecca Hall, and Kyle Westphal—three former programmers from the now defunct Bank of America Cinema.
"Toward end of the Bank of America run, we realized that we had fantastic regulars and said to each other that we can't throw this away, we have to take this wonderful audience and start showing movies again," said NWCFS co-founder Julian Antos.
The fall season marks the film society's second run at Northeastern. The society originally set up shop in the Portage Theater until May 2013, then moved its operations to the historic Patio Theater until it temporarily closed its doors in April 2014. Without a definitive home, the society continued to host screenings across town at various locations, including the Music Box Theatre in Lakeview and Block Cinema at Northwestern University in Evanston.
"Northeastern approached us, sort of," Antos said. "One of the concession workers at the Music Box who was familiar with the society approached a professor at NEIU and they reached out to us."
Without even a screen in Northeastern's 400-seat auditorium, Antos explained that they faced a 6 to 10-month process to set up a projector and install all of the 35-millimeter film equipment at the school. The society screened eight films in its first season at Northeastern and the university has since integrated the screenings into its film studies courses.
On Northeastern's website, Shayne Pepper, NEIU assistant professor of communication, media, and theater said, "The film society has a strong tradition of curating some of the best film events in the Chicago area, and this new relationship will be a direct benefit for our students and the broader Chicago community."
Antos said that the society is happy to have a home at Northeastern and that so far the screenings have been well attended and the audiences have been very responsive.
Movies with a mission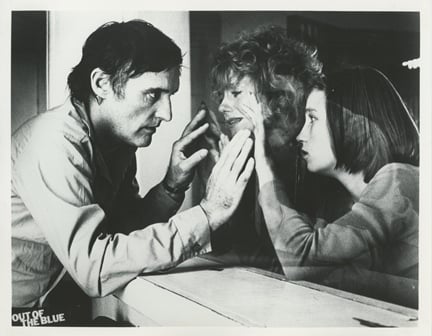 "Out of the Blue," a 1980 film directed by and starring Dennis Hopper, will screen on Sept. 30 and is the first time the film has been shown in Chicago since the early '80s, according to Antos. The society aims to preserve the materiality and context of films, including where they are from, the time period they capture, the stories behind the industries that produced them, the locations of their exhibitions, and the individuals who watched the films. According to Antos, the society chooses to show 35 mm films due to the organic nature of the film itself.
"That was sort of the secret mission to show these great films. As film has become more scarce, we've tried to hammer the fact that 35 mm films are not happening as much and we think it should happen all the time, that it's an important part of film history," Antos said.
"When an image is captured on film it's captured on film grain, which captures the image in a way that seems much more natural and sporadic—it's what the human eye sees. With digital images you're just getting pixels and a reproduction. It's like the difference between an oil painting and something that's printed on an inkjet printer."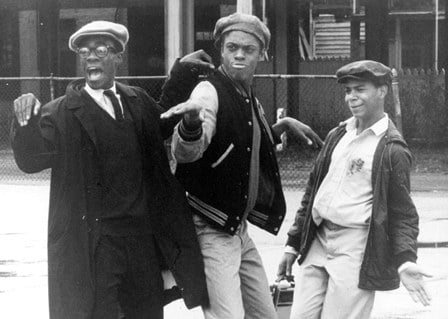 The Nov. 4 screening of "Cooley High," part of this year's Chicago Artists Month, features an introduction by Black Harvest Film Festival co-founder and co-programmer Sergio Mims. Films are obtained by the society from a multitude of sources, including film studios, the Library of Congress, and its own private collections. As for deciding which films to screen, Antos said that diversity is the key.
"Within each calendar we try to show a little bit of everything and try to look at each genre. We don't do series or retrospectives; we want people to come back week after week to see something they haven't seen before," Antos said.
All screenings are held at 7 p.m. and the cost is $5 for general admission and $2 with a university identification card. Films are screened on the Northeastern campus, Building E at 3701 West Bryn Mawr Ave.
The lineup for the Northwest Chicago Film Society's fall season is as follows:
Sept. 2: Marnie (1964) directed by Alfred Hitchcock
Sept. 9: Westward the Women (1951) directed by William Wellman
Sept. 16: So This is Paris (1926) directed by Ernst Lubitsch (featuring live organ accompaniment by Jay Warren)
Sept. 30: Out of the Blue (1980) directed by Dennis Hopper
Oct.  13: Illusion Travels by Streetcar (1954) directed by Luis Bunuel
Oct.  21: A New Leaf (1971) directed by Elaine May
Oct.  28: Witchcraft through the Ages (1968) directed by Antony Balch 
Nov. 4: Cooley High (1975) directed by Michael Schultz (featuring an introduction from film scholar Sergio Mims)
Nov. 25: Ruggles of Red Gap (1935) directed by Leo McCarey
Dec. 9: Tiger Shark (1932) directed by Howard Hawks
Dec. 22: Susan Slept Here (1954) directed by Frank Tashlin
The society will also partner with Chicago Film Archives for Home Movie Day 2015 on Oct. 17 at the Chicago History Museum. Attendees will have an opportunity to bring in their home videos and personal film reels and members of the NWCFS and CFA will inspect and project the films, as well as offer tips for film storage, preservation, and video transferring—all for free! The event begins at 11 a.m.
---
Chicago film festivals
Looking for more excuses to snack on popcorn in the dark? There's a diverse array of cultural and ethnic film festivals sweeping through the Chicago area this fall. Check out the list of film events below: