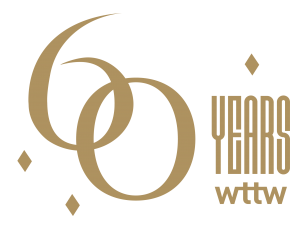 All year long WTTW will be celebrating its 60th anniversary. Former station volunteer-turned-producer Bud Borg, who grew up in South Shore and attended Roosevelt University, remembers the station during its humble beginnings.
One day as a student at Roosevelt, Borg heard music coming from a lounge. He decided to follow the music and discovered the school's radio station, WRBC.
"Before I knew it, I was auditioning for a show," he said.
Borg served as a producer, program manager, and director at WRBC. During his time there, he had the opportunity to interview some of the school's administrators. One such guest told him about a new station that was forming, WTTW. Borg said the administrator told him the new channel wasn't hiring at the time, so he decided to pursue volunteer opportunities at the station.
Borg's first duties as a volunteer at WTTW were to sweep floors and change the cue card for the station's test patterns. When WTTW served as a "working exhibit" in the east wing of the Museum of Science and Industry, Borg was there, helping build scenery for the studio.
"I literally learned television production from the ground up," he said. "Lighting, makeup, set design—all of this we learned by actually doing it there. Channel 11, because it was new, gave all of us that opportunity, which normally you don't get."
Borg eventually worked his way up from volunteer stage hand to staff, as floor director and assistant director.
"I produced my first television show when I was 19 at Channel 11," he said.
In 1957, Borg approached George Jennings, director of video and television for Chicago Public Schools at the time, about an idea he had for a television show: Youth and You, which would feature a panel of Chicago teenagers selected from high schools across the city to discuss different topics.
"It really gave them an outlet to express their opinions," Borg said.
The show was on Channel 11 for 17 weeks before being moved over to ABC.
Borg also brushed with some famous guests during his time at WTTW, including famed architect Frank Lloyd Wright and the inventor of long lasting lipstick, Hazel Bishop.
"[Wright] was in the studio for a show on his mile-high skyscraper, and the model for the skyscraper was so large we couldn't fit it in our studio," Borg said. "I met some great people there, [and] some wonderful people from around Chicago, too."
Since his time with WTTW, Borg said he thinks the station has become more accepted, watched, and used by the community.
"I think it's done a marvelous job," he said. "People recognize it as an important part of Chicago's culture."
Watch an episode of Chicago Dynamic featuring Frank Lloyd Wright and Carl Sandburg.