Watch the video: The state budget standoff has put some local hospitals on life support. We hear from the head of a South Side hospital that hasn't received any state Medicaid dollars in almost a month.
---
Many of Illinois' most vulnerable residents could be the hardest hit by the budget stalemate in Springfield. But last Thursday a U.S. District Judge ensured that hundreds of thousands of Cook County children won't be among the victims of the political impasse.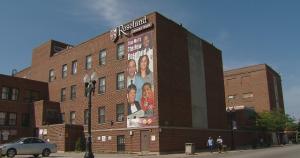 Roseland Community Hospital
Judge Joan Humphrey Lefkow struck down a Rauner administration order to stop state Medicaid reimbursements until a new budget is in place. 
Prior to the ruling, the Rauner administration sent a letter asking health care providers to continue providing care while the budget stalemate dragged on in Springfield.
However, as of today those payments have not yet been restored. Without that funding, so-called safety-net health care providers not only in Cook County but across the state could soon be cutting or eliminating treatment to the poor and indigent.
Joining us to discuss Medicaid reimbursements and what's at stake if payments aren't restored are President of the Sargent Shriver National Center on Poverty Law John Bouman, who was the lead attorney in the lawsuit  brought against the state by the Shriver Center, and Roseland Community Hospital President and CEO Tim Egan. The hospital serves a high number of Medicaid patients who live in the surrounding far South Side.
---
What are safety-net hospitals?
Safety-net hospitals provide medical care for low-income, uninsured, and vulnerable populations, according to the Illinois Hospital Association.
These hospitals can be public or private hospitals and "provide essential health services—including specialty services—to individuals who would otherwise lack access to health care." Safety-net hospitals treat a disproportionate share of Medicaid patients. 
In order for a hospital to be designated as a safety-net, a provider must have a Medicaid Inpatient Utilization Rate (MIUR) of at least 50 percent or an MIUR of at least 40 percent and a charity percentage above 4 percent.
There are 36 safety-net hospitals in Illinois, according to the Illinois Hospital Association. See a map of local hospitals that have received safety-net hospital designations through September 30, 2015 by the Illinois Department of Healthcare and Family Services.