Some people call them an engine for economic development in struggling neighborhoods. Others call them a mayoral slush fund, the modern version of pinstripe patronage.
However you refer to them, Tax Increment Financing Districts, often called TIFs, are a complicated and controversial financial tool that have been used in Chicago since the 1980s.
This month, Mayor Rahm Emanuel says he plans to wind down seven TIF districts located near downtown. Critics of the move say he's hanging downtown out to dry, but others say this is a first step toward taxing transparency.
We'll hear from Crain's Chicago Business columnist Greg Hinz and Tom Tresser of the TIF Illumination Project.
---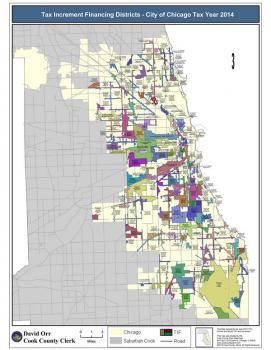 Click on the 2014 Chicago TIF for a larger view. What is a TIF?
A TIF—which stands for Tax Increment Financing—is "a special funding tool used by the City of Chicago to promote public and private investment across the city," according to the City of Chicago's Planning and Development Department.
TIFs are used to generate economic development in a specific geographic area, and according to Cook County Clerk David Orr's office, "funds can be spent on public works projects or given as subsidies to encourage private development." Funds can also be used to purchase property and demolish buildings in order for new construction to occur. 
How are TIF districts chosen?
In order for an area to be declared a TIF district, under state law it must be considered "blighted." Geographic areas must meet "numerous blighting factors to be eligible":
Age
Obsolescence
Code violations
Excessive vacancies
Overcrowding of facilities
Lack of ventilation, light, sanitary facilities
Excessive land coverage
Inadequate utilities
Deleterious land use or layout
Lack of physical maintenance
Lack of community planning
Dilapidation or deterioration
An "eligibility study" of a proposed TIF district is conducted by a consultant hired by the city, and if the area meets state standards, then the consultant conducts another study of the area and writes a "redevelopment plan" and "project budget." According to Orr's office, the project budget is "an overview of the development priorities for the area and how TIF dollars will be spent during the TIF's 23-year life. The redevelopment plan must be approved by the City Council, but the TIF district may make changes to its TIF project budget at any time."
In July 2013, Cook County Clerk David Orr's office published an informational video explaining what TIFs are and how they are used. Watch the video below.
Emanuel's Downtown TIF Phase Out
Earlier this month, Mayor Rahm Emanuel announced he would be phasing out seven TIF districts located in downtown. That would "free up about $250 million over the next five years," according to the Chicago Sun-Times. Of that total, $125 million would go to Chicago Public Schools and $50 million to city government.
According to the Chicago Tribune, only projects that have already been approved by City Hall will continue in the following TIF districts: Chicago/Kingsbury, River West, LaSalle Central, Canal Street/Congress Expressway, Jefferson/Roosevelt, Roosevelt/Canal and River South. 
The mayor's decision to phase out those districts was criticized by Crain's Chicago Business columnist Greg Hinz.
"I never would have figured Mayor Rahm Emanuel as the type to throw downtown Chicago over the Michigan Avenue bridge. That, however, is exactly what the mayor seems to have done with his new order to block any tax-increment financing spending in the central area of the city, however much it's needed," Hinz wrote recently in Crain's.
The mayor's move actually proves anti-TIF arguments, according to Tom Tresser of the TIF Illumination Project.
"TIFs live and die at the whim of the mayor. If he wants to make them go away, he can make them go away," he said. "The other side always says it's a key piece of development, that all the money has been committed, it's been spoken for. But when the mayor wishes to, he can make it un-spoken for and sunset the TIFs."