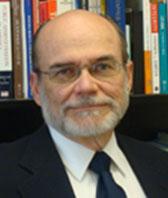 Former State Rep. H. Woods "Woody" Bowman died Friday evening after his car crashed in Van Buren County, Mich. His wife, Michele Thompson, was seriously injured in the accident.
According to Michigan State Police, the Cadillac Bowman and his wife were traveling in was rear-ended by a semi-truck near the Mattawan exit on 1-94, about 15 miles southwest of Kalamazoo.
Bowman, a professor emeritus in the School of Public Service at DePaul University, was taken to Bronson Methodist Hospital in Kalamazoo, where he was pronounced dead. His wife, a former secretary of the University of Illinois Board of Trustees, was treated for her injuries.
A frequent guest on Chicago Tonight, Bowman appeared numerous times over 25 years during his tenure as a legislator.
His most recent appearance was in March.
Read a statement from Cook County Board President Toni Preckwinkle:
I was saddened to hear of the death of Woods Bowman in a tragic auto accident last weekend. "Woody" was a fixture in Illinois politics and government for decades. He served with integrity in the state House of Representatives and later, as the County's Chief Financial Officer under Board President Richard Phelan. Even after he left that position, he remained committed to Cook County, serving most recently as a member of my Task Force on unincorporated areas. I offer my deep regrets at Woody's passing and extend my wishes for a speedy recovery for his wife Michele.