Geoffrey Baer digs into the history of handball in Chicago firehouses, rides the Cinderella Train at Adventureland, and sails away with the Rainbow Fleet.
---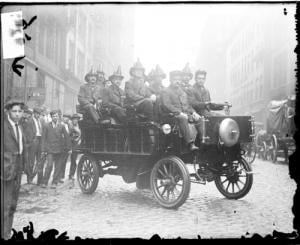 When I was a boy it seemed most firehouses had a handball court out in back. Do any Chicago firehouses still have handball courts? Do new firehouses ever have them? Is handball any longer a big sport for firefighters?
--Roger Flaherty, Edgewater
There are still a couple of firehouse handball courts left, like the one at Engine 46 in Calumet Heights. These days firefighters use the court for racquetball or wallyball, and there are also a number of old firehouses where handball courts were converted into gyms, but new firehouses are not built with handball courts anymore.
For those who are unfamiliar, handball is like racquetball without the racquet. Players just hit the ball with their gloved hands. And handball was pretty popular in Chicago firehouses for a couple of reasons. One was the huge wave of Irish immigration in the 19th century, because handball was wildly popular in Ireland. As many Irish immigrants became firefighters in big cities like Chicago, handball became a firehouse sport around the country.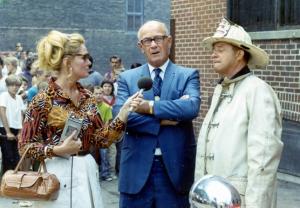 The second reason it was particularly big in Chicago firehouses was a fire commissioner named Robert Quinn. The colorful Quinn, who is perhaps best known for setting off air raid sirens when the White Sox clinched the American League pennant in 1959, had been a national champion handball player. When he became commissioner in 1957, he made it his mission to whip paunchy firefighters into shape with intramural sports programs, particularly handball. He oversaw the construction of 36 fire stations, many of which were built with handball courts. Quinn himself played handball five times a week well into his 60s, and was touted as a role model of physical fitness – in a Tribune profile from 1967 Quinn soundly defeats a reporter 20 years his junior.  
Like many sports crazes, handball fell out of fashion as the handball courts began to see more racquet action with games like squash and racquetball. But if you're in the Calumet Heights area, the crew at Engine 46 welcomes neighborhood residents to stop by and play a round of wallyball in their court. 
Can't get enough of that firefighting stuff? Watch the bonus video below to see three of the CFD's finest demonstrate proper use of the fireman's pole!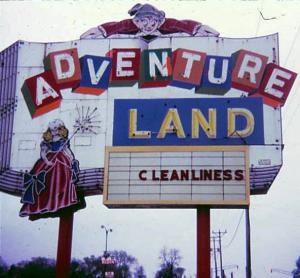 As a child living in Des Plaines in the 1960s, we would go to an amusement park called Adventureland. When I mention it to people around my age, they look at me as if I'm from a different planet! Does anyone recall where it was and when it was in operation?
--Alan Snopek, West Dundee
Adventureland was definitely not a figment of our viewer's childhood imagination. It stood from 1961 to 1977 on what is today a golf course in southwest suburban Bloomingdale at the northwest corner of Lake Street and Medinah Road.
In the days before Great America when there were small amusement parks all over the Chicago area, Adventureland was one of the biggest of these small parks. Rides included the Cinderella Train, the Torpedo Tubs bumper boats, and the two signature roller coasters, the 35-foot Small Bobs and 60-foot Big Bobs. Another favorite was a burning dollhouse in the middle of a pond, where kids pretending to be firefighters put out an actual fire with hoses as they stood around its perimeter.  
At its peak, Adventureland drew 650,000 visitors per summer, second only to the famed Riverview amusement park according to Derek Gee in his book Laugh Your Troubles Away. In fact, when Riverview closed, Adventureland purchased its non-coaster rides. 
Adventureland was originally known as Paul's Picnic Grove and later Storybook City, and its rides and attractions were designed for very young children. It got an upgrade in 1961 when the owner of the Santa's Village amusement park Durrell Everding bought Storybook Gardens and added larger rides to appeal to older children. And unlike other amusement parks of the day which ticketed for each ride, visitors were only charged once for entry and got unlimited rides on their favorite attractions.
After Everding died in 1971 the park went through several owners. The opening of Great America in 1976 spelled the end for local amusement parks, including Adventureland which closed in 1977, but there is still one piece of it left! It's a statue of the Old Woman Who Lived in a Shoe, which is now the fifth hole at the Green Valley mini golf range in Hanover Park. 
Special thanks go to the Addison Historical Society and the Bloomingdale Public Library for their assistance with the research on this story and for supplying these wonderful photos – you can see them and many more at the Bloomingdale Public Library's site.
What happened to the park district Rainbow Fleet sailing school at Burnham Harbor? I worked there in the summer of 1949.
--Peter Smith, Gladstone Park
The Rainbow Fleet Sailing School is still above water, but today it's sailing under a different flag. Since 2009, it's been a public-private partnership with a name that's a mouthful -- the Chicago Park District Judd Goldman Community Sailing Program. (Sailboat racers might know the name Judd Goldman for their famous adaptive sailing program that teaches people with disabilities how to sail.) The part of that program that was once the Rainbow Fleet teaches city kids 8 to 12 years old to sail and even race on a fleet of 7 ½ -foot Vanguard Prams. Most of their classes are held at Burnham Harbor.
The Chicago Park District Rainbow Fleet got its start in 1936, and the kids not only learned to sail, but built their own boats! There were eight clubs for boys ages 14 to 18 across different parks. It was called the Rainbow Fleet because of the rainbow created by the different brightly colored sails of each club boat. The Chicago Park District program was inspired by adult yacht clubs, who also furnished the mahogany the boys would use to build their boats. Young sailors would spend the fall and winter building their boats and in the summer, they would then learn how to sail them and compete in races in park lagoons.
As it still does today, the program emphasized the "rules of the road" in sailing and included detailed safety and rescue training. Today, the Judd Goldman Foundation raises the funds to operate the sailing program, and the Chicago Park District runs the program day-to-day.