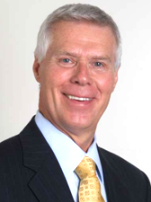 Jerry Roper, the former president and CEO of the Chicagoland Chamber of Commerce has died. He passed Sunday night at the age of 74, according to the Chicago Sun-Times.
He was diagnosed with prostate cancer in 2007 and announced in April 2013 that he'd retire as chamber chief. He officially stepped down in May 2013 after 20 years with the chamber of commerce.
It has been both my pleasure and an honor to be able to serve this wonderful city and to work with so many talented, dedicated people throughout the years," Roper said upon his retirement
Roper took over the chamber during a time of turmoil for the organization, which in 1993, was known as the Chicago Association of Commerce and Industry. When Roper came on board, the chamber was running $1.5 million in the red and had been hobbled by a sexual harassment suit against its former chief.
By the time he retired, chamber membership had doubled to 1,500, that deficit had disappeared, and the city was on the verge on landing a casino, which he lobbied hard for.
Mayor Rahm Emanuel released the following statement about Roper's death:
"I am deeply saddened by the passing of Jerry Roper. For more than 20 years, Jerry was a tireless advocate and a tremendous partner for strengthening Chicago's business climate and ensuring a stronger economic future for our city. Jerry understood that entrepreneurs and small businesses form the backbone of a vibrant and growing economy for Chicagoland. His work was essential and his contributions to our economic vibrancy will be long lasting. The thoughts and prayers of the people of Chicago are with his wife Carol, his entire family, and his many friends during this difficult time."
Current Chicagoland Chamber of Commerce President and CEO Teresa Mintle said in a statement:
"Not only did Jerry Roper have a profound impact on the business community here in Chicago, he was a compassionate, generous man that connected on a personal level with everyone he met. Chicago is a better place to live and work today because of the contributions of Jerry Roper."
42nd Ward Ald. Brendan Reilly said in a statement to Chicago Tonight:
"Jerry Roper truly loved Chicago and he wore that sentiment on his sleeve each day. He was the eternal optimist and fiercely bullish on Chicago's future. Jerry was the voice of the Chicago business community for years and was convinced Chicago would become a great global city. He poured every ounce of his passion and energy into achieving that goal. Chicago was very fortunate to count Jerry Roper as one of its greatest boosters and he'll be sorely missed."
Roper, a longtime resident of Chicago's South Loop is survived by his wife Carol, two children, and two grandchildren.