Dianne Reeves is one of the most respected jazz vocalists in the world. She won Grammy Awards three years in a row, and she owes much of her success to education. She's visiting Chicago for this weekend's N'DIGO Foundation Gala, Jazz Enchantment,  which provides merit scholarships to deserving students.
---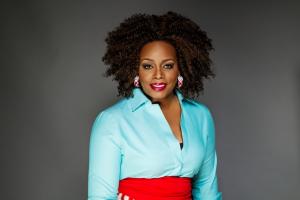 Dianne Reeves was born on Oct. 23, 1956 into a musical family—her father sang and her mother played trumpet—in Detroit and raised in Denver.
By the time she was in junior high school, she knew she wanted to sing. Her early influences include Betty Carter, Carmen McRae, and Nina Simone, according to ChicagoNow. In high school, she met Clark Terry, a trumpeter who became her mentor.
During her early career, Reeves had a passion for Latin music and played with Eduardo del Barrio's group Caldera, and Sergio Mendes. In 1987, she began a solo career when she signed with Blue Note Records.
Watch Jazz vocalist Dianne Reeves sing Misty by Erroll Garner in this web extra video.
That year she released her self-titled album, Dianne Reeves. Over the course of two decades, Reeves continued to release albums annually (in some years she released multiple albums). In 2008, Reeves released the album When You Know, her last under Blue Note Records.
After a five-year break, the four-time Grammy award winner (Reeves is the only artist to have won three Grammy awards for Best Jazz Vocal Performance for consecutive albums) released Beautiful Life with Concord Records. The album is nominated for the 2015 Best Jazz Vocal Performance Grammy award. In this video she talks about the new album and introduces the musicians she "loves and adores" that worked with her on this album.
Watch Reeves perform Freedom Dance. 
Watch Reeves perform Nine.
Watch Reeves perform I'm in Love Again.