For the third time in six seasons, the Chicago Blackhawks are Stanley Cup Champions. Duncan Keith is the playoff MVP and scores the game-winning goal in the decisive Game 6. Associated Press National Sportswriter Jim Litke joins us to talk about how they did it, put the team's accomplishments in historical perspective, and look at whether or not they could do it again next year.
Wrigleyville erupted in celebration Monday night after the Hawks won the Stanley Cup. Today, the Blackhawks will bring the celebration back to the Friendly Confines. Around 6:30 pm the Blackhawks will take a celebratory lap around Wrigley Field's warning track, pose for pictures with the Cup, and throw the ceremonial first pitch.
On Thursday, the City of Chicago will celebrate the 2015 Stanley Cup Champions with a parade and rally beginning at 10:00 am. The parade route will run along Monroe Street beginning at Jefferson Street all the way to Michigan Avenue. A rally will be held afterward at Soldier Field, which will be a free ticketed event.
Watch a video of every Blackhawks goal during the NHL Stanley Cup Playoffs and Final. 
---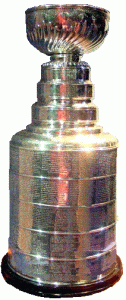 While the Chicago Blackhawks are the most recent team to have won three Stanley Cup championships in six seasons, many teams have achieved the feat over the course of the Cup's history. View a list of those teams.
Montreal Victotrias*
Ottawa Silver Seven*
Montreal Wanderers*
Ottawa Senators
Toronto Maple Leafs
Detroit Red Wings
Montreal Canadiens
New York Islanders
Edmonton Oilers
*Stanley Cup winners prior to the formation of the NHL in 1917.