Sister Rosemary Nyirumbe, a Ugandan educator, was named one of Time's 100 most influential people last year for her advocacy for women and girls who have survived kidnappings and violence at the hands of a notorious warlord in Uganda. She runs schools to teach practical and vocational skills to these survivors, and since 2002, Nyirumbe has enrolled more than 2,000 girls and women. Nyirumbe is in Chicago to deliver the commencement address for DePaul University's School for New Learning and a screening of Sewing Hope, which is a documentary following Nyirumbe's work assisting survivors. She joins us to talk about the documentary and her work.
Watch a trailer for Sewing Hope.
---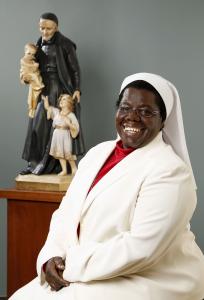 A native of Paidha, Uganda, Sister Rosemary Nyirumbe learned the value of hard work during her childhood. At age 10 she went to live with her older sister and began caring for her nieces and nephews, developing a passion for caring for others. This passion led her to join the Sacred Heart Sisters as a teenager. At the convent, she studied as a midwife and was recruited to help a surgeon, which put her studies on hold.
When the war with the Lord's Resistance Army (LRA) began, Nyirumbe was stationed in Gulu, Uganda where she oversaw a small group of nuns. As the conflict intensified, she and the nuns she oversaw were forced to flee Gulu. Once she completed her studies as a midwife, Nyirumbe returned to Gulu to head Saint Monica's Vocational School.
The LRA was still terrorizing Gulu when she returned, which led to hundreds of people seeking refuge at the school at night. Nyirumbe began teaching a practical tailoring course after talking with a student who had been abducted and held captive by the LRA for years. Nyirumbe advertised the course on the radio, offering it to girls and women who had been in captivity. Hundreds of students came, and the success of the program led to the opening of a similar school in Atiak. 
In 2012, Sisters United LLC was founded as a for-profit business designed to promote a global brand, while supporting non-profit causes, such as Pros for Africa and St. Monica's Girls Tailoring School. Young women, who are selected and supervised by Nyirumbe, in Africa make the pop tab purses distributed by Sisters United.
DePaul University's School for New Learning is collecting aluminum pull tabs to send back to Uganda with Nyirumbe at the end of June. Tabs can be dropped off or sent to the School of New Learning, located at 1 E. Jackson Blvd. For more information, contact Derise Tolliver Atta at [email protected].
In 2007, Nyirumbe was named a CNN Hero. Watch the segment.