The Chicago Blackhawks are headed to the Stanley Cup Final. This is the third time in six seasons the 2015 Western Conference champions have made it to the final. Ahead of Wednesday's game against the Tampa Bay Lightning, we discuss the Blackhawks' 2015 season and what to expect in Game 1 with Steve Konroyd, Blackhawks studio host on Comcast SportsNet and WGN-TV. Konroyd played for the Hawks from 1988 to 1992 as part of his 15-year NHL career.
---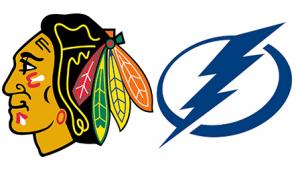 Both the Eastern and Western conference champs clinched their respective titles in Game 7 matchups against their opponents. And during the regular season, when the Blackhawks and Lightning faced each other, each team won a game. The Blackhawks won a 3-2 shootout at home, and the Lightning won 4-0 in Tampa.
The Western Conference champs have the upper hand in terms of experience and defense, with a No. 2 ranking in the NHL this season. But the Blackhawks face a formidable opponent; The Lightning's offense was ranked No. 1 this season. Watch a video analyzing the teams' statistics to see who has the advantage in the final.