After coming in second in the February 2011 general election, John Arena beat opponent John Garrido by 30 votes in an April 2011 runoff to become alderman of the northwest side's 45th Ward, which covers parts of Norwood Park, Jefferson Park, Portage Park, and Old Irving Park. In the February 2015 election, Arena, a member of the City Council's Progressive Caucus and a frequent thorn in Mayor Rahm Emanuel's side, faced three challengers, including Garrido, a Chicago Police lieutenant. Arena beat Garrido by 750 votes but failed to get enough votes to avoid a runoff. The two candidates join us for a forum to discuss their vision for the 45th Ward.
---
Click the dots in the image below to read candidate bios.
---
45th Ward
2015 Remap
Included in the 45th Ward's boundaries are the neighborhoods of Jefferson Park, Portage Park, and Old Irving Park. The ward remap taking effect this year cut out the small, ethnically diverse and historic neighborhood of Mayfair, located just west of Albany Park. This area, as well as the small northwest communities of Forest Glen and South Edgebrook, were absorbed by the adjacent 39th Ward.
Ward Demographics
Over half of the ward's residents are white and about a quarter of them are Hispanic. The ward is primarily middle class and blue collar. The average annual income of residents is slightly below $60,000. That's according to median incomes of the ward's census tracts, the small statistical subdivisions of counties defined by the U.S. Census Bureau.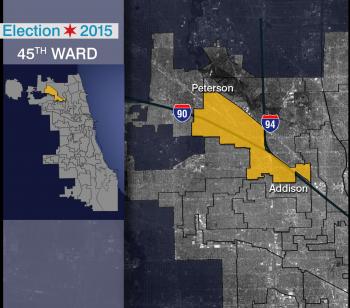 Local Economy
According to a survey by Environmental Systems Research Institute, a company that measures geographic data, area residents spend $141 million of their disposable income outside of the 45th Ward. For this reason, bringing more business to the area has been a hot topic issue in this aldermanic election.
Located here is the Six Corners shopping district, named after the intersection of Irving Park Road, Cicero Avenue, and Milwaukee Avenue. This spot has been a historical business hub since the 1840s. Although the area has seen an economic decline in recent years, urban redevelopment is shaping up and plans for a more robust business district are in the works. A 2013 plan commissioned by the city recommends the construction of several high-rise residential buildings, two commercial development areas containing shops and residences, as well as a pedestrian plaza.
To the west of Six Corners sits a long-vacant Bank of America building that incumbent Ald. John Arena is trying to transform into a grocery store and gym. The second floor of the old bank used to house the Northwest Chicago Film Society, which Arena and resident supporters are aiming to develop into a space for a nonprofit arts group and medical offices.
This ward is one to keep an eye on, as its relatively safe environment and close-knit, family community lends itself to urban redevelopment. The small neighborhood of Old Irving Park is proving to be an attractive option for homebuyers. The area boasts decently sized lots, reasonable home prices, and attractive, historic architecture. 
---
Both candidates were sent questionnaires to fill out and send back to us. Read the unedited responses below.
John Garrido

Age: 47

Place of Birth:  Chicago

Current neighborhood:  Gladstone Park

Family:  Wife and 3 dogs

Occupation:  Chicago Police Lieutenant and Attorney

Previous political experience:  None

What is your vision for the 45th Ward?

I think I share the same vision as my neighbors. We want safe neighborhoods, good schools, our streets and curbs fixed, trees trimmed and to fill our empty store fronts.

What is the most pressing issue in your ward?

Quality of life issues, streets, trees, airplane noise.

What is your plan for fixing Chicago's financial situation?

We need to control our spending and utilize tif dollars to get our pension debt under control. Adding a casino to bring in new revenue will be a good start.

How do you think the city has handled the severe weather this winter?

I think the arterial streets were handled pretty well. The side streets, not so much.

Do you support Mayor Emanuel or County Commissioner Garcia in the mayoral race?

No Endorsement of either candidate. I look forward to working with whomever happens to be our next mayor.

What is your favorite restaurant in Chicago?

Too many to list.
John Arena

Age: 48

Place of Birth: East Orange, NJ

Current neighborhood: Portage Park

Family: I've been married to my wife Jill for 22 years. Our son Joe is a freshman at Illinois State University and our daughter Jenny is a freshman at Lane Tech High School.

Occupation: 45th Ward Alderman

Previous political experience: I am in my first term as Alderman of the 45th Ward.

What is your vision for the 45th Ward? 

My vision for our community is to continue the progress we've begun during my first term. For 20 years, the 45th Ward suffered from economic stagnation and declining infrastructure. The Alderman's office was not responsive and did not proactively work to improve our neighborhoods. During my first term, I've worked with the community to foster neighborhood-appropriate economic development. I've transformed the Ward office so that it is open, transparent, responsive and accessible to residents. And I've been a strong independent voice on the City Council, voting on what's good for our community, not someone else's agenda.

I'm running for re-election to continue to move our neighborhoods in the right direction and build on the gains we've achieved together.

What is the most pressing issue in your ward? 

Continued economic development. I've brought more than 80 new businesses to the Ward in just four years. During a recession, I worked to turn around two decades of economic stagnation in our neighborhoods.

This involved a layered approach, because there is no silver bullet to creating jobs and sustainable economic development. I worked to bring cultural attractions to the ward to make the area more attractive to both residents and potential employers. I focused on infrastructure improvements so that employers' workers are able to get to work and so that businesses are able to receive the city services they need to operate. I also supported reasonable density developments close to shopping districts and public transportation.

Finally, I reached out to potential employers. My office invites businesses to see the area, invites potential employers to come to dinner at a new restaurant in the area, tour the neighborhood – all in an effort to highlight the positive changes in the 45th Ward since my predecessor left office. Marketing new attractions and developments to potential new businesses has resulted in a snowball effect.

I will continue to use these approaches to promote economic development throughout the 45th Ward. I'll continue to engage residents in the planning process as we work to attract business to our commercial and industrial corridors, and I would like to see this approach replicated in other parts of the city. 

What is your plan for fixing Chicago's financial situation?  

We need to address pensions. I want the city to keep the promises we've made to retirees and I want to continue to deliver quality city services. First we need to make sensible cuts and we need greater transparency and accountability in the budgeting process so we can make city spending more efficient and less wasteful.

I've voted for efficiency and cuts to wasteful spending. One example is the Privacy and Transparency Accountability Ordinance, which I co-sponsored and which would prevent another parking meter deal.

If it turns out we need additional revenue to keep our promises to seniors and city workers, I will make sure that our budget isn't balanced on the backs of working families. I will first ask the very wealthy and large corporations to pay their fair share.

And I will continue to fill vacant storefronts and bring new businesses to the 45th Ward, replacing empty lots with stores that produce commercial tax property revenue so our families and seniors pay less to keep our city running.

How do you think the city has handled the severe weather this winter? 

This is Chicago. We have severe weather almost every winter, and the city's Department of Streets and Sanitation usually does a pretty good job of plowing and salting the streets. This is an area I support Mayor Emanuel on – his people did a good job getting things back to normal after a blizzard dumped 19 inches of snow on us.

Do you support Mayor Emanuel or County Commissioner Garcia in the mayoral race? 

No. And no matter who wins the Mayor's race, I will continue to work for the people of the 45th Ward and do what's best for our community. I need to earn my constituents' votes to represent them, and the Mayor needs to earn my vote on any proposal put forth. I will always thoroughly examine those proposals and vote for what's best for our Ward and our city, regardless of who the Mayor is.

What is your favorite restaurant in Chicago? 

All of my favorite restaurants are in the 45th Ward.
---
Click on the map below for vote percentages in all 50 wards.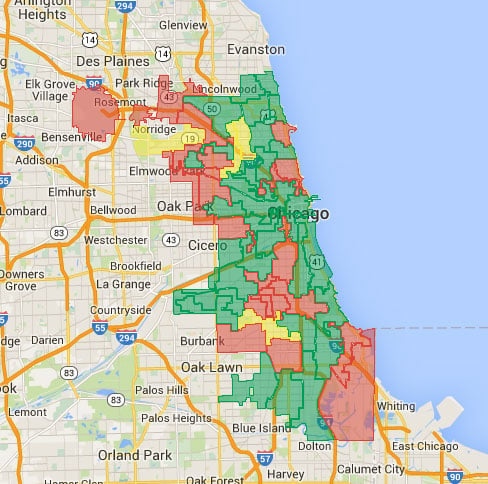 Click the dots in the image below to learn the percentage of votes each candidate received in the Feb. 24 election.
-- Graphics by Kristen Thometz and Linda Qiu; Yasmin Rammohan contributed