Director Taylor Hackford is in Chicago directing a musical stage show about the legendary Vegas husband and wife team, Louis Prima and Keely Smith. Prima, Smith, and their band were the biggest draw in Vegas in the 1950s. They could swing while making the audience laugh, and they brought an almost rock 'n' roll energy to their performances. The play is called Louis and Keely Live at the Sahara, premiering this weekend at the Royal George Theatre. Hackford has long been a music-minded director. He directed the classic Chuck Berry documentary Hail! Hail! Rock 'n' Roll. Hackford joins us to discuss his attraction to Prima and Smith, and he also talks about his wife, Dame Helen Mirren.
---
Read an interview with Anthony Crivello and Vanessa Stewart, who play Louis Prima and Keely Smith.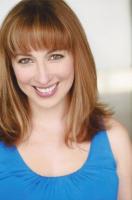 Vanessa, you co-wrote Louis and Keely. What inspired you to create it and how did you come to work with Taylor Hackford?
VS: I grew up with the music. My grandfather listened to it all the time. I'm from New Orleans, and naturally became a jazz fan. I wanted to write about Louis Prima and as I was researching him, I grew to love the middle of the career. The love story was more attractive to me. I learned more about Keely Smith, and the sound sat very well in my voice. I created the show in Los Angeles with Jake Broder in a small theater, where we had the freedom to grow the show and incubate it. A few years ago, Taylor saw us when we were a two-person show. Taylor knew Keely and asked us if he could join our team.
You got to meet the real Keely Smith, correct?
VS: Yes, oh god, the first night she showed up to the show, I watched her watch me be her. I can't imagine what she must have thought, reenacting some of the most painful moments of her life. But she was very gracious. She wanted Taylor to help bring it along to where it is today. She's been a friend of the show since.
Anthony, were you familiar with Louis Prima before you got the part?
AC: Louis Prima is a rite of passage for any Sicilian boy. I'm very familiar with his music. It's used repeatedly in Italian movies, especially in [Martin] Scorsese films.
So how do you portray someone who is such a larger than life icon?
AC: You throw yourself into it. You have YouTube as a resource. You can access the character and construct a persona. It's not an impersonation but a creation you build.
VS: We try to get the essence of them.
AC: Yes, capture their essence. There's an old documentary of Louis and Keely on YouTube. I watched performances on The Ed Sullivan Show. He did a Ragu commercial. We're mining all of that.
How would you describe Louis?
AC: He's a brilliant businessman. Like many artists in that generation, he was brilliant from the standpoint as an artist but astute enough to know he had to reinvent himself. He had such energy for the stage. The rules back then called for performers who are extremely fit. So performing was an aerobic exercise and an emotional one.
Louis was considerably older than Keely. Can you describe their relationship?
VS: Pygmalion at first, a bit Svengalish. He helped grow her into the performer she was. She admired him a lot. She actually met him at the bottom of his career as a fan. Their admiration for each other then evolved as the act continued. He divorced his wife. They certainly had respect for each other as performers and that grew.
AC: He was in his late 40s when she was 18.
Tell me about the end of that relationship.
AC: Keely was given some breaks because she was such a tremendous vocalist, revered by the likes of Ella Fitzgerald. Because of that, she was offered opportunities to record. Sinatra became a part of that. Sinatra and the Rat Pack were doing five shows in Las Vegas. A lot of the stars in that golden era of Vegas would then go see Louis and Keely perform after their shows. Sinatra took Keely under his wing. Her talent started to exceed what Louis was bringing to the table. This is a man with a big ego, and sensitive about it. When finally, when they were receiving larger contracts, the casinos started saying that Keely should headline. It used to be Louis Prima with Keely Smith, but they wanted Keely Smith with Louis. That was such a blow to his ego. He couldn't handle it despite the fact that they had children. They did try to reunite one time.
VS: Louis really tried to get back together. You know, "It's just an act." But as soon as she tried to do it, she just couldn't handle it. They loved each other until the end of their lives and they couldn't perform together. They couldn't handle it. I've seen her in concert and there's a Louis-sized hole beside her.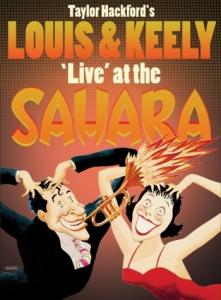 What were they like as performers?
VS: Everyone knows Sonny and Cher, but really Louis and Keely originated them. He was crazy and clownish all around her. She was a deadpan balladeer. Her singing was the perfect counterpoint to his groovy jive. They would play off of each other. It was perfect opposition. You saw their love on stage.
AC: Taylor [Hackford] and Vanessa and Jake [Broder] did a great job interweaving their musical numbers with the emotional content. They're dramatic and comedic, and it's great fun. They broke the fourth wall; you can see it in exchanges between them and their exchanges with the audience.
Can you give me an example of a song that encapsulates their personal lives?
VS: "Just a Gigolo." It sounds like a very fun song, but if you look at the words – you know, "I ain't got nobody"—you can see it's really about his heartbreak. And that's where they end up. "Old Black Magic" is their other hit that everyone knows. And it's at the height of their love. Everything in their life together happens on stage. He proposes to her on stage and that song grows out of that.
What is Taylor Hackford like as a director?
AC: He's a wonderful man, astute, very learned about the period, the story, the music. We have a first-rate director and producer. And the presentation – it's gorgeous. It looks great.
VS: He's a storyteller, inherently. I joke that he's a story "Taylor." He loves to tell a story and he captures the arc perfectly. This is the kind of story he's so good at telling.
What do you hope audiences will get from the performance?
AC: We want them to tap their toes and that definitely happens. We want to them to go along for the ride that goes from elation and celebration to devastation.
VS: For me, as the writer, it's very much about what do we choose in life? Your career, your goals, your family? I guess what I'm trying to say is choose love. Choose family, choose the things that matter. The thing that Louis is mulling through the show is, do I choose the audience or go home with Keely and be together? It's oddly redemptive. I think in his heart, he always chooses Keely.
Interview has been condensed and edited.