Incumbent 36th Ward Ald. Nicholas Sposato decided to run in a different ward after the 36th was re-mapped. Four candidates ran to take over his seat, which covers parts of Belmont Cragin and Portage Park. Two candidates made it to the April runoff: former congressional staffer Omar Aquino and consultant Gilbert Villegas. They join us to discuss their vision for the 36th Ward.
---
Click the dots in the image below to read candidate bios.
---
36th Ward
Remap
The 36th Ward's boundaries have significantly changed in the ward remap taking effect this year. Previously, the ward incorporated a large chunk of the Dunning area on the northwest side. Most of that land now resides in the 38th Ward. The 36th Ward now stretches further east, covering parts of Hermosa, Portage Park, Hanson Park, and Belmont Central. The ward still contains most of the Mont Clare neighborhood.
The ward is mostly Hispanic, although just over a quarter of its residents are white.
Local Economy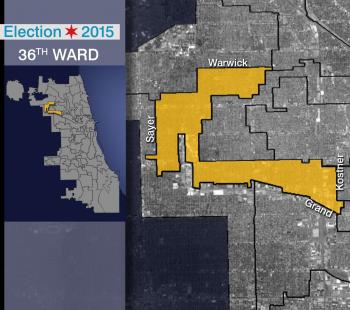 This ward has a number of local retail stores, restaurants, and businesses. Popular restaurants in the area include Trattoria Porretta Ristorante and Community Tavern, a new Portage Park steakhouse with French influences. The Six Corners shopping district in Portage Park, where Irving Park Road, Cicero Avenue, and Milwaukee Avenue intersect, used to be the largest commercial hub outside of the Loop, starting in the 1840s. While the shopping area is not as bustling as it used to be, plans are in place to redevelop it as an urban pedestrian retail area. The opening of the Portage Theater, one of Chicago's oldest movie theaters, has helped ignite this change.
The ward also contains the Brickyard Mall, which was built in 1977 as "Chicago's first in-city regional mall." When the area began to lose some of its manufacturing-fueled economy in the 1990s, the mall began to lose major stores. Still, the mall's owner redeveloped the shopping center in 2003. The mall is still open today and is a major shopping destination in the area.
Like many blue collar neighborhoods in Chicago, a decline in industry means fewer jobs, which contributes to a weaker local economy. It was announced this month that the Mont Clare bowling alley, Mont Clare Lanes and Banquets, will shut its doors next month after 56 years of business. Mark Ranallo, one of the owners, pointed to a decrease in residents' discretionary income and the area's high taxes. Jump-starting the economy is without a doubt a key concern in this aldermanic race.
---
Both candidates were sent questionnaires to fill out and send back to us. Read the unedited responses below.
Omar Aquino

Age: 27

Place of Birth: Chicago

Current neighborhood: Belmont-Cragin

Family: Youngest son, of two, of Olga and William Aquino. Single. 

Occupation: Former outreach coordinator, U.S. Congresswoman Tammy Duckworth.

Previous political experience: While I've been involved politically my whole life, I've never held or run for elected office before. 

What is your vision for the 36th Ward?

Both the city and the 36th Ward need new leadership and vision. The same old ideas clearly aren't working. We need real solutions to real problems – our streets and infrastructure are crumbling, schools are overcrowded and in need of repair, and crime continues to be a major issue.  We have economic development needs and a lack of good paying jobs in the 36th Ward. At the same time, the city is facing a budget crunch and pension crisis that means that services to deal with these issues are still facing cuts and layoffs. We must find solutions to these issues in order to move the 36th Ward forward so that it continues to be a desirable place to live and raise a family.

What is the most pressing issue in your ward?

Public safety. Keeping the streets safe is paramount. I support a comprehensive approach to safety, which includes working to hire more police as well as implementing innovative new community policing ideas. I believe we need to help residents keep their homes, attract quality employment opportunities, increase the minimum wage, and keep children stimulated in after school programming. With robust opportunities geared towards improving the quality of life for everyone, we can reduce crime. Financial institutions also need to understand the profound impact of foreclosures with abandoned homes inviting trouble in our community. I will work to hold property owners, including banks, accountable for neglected properties that have a negative impact on the surrounding community.

What is your plan for fixing Chicago's financial situation?

While I am open to many of the revenue ideas proposed by others, including TIF reform, a LaSalle Street Tax, etc., another revenue initiative that I intend to work on is what I call a "progressive tax swap." Lately, the city has been balancing budgets on the backs of the working class and poor by adding regressive taxes and fees, such as high parking tickets, speed cameras, city stickers, cell phone taxes, etc. This unjust nickel and diming of Chicagoans hits those that can least afford it. We need greater transparency and honesty in the tax system, and we need to work to reduce the tax burden on the working and middle class. We need to more fairly spread the cost of maintaining our city and educating our children amongst all of the players involved. This "tax swap" would involve getting rid of most of these taxes and fees in exchange for raising the revenues needed through the property tax system.  This would (if implemented correctly) result in an overall decrease in the tax/fee burden on the city's working class, middle, and low income homeowners and renters by more fairly and openly spreading the tax burden amongst all of the stakeholders, and still raise more revenue for the city. We should be exploring innovative solutions like this so we can begin to rectify the current unjust situation where we have a budget crisis combined with a disproportionate tax/fee burden on those that can least afford it.

How do you think the city has handled the severe weather this winter?

While there have been occasional issues with side streets not being plowed here and there, overall I think the city did a great job clearing the snow this winter, especially considering the large volume of snow we received. 

Do you support Mayor Emanuel or County Commissioner Garcia in the mayoral race?

I am staying neutral in the mayor's race. It is up to the voters of the 36th Ward to decide who they want to support for mayor; I am simply concentrating on my own campaign.

What is your favorite restaurant in Chicago? 

I believe that our city's strength and our community's strength is its' diversity. I love food of all kinds but between Cafe Prague (Czech), Frank's Pizza, Jasmine Rice (Thai) and Tratorria Porretta (Italian) it is difficult to choose just one. Especially, since each have been staples on the campaign trail. 
Gilbert Villegas

Age: 44 years old

Place of Birth: Chicago, Northwest Side

Current neighborhood: Montclare

Family: Divorced with 2 kids, ages 7 and 11

Occupation: Business Consultant

Previous political experience: Currently member of the Steinmetz College Prep Local School Council, as well as Bell Park and Shabbona Park Advisory Councils.

What is your vision for the 36th Ward?

The new 36th Ward is full of potential that can be realized with independent leadership. We have hardworking residents that are desperate for high paying jobs and small businesses in the 36th Ward. These are very achievable so long as we have real, independent leadership.

What is the most pressing issue in your ward?

Public safety. We have had two murders in the last two weeks in the Ward. We need to return to the days where neighbors feel safe in their front yards. It was not that long ago that community members knew the officers that worked their blocks. When residents know the officers and know their neighbors, community policing works. When they don't trust their neighbors or police officers, crime invades our neighborhoods. If we return to neighborhood policing, we can avoid another summer full of violence. 

What is your plan for fixing Chicago's financial situation?

We need to look at every solution in the short term. But the long term solution is the Fair Tax bill that has been proposed by Senator Don Harmon in Springfield. This graduated income could solve the pension crisis within 20 years while increasing equality across the state.

How do you think the city has handled the severe weather this winter?

It was terrible. The loop and downtown were very well cared for. The residents of the 36th Ward were forgotten about, with a few exceptions. My opponent is the son of the 31st Ward Superintendent Willie Aquino, so a few select streets in the 36th Ward were well maintained and the rest were completely disregarded. My opponent has bragged about his connections with Superintendent Aquino and Joe Berrios. There is no room for machine politics in a Chicago winter. We need to have our streets cleaned as quickly and as fairly as possible. It is illegal for the Streets and Sanitation Department to give preference to their friends and family. Yet this preferential treatment has been a cornerstone of Omar Aquino's campaign.

Do you support Mayor Emanuel or County Commissioner Garcia in the mayoral race?

I am a huge supporter of Jesus "Chuy" Garcia. He is the only candidate that has paid any attention to the needs of residents in the 36th Ward. I am convinced that if elected, Chuy will be the man to return the city's focus to the neighborhoods.

What is your favorite restaurant in Chicago? 

Jasmine Rice at 3103 N Narragansett Ave. The beef and broccoli is out of this world! 
---
Click on the map below for vote percentages in all 50 wards.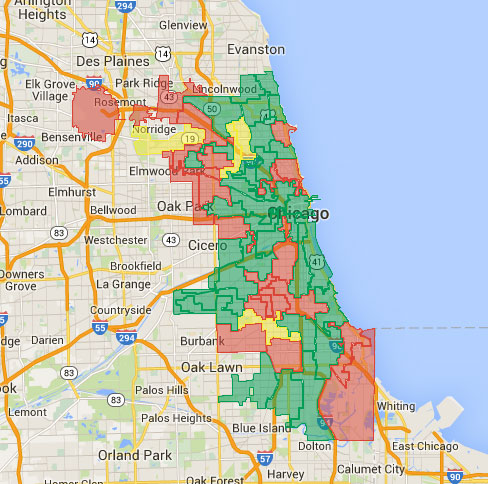 Click the dots in the image below to learn the percentage of votes each candidate received in the Feb. 24 election.
-- Graphics by Kristen Thometz and Linda Qiu; Yasmin Rammohan contributed