Last week's election in Israel has brought strong reactions from many quarters and especially from American Jews -- with opinions ranging from strong support for the outcome to blistering criticism. While political debate within Israel is famously raucous, the American Jewish community has, in general, stood steadfastly behind Israel's governments and actions. But in recent years, the range of views here has grown, even among rabbis and other deeply committed Jews.
A panel of Chicago-area rabbis with diverse views on Israel and the election joins us. Rabbi Andrea London is from Congregation Beth Emet in Evanston. She is a member of J Street, which describes itself as pro-Israel and pro-peace, and lobbies for an end to Israel's occupation of the West Bank and the creation of a Palestinian State - the so-called "two-state solution." Rabbi Brant Rosen was at the Jewish Reconstructionist Congregation in Evanston until last year. He chose to leave when his views on Israel became a flashpoint in the congregation. He is the author of Wrestling in the Daylight: A Rabbi's Path to Palestinian Solidarity. Rabbi Rosen is a member of Jewish Voice for Peace. Many JVP members, including Rabbi Rosen, believe that a single state made up of Jews and Palestinians is the goal, rather than a Jewish state alongside a Palestinian one.  
Chicago Tonight had hoped to have a rabbi who is a member of the American Israel Public Affairs Committee or AIPAC, which describes itself as America's Pro-Israel lobby, on the panel. Many calls were made and no one was available. Some explicitly said they would not sit on a panel with Rabbi Rosen.  
View an interactive map graphic about Israel. Click the arrows to learn more about the country.
Source: CIA World Factbook
---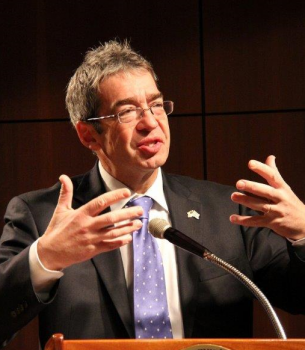 Israeli Prime Minister Benjamin Netanyahu won a decisive victory in his country's national elections on March 17. 
Read a March 18 interview with Israeli Consul General to the Midwest Roey Gilad about the Israeli election. (Editor's Note: The interview was conducted before this panel was assembled. Gilad was invited tonight and declined.)
What do you think of the election results?
Well, I think the results are interesting. The polls did not come true. This is not the first time that polls in Israel did not come true. I don't know the reason because we take quite a bit of them. I think the fact that 70 percent of people turned out, that's a badge of honor for the Israeli democracy. And I suggest everyone follow the events in Israel in the next six weeks. 
Speaking of voter turnout, is that typical or unusual for elections in Israel?
It's a bit more. Usually, Israel has higher turnout than the U.S. Israel always has a higher turnout than the rest of the democracies in the west; 70 percent is higher than the average. Though, in 1997 we had 90 percent voter turnout. And by the way, [turnout] was actually more than 70 percent because 70 percent reflects the overall people that are allowed to vote in Israel, which is six million out of eight million because two million are less than 18. Not all of those six million live in Israel; plenty have relocated abroad, so actually turnout is higher than 70 percent.
What are the prospects of Netanyahu retaining his post as prime minister?
I think [he] has a very decent chance to start to build a coalition. He needs half plus one. The overall members of Israel's parliament, Knesset, are 120, so he needs at least 61, but obviously he'd want a stable government. So he'd be looking for around 68-70. I think his chances are very good to establish the next cabinet. He could either establish a narrow right-wing government or a wide unity government. It's up to him to decide which way he wants to go.
He'll wait for the final results to be announced early next week. The president will have a week to conduct consultations with the head of all the big parties—we have 10 parties that made it to the new parliament—and ask them who they will prefer to lead the next government. Based on their answers, he'll call the gentleman or lady who got the biggest support—it doesn't have to be who heads the biggest party—that happened two years ago. The second biggest party got more support than the biggest number of votes. Once the head of the party gets more than 61 members, [he or she] will tell the president this is our choice. And the president will say, "I give you four weeks to establish a government." If they don't succeed in four weeks, they can get a two-week extension. They have six weeks to establish a coalition government.
Are there any indications as to which groups Netanyahu will reach out to build a coalition?
I think to the best of my understanding he has two options. Either the party he's heading, Likud—a  right moderate wing party—will either go to the right and establish a narrow but stable government, or go to the left center—mainly the Labor or Zionist Camp—and ask them to join and then have a more center government that will lean on more members of parliament.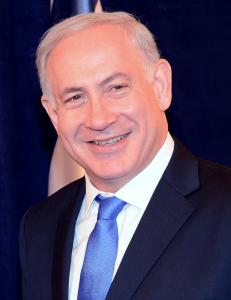 What does Netanyahu's victory and possible continuation as prime minister mean for U.S.-Israeli relations?
I do see relations on solid rock. It's always been solid rock. Also, under the current administration with President Obama, those relations are second to none. And [with] everything that is happening in the Middle East—unfortunately, most states surrounding Israel are simply falling apart—I think this partnership is of strategic value to Israel and the U.S. and it will only grow bigger and bigger.
What could the results of the election and the possibility of Netanyahu retaining his position as prime minister mean for Israeli-Palestinian peace talks?
All kinds of things are said during the campaign. I think usually during campaigns—you see a lot in America—different things are said, and I think we will wait until Benjamin Netanyahu establishes a new cabinet either within four or six weeks. And we'll have to wait and see the guidelines of the new government. Whenever a new government is established in Israel, it publishes new guidelines, so we'll see what the guidelines of the new cabinet are because they'll obviously be influenced by the type of government that is established. A narrow right-wing government would establish one set of guidelines and a wider center government would have different guidelines. I would suggest to all my Palestinian colleagues and all my Israeli brothers and all my American friends to wait four to six weeks from now and read the guidelines to the new cabinet.
I think everybody who takes this issue seriously can't lean on things said during the campaign, and the election campaign is sometimes very hot and very emotional. And I think we have to lean on the facts, and that will only come from the guidelines of a new cabinet.
Are you referring to Netanyahu's statement ruling out the creation of a Palestinian state while he is prime minister?
Yes. The last time the parties were in negotiations, the Palestinians left the negotiation table. I think the hope of many Israelis is to reach a compromise and an agreement with Palestinians. I must say, I think the outcomes of the election in Israel reflect a growing concern in Israel from the regional disorder that we are facing that I alluded to before about the collapse of the little order we did have in the Middle East. Terror groups are all around Israel—to the right and left, to the north, east, and south. The administration in Israel is a reflection of the growing concern within Israel. When Israelis went to cast their votes, they had social and economic issues on their agendas…. Again, it's a very complex state of mind in Israel. Israelis and Palestinians are interested in finding a decent solution to the challenge. However, many of the Israelis are concerned about other political situations. This isn't the right time to address now the Palestinian change when we have the economic challenge on one hand and Iran on the other hand—you know, it's all about priority.
(Editor's Note: Since the election, Netanyahu has backed away from his comments about his opposition to the creation of a Palestinian state.)
Interview has been condensed and edited.