Ready to pay higher fares to ride the CTA and Metra? Local transit officials say big fare hikes may be unavoidable if state legislators approve Gov. Bruce Rauner's proposal to slash state funding of mass transit by $170 million. But, the governor says the transit systems should be able to handle it.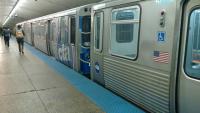 Doomsday Budgets
$130 million of these cuts would affect the CTA alone. That's a little less than half of all money it receives from the state.
CTA officials say they've stabilized budgets and spent billions upgrading the fleet in recent years – and the cuts that Rauner is proposing would return the system back to the days of doomsday budgets.
"That would be the equivalent of eliminating 10 weeks of bus service," said CTA Spokesperson Tammy Chase. "It'll also be equivalent to eliminating the Red, Orange, and Brown Lines. However, we're going to work with the governor and legislature. One of the things we're going to impress upon them is, in the last few years, we've made significant spending reforms to the CTA. Now is not the time to unwind all of those."
Meanwhile, Metra would see a $21 million cut which represents 40 percent of all money it receives from the state. Pace's state funding would be cut 40 percent, and 15 percent for all paratransit service. Metra would have to raise fares beyond the ambitious multi-year fare hike already in place to modernize the system.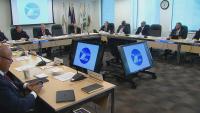 RTA Meeting
Today, the Regional Transportation Authority – the blanket agency that oversees all the areas' transit systems – met to discuss the proposed cuts, and vowed to challenge the Illinois General Assembly to soften the blow.
"We don't have a lot of tools in our toolbox," said RTA President Leanne Redden. "Our options are reducing service and increasing fares."
"We're not doing a sky is falling thing here," said RTA Board Chair Kirk Dillard. "We're just trying to lay out numbers and what it means to real human lives and the two million people a day that take transit to school and work."
To help influence the final budget outcome, the RTA today announced the hiring of a key member of Rauner's transition team – Nancy Kimme – to lobby the General Assembly.
Mayor Responds
Mayor Rahm Emanuel today blasted the governor with the following statement:
"My message to Governor Rauner is clear: you cannot balance the state budget on the backs of Chicago's communities and working families. The CTA provides a vital economic lifeline to our residents and communities, connecting people to their jobs and brining essential opportunities to our neighborhoods. So I call on Governor Rauner to restore this vital transportation funding that Chicago's neighborhoods depend on."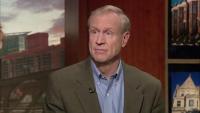 The governor said the transit agencies can make up the funding shortfall if the state goes along with his proposal to change labor agreements and eliminate collective bargaining.
"We are giving the RTA the power to control their costs," said Rauner. "We're going to eliminate the requirements for prevailing wage agreements and project labor agreements. That will save them 20-25 percent from their capital spending. That's many millions of dollars. When we empower the voters and give the RTA, CTA, and other agencies which do collective bargaining the ability to control that process, we can save millions of dollars to put into mass transit and more infrastructure."
Gas Tax Hike?
One idea being pushed by transit agencies is a hike in the gas tax. The governor said he's not a fan of that idea but that a commission would look at the entire tax code, sales, income, etc. to comprehensively reform it. The governor made his comments at an event in McHenry County where he was advocating local officials to adopt a Right to Work Zone – meaning an end to forced unionization.
He's been barnstorming the state giving campaign-style talks promoting what he calls a "pro-growth" agenda, while critics decry it as "anti-union" agenda.
But back in Springfield -- no solution yet to this year's state funding crisis that has left child care and other programs in limbo.