A swath of public parkland now belongs to the Obama Presidential Library Foundation, if it chooses to locate here. We have the latest on that, and other news from Chicago City Council.
---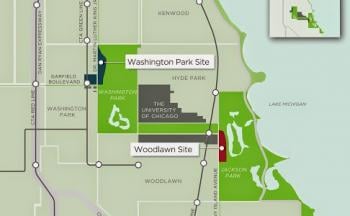 Obama Library
A deal to bring the Obama Presidential Library to the south side of Chicago is all but done. All it needs now is the president and first lady's approval. Today, City Council agreed to the controversial transfer of parkland to accommodate the foundation.
Mayor Rahm Emanuel wanted a unanimous vote to send a message to the president, and he got it, after one alderman – Bob Fioretti – voted no and then changed his mind.
This, as the president told reporters yesterday he "hopes the library" goes to Chicago, but that there were some entanglements.
One of those might be a potential lawsuit from the group Friends of the Parks, which says it will kick its legal operation into high gear now that the City Council vote is through.
"We are certainly going to look at all our legal options going forward," said Cassandra Francis, CEO of Friends of the Parks. "The public trust doctrine won a very good victory with the Lucas [Museum] case. This is a public trust asset in the state of Illinois so we'll be looking at it very closely."
Meanwhile, Mayor Emanuel says as far as he's concerned, all of the entanglements have been dealt with. But will a potential lawsuit scare the president all the way to New York?
"That's a question for him," the mayor answered. "The Foundation raised questions, they wanted to directly deal with the city, as represented by the mayor. We've answered that question. That was the only entanglement we had. That issue's been addressed."
The Obama Foundation has put off a decision on the library until after the April 7 mayoral election.
The Council's historian, Ald. Ed Burke, noted that this isn't the first time a Chicago park has been floated for a major national landmark. In 1945, the City Council voted to offer up Northerly Island to be the home of the United Nations. The city of course lost out to New York on that one.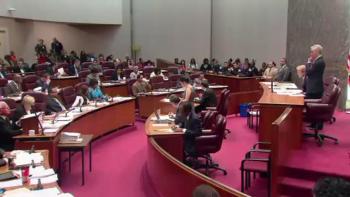 Affordable Housing
In other City Council news, new mandates on developers to build affordable units for low-income residents got the approval of aldermen. Developers in all neighborhoods have long been required to sell a small percentage of their units at well below market rates for affordable housing, but there were loopholes.
Now, the city approved tougher rules where downtown developers will have to pay up to $225,000 per unit for every unit if they choose not to offer any at below market rate. In less affluent neighborhoods, the penalties are less. It's all part of an effort, according to aldermen, to provide more affordable units, more money for affordable housing, without discouraging developers from building.
"In the neighborhoods where we need development, it'll help fill in some of those vacant lots and bring economic development," said Ald. Walter Burnett (27th), one of the sponsors of the ordinance. "So this is a way where we're trying to encourage folks to do affordable housing, but leverage development into the neighborhoods."
But some developers told us they fear the new mandates will grind development downtown to a halt. Developers might not be able to afford the fees and could choose to build elsewhere.
Brian Bernardoni, head of the Chicago Association of Realtors, says developers and affordable housing advocates have been working for more than a year to come to a compromise. They were initially opposed but feel that last-minute details, like allowing developers to build affordable units off site, so in another building, helped allay some of their fears.
Powdered Alcohol
Lastly on City Council's agenda: powdered alcohol. It's like a grown-up version of Kool-Aid; you pour a packet of powdered alcohol into liquid, you have powdered alcohol. But critics warn it has higher alcohol content than drinks and it is prone to abuse by minors. It has yet to make its way to Chicago but powerful Ald. Ed Burke wants to make sure it never comes here. He proposed an outright ban and tough penalties for anyone that defies that ban.
"It can deliver a higher alcohol content in a more concentrated form," Burke said. "But, more importantly, it permits kids to bring it into school where they can ingest it, or snort it even. It really has no place in the range of products that should be available to the people of Chicago."
Also today, a group of progressive aldermen tried to call for a vote on abolishing all red light cameras in the city – but that effort fizzled out.