Mick Ebeling went from being a film and TV producer to founding an organization that solves challenging problems around the world. His hands-on approach to "hacking" processes has helped him make extraordinary changes to people's lives. We'll talk to Ebeling about his new book, Not Impossible: The Art and Joy of Doing What Couldn't Be Done. Read an excerpt from the book.
---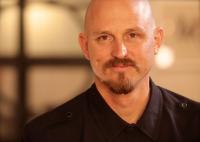 Mick Ebeling on Doing What Couldn't Be Done
It all started with a chance invitation.
On a night more than seven years ago that Mick Ebeling and his wife happened to have a babysitter, they were invited to an art gallery by a friend. The show, they learned, was a benefit for Tempt One, a once-prominent graffiti artist in the Los Angeles area who had been paralyzed by ALS. For years, Tempt was unable to draw and could barely communicate with his family.
Tempt's story stuck with Ebeling, until one day, he decided to take matters into his own hands. At the time, he was running a film and TV production company, but his desire to help threw him into a project that he never expected. Gathering together a team of experts to come up with a simple, inexpensive solution for Tempt ultimately lead to the Eyewriter, an open-source ocular recognition device.
The story of the Eyewriter is a key part of Ebeling's journey toward his current role as the head of the Not Impossible Foundation, a nonprofit that describes itself as working toward "creative solutions to real-world problems." Ebeling's new book is called, appropriately enough, Not Impossible: The Art and Joy of Doing What Couldn't Be Done. Read Chapter 1.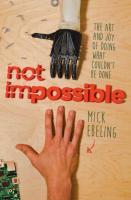 "There is a fundamental need that exists in world that can be solved with real people coming up with simple solutions," Ebeling said. "The book is a memoir, but it's also a cookbook, if you will, on how to do these things and how to look at problems and solve problems."
Ebeling's next major undertaking came to be known as Project Daniel. It takes its name from Daniel Omar, a teenager in South Sudan who lost both his arms in an explosion. Ebeling learned about Daniel's story in a TIME article, and felt compelled to help him. He got connected with a robotics expert and a doctor on the ground in South Sudan, and ended up traveling there with a 3D printer in tow to fabricate new arms for Daniel. After making them, Ebeling taught other people in the village how to use the 3D printer to continue making prosthetics.
"I want to remind people they have potential to change the world themselves," Ebeling said.
His mantra is Help One, Help Many – come up with a pragmatic solution to one person's problem, and then give it away so anyone can use or improve upon it.
"I want people to realize they can get out from under the belief system that their company -- insurance company, hospital, or government -- is keeping them in a particular place or situation," Ebeling said. "We have the ability to change our life and other people's lives, we just have to say yes and go for it. That's what I want the book to communicate: just go do it. Permission is already granted."