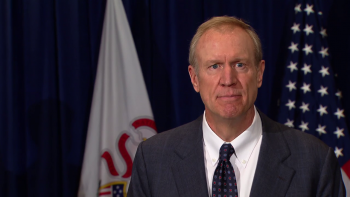 Illinois Gov. Bruce Rauner gives his first major policy address to the Illinois General Assembly tomorrow. The state faces a nearly $2 billion deficit for the rest of this year, and higher potential deficits next year. So, who is Rauner likely to say are the culprits and what does he feel are the solutions?
The governor is likely to repeat his mantra that the situation is bad and in need of radical change. Today, he circulated a list of PowerPoint slides to lawmakers highlighting what he sees as the state's dire problems – with a focus on high government worker costs and the costs of unions. And the reason for this, he says, is that public sector unions give heavily to lawmakers who in turn give their workers generous contracts.
The governor will soon be negotiating new contracts with government employee unions, and has indicated he will not cut worker pay, but he wants to end collective bargaining on salaries and benefits for state workers.
"Employee compensation costs in Illinois take up about one-third of the budget, so if he's thinking of going after big ticket items, this is where he should start," said Diana Rickert of the Illinois Policy Institute, a free market think tank. "Because there is collusion between government unions and lawmakers, the pay is out of balance."
But union leaders believe he is picking on workers, and that this rhetoric could lead to a long and toxic standoff.
"I certainly hope that labor actions won't have to happen, but if need be, we will strike," said Tom Balanoff, president of the SEIU of Illinois. "Gov. Rauner has made it very clear that he wants to approach government by going after government workers, and I think that's a big mistake."
Forced unionization in the public and private sectors could be another topic in Rauner's speech. Today, he circulated a study that cites that moving Illinois to a Right to Work model, meaning workers cannot be forced to join unions, could net $13 billion in economic activity, putting $675 million more into state coffers, and add 61,000 new jobs.
"In Right to Work States, there's higher GDP, higher employment, higher wage growth," Rickert said. "Why should Illinois be part of the half of the country where you must be part of a union to be a teacher or police officer?"
But SEIU's Balanoff says Right to Work ultimately lowers people's wages and hurts the middle class. Even the state's Chamber of Commerce says Right to Work shouldn't be a priority. And some Republican lawmakers again privately acknowledge that the more pressing issue is the budget, and that Right to Work and union changes won't pass out of the General Assembly.
So far, the governor has been vague on any specific actions he will take to solve the budget crisis. He has enacted a non-essential spending freeze and says he will not look to raise the state income tax back to the 5 percent level it was at before it rolled down to 3.75 percent on Jan. 1. Today, a group of faith and community leaders decried a $9 million cut the administration made last week to youth programs as part of the spending freeze.
"I understand that he's going to balance the budget in Illinois," said South Side pastor, Fr. Michael Pfleger. "But you're not going to do it by raping the poor, and our youth and cutting programs for our youth."
The governor did send a slide to lawmakers today showing that Illinois' sales tax only covers 17 services, compared to Iowa's that covers 94 – he wants to expand the reach of the sales tax.
Other points highlighted in today's briefing:
The skyrocketing costs of the state's expanded Medicaid program
The state's poor education track record and relatively low level of state spending in that area
High workers compensation costs
And high property taxes - second highest in the nation
On Feb. 18, the governor gives his budget speech, where it is expected he will outline how he plans to solve the problems he outlines tomorrow.