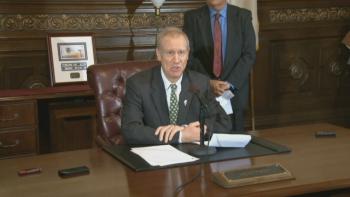 Gov. Bruce Rauner signed another executive order Thursday morning. This one calls for the names of all political appointees to state jobs to be made public in an online database. Announcing the order, Rauner accused former Gov. Pat Quinn's administration of continuing bad hiring practices that started during the Blagojevich years.
"The people of the state of Illinois will now have a way to find the state's political hires very quickly, real time, all the time," Rauner said. "We need to restore faith in state government if we expect the people of Illinois to help the government in its mission. This executive order is a first step towards earning back the people's trust."
Speaking to reporters after the signing, Rauner wouldn't say what he plans to do with the $20 million in his campaign fund, but said that he sees every day as part of an ongoing campaign. And with the legislative session underway, Rauner said he hopes to meet with Democratic leaders from the General Assembly every couple days to maintain good communications.
Amanda Vinicky, Statehouse Bureau Chief for WUIS and Illinois Public Radio, joins us with the latest from Springfield.
Watch Rauner's full news conference.