When it's 10 degrees out, the new Maggie Daley Park Ice Skating Ribbon is pretty empty. The few skaters that do brave the frigid temps have plenty of room, whatever their skill level.
But just because it's extra chilly, that doesn't mean the crew that takes care of the unusual skating rink will get the day off.
Like any ice rink, the ice ribbon benefits from a good Zamboni-ing a few times a day. The tank is filled with hot water and off it goes. To resurface the ice, a Zamboni sweeps it, shaves it, and leaves behind a thin layer of water to freeze as smooth ice.
Kevin Kane has been a Zamboni driver for 16 years.
I'm not really an ice skater, but like everybody else, I'm fascinated with Zambonis. What is it about Zambonis?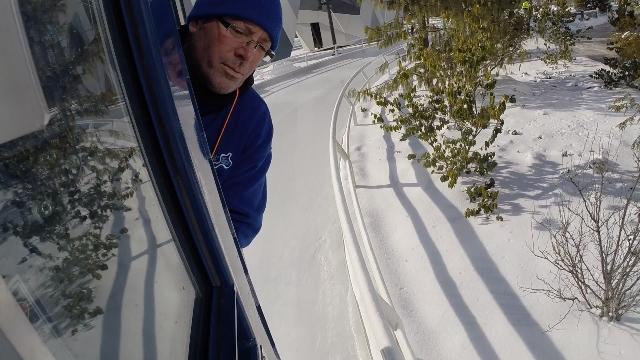 "I myself would still like to know what the fascination with Zambonis is because all they do is go round and round," said Kane. "And they go right hand turns only most of the time. At least this one I get to turn around with, and go the opposite way along both sides of the boards."
We caught Kane in the morning before the rink had opened, but most of the time a Zamboni has a built-in audience during a hockey game, or a break at an ice rink.
But when you're making skaters wait, Kevin says  "Zamboni love" can wear thin.
"Some people say, 'hurry up!' But I'm going as fast as I can!" he said.
The ice ribbon gets Zamboni-ed before the rink opens, and then two or three more times a day as needed.
It's managed by Westrec Marinas, the same company that runs the city's harbors, and the ice rink at Millennium Park, although it's much larger.
"In surface area, it's about twice as big," said Scott Stevenson, Executive Vice President of Westrec Marinas. "It's 26,000 square feet, and it's a trail. People skate along a quarter-mile trail, and it goes up and down. It's very different from skating around a rink."
I haven't been on ice skates in a long time, but I couldn't come all the way down and not give it a try! Even as a non-skater, and even when it's 10 degrees out, I have to say it was pretty fantastic. What better urban backdrop could you have than this?
"There's a little bit of a hill here. It's not much of a hill, but you feel it going up, and you certainly feel it coming down," said Dave Kaknes.
"This is a lot cooler than a regular rink," said Chris Myers.
"This is my first time ice skating in general," said Kailynn Digesualdo.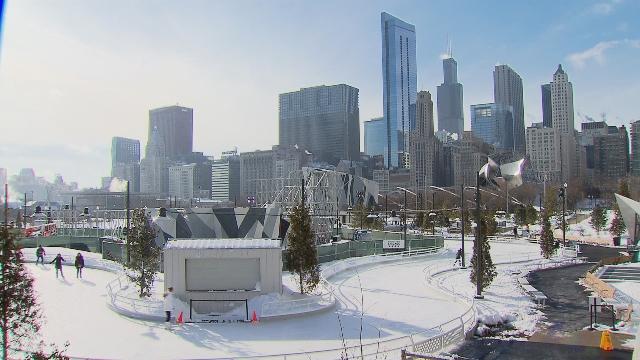 So if you want to try ice skating at Maggie Daley Park, what do you need to know?
"They just need to get here, and if they bring their own skates, they can go right on the ice and skate for free," said Stevenson. "If they need to rent skates, we rent them to them. It costs $12, and it's open to everybody."
The ice ribbon may be empty today because of frigid temperatures, but don't let the empty ice fool you. On warmer days, it's packed, with long lines for skate rentals. More than 30,000 people have skated here in the three weeks since it opened.
The new Maggie Daley Park also includes a giant castle playground and a climbing wall. But, in the winter, the main attraction is a quarter-mile long ice ribbon. And a new, blue and white Zamboni.
The Maggie Daley Park Ice Skating Ribbon will be open seven days a week through February; closed only when it gets too hot, too rainy, too snowy or too cold. It was open for business today.
---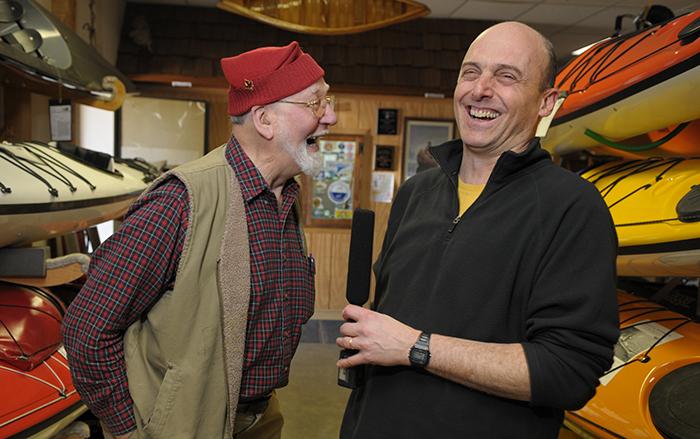 Find more of Jay's stories about Chicago people and places right here.
---