When you take your next shopping trip down Michigan Avenue, you may not spend much time thinking of the history that made the Magnificent Mile the shopping destination it is today.
But, a new exhibit at the Chicago History Museum turns the Mag Mile into Memory Lane.
The fashion itself may be a revolving door; the protesters may come and go; and the stores may change over time. But North Michigan Avenue's reputation as a shopping mecca is a wardrobe staple.
"I think it's the true authentic Chicago culture, and so I think it's awesome," said one shopper.
"It's been our family tradition to come down the day after Thanksgiving to do some shopping," said another shopper.
The story of how Michigan Avenue became the Magnificent Mile is told through the Chicago History Museum's latest exhibit, Chicago Styled.
"We wanted to start the story post-1942 because not only is that a moment in time when Michigan Avenue's development really kicks into high gear, but it's also a turning point in American fashion industry as well," said Chicago History Museum Curator Petra Slinkard.
Slinkard says the museum chose just over 20 ensembles from a collection of more than 60,000.
"The oldest piece in the show is this black James Galanos cocktail dress from the mid-1950s. It was purchased by a prominent Chicagoan, Mrs. Philip D. Block Jr., and it was purchased at a Chicago boutique called Blum's Vogue," said Slinkard. "It was very important to me to include pieces that represented both international and national brands, but particularly focus on ones that were specific to Chicago."
The fashions in the exhibit are glamorous and the pieces are what you would expect if you had visited Michigan Avenue during that time period.
"I think Michigan Avenue is glamorous. It has its appeal, it has its reputation. While I think, a term that I've used is that it's become a little more democratized, the selection very much so was high-end and luxury-focused. You do see that here, but still focused on ready-to-wear," said Slinkard.
In the beginning, city planners envisioned a shopping destination to rival State Street -- that great street.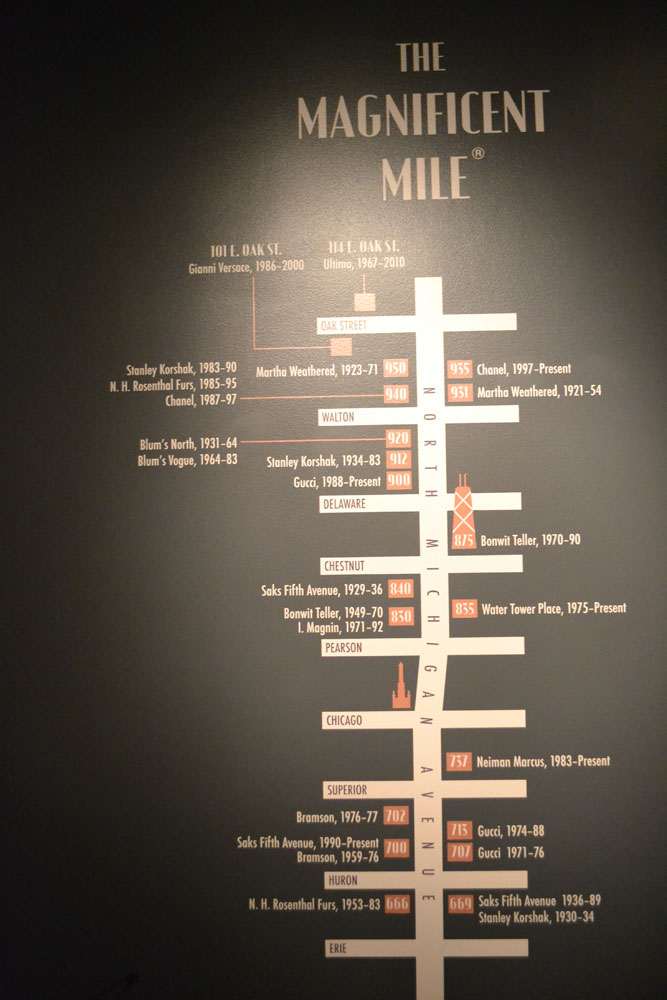 And, for the first half of the century, the Mile proudly existed mostly on smaller boutiques.
"Harry and Becky Blum started their first store in 1910 on South Michigan Boulevard, and as a result of their success continued to grow," said Slinkard. "They were one of the first to move north to North Michigan Avenue as early as the 1930s."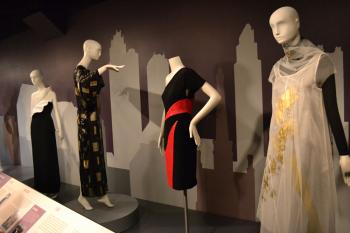 But as word began to spread, so did the Mile.
"Developers and retailers started to catch wind of what was happening on Michigan Avenue," said Slinkard. "Neiman Marcus actually looked at and scouted locations on Michigan Avenue for almost 10 years before they established and decided on their current location, another building they built to fit their needs. These two pieces exemplify Neiman Marcus's influence on North Michigan Avenue."
And you can't have the Mag Mile without Saks Fifth Avenue.
"Saks is what we call a Mag Mile anchor," said Slinkard. "Saks was one of the first national brands to come to Michigan Avenue. In 1929, they opened their second year-round store in Chicago, outside of Manhattan."
Then, in the early '70s, Water Tower Place started a trend of its own.
"Water Tower Place as a development was a significant roll of the dice," said John Chikow, President and CEO of The Magnificent Mile Association. "No one was building urban multi-level store malls. For Water Tower Place to develop that, and provide indoor parking, was a game-changer for the Magnificent Mile."
Since then, the stores have certainly increased the size of their footprint.
And today, the Mile boasts more than 50 flagship stores, from some of the world's most luxurious brands to what's called fast fashion, accessible at almost any price-point.
"The museum has been collecting clothing since the 1920s, and I would say that fashion is important particularly in the context of a social history museum because it is representative of technology, of style, of an individual's place; perhaps their mode of transportation, what they do for their occupation, what they did for their leisure, and how we interact with our environment," said Slinkard. "It's all reflected in the clothes that we choose to put on our bodies."
Over time, the body of the Mag Mile has been fleshed out beyond shopping to include hotels and office space, as well as residential and institutional neighbors; a place where visitors can cover a lot of ground in just one mile.
The Chicago Styled exhibit, which runs through August, was timed to coincide with the 40th anniversary of the History Museum's Costume Council.