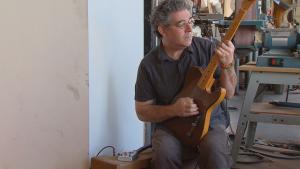 Ian Schneller wants you to know he's not a revolutionary, and he's not exactly a Luddite. But the artist and teacher does want to you to learn your way around a T-Square and a ball peen hammer.
Schneller is the brains behind Specimen Products, a business that builds and repairs stringed instruments, tube amplifiers, and audio horns. He's worked for musicians like Jack White and Andrew Bird, and been recognized for his commitment to handcraft and understanding of materials.
Watch Andrew Bird's performance on Austin City Limits, featuring Ian Schneller's audio horns.
"I believe as designers and artists, the closer we can be to a physical understanding of the materials we are working with, the better work we can achieve," Schneller said.
He came to Chicago in 1984 to study at the School of the Art Institute of Chicago, but despite a background in sculpture he didn't feel like the post-modern art world of the '80s had room for the stringed instruments he was building.
"I sort of exiled myself and thought, well, if you need to call me something besides an artist, if the term luthier fits better, then fine, that's fine with me," Schneller said.
Having spent the last three decades building and repairing instruments and audio equipment, Schneller says the rise in planned obsolescence of those products keeps him awake at night. So to rest easier, he builds things designed to be "infinitely serviceable and never go obsolete. They are the remedy for planned obsolescence."
In the following web extra video, Schneller talks about his design principles and building techniques, as well as unique requests for instruments he's gotten from musician Jack White and a lute enthusiast from the Netherlands.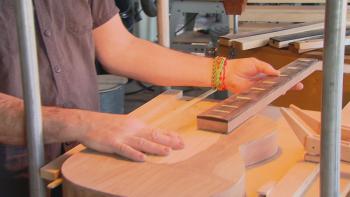 Ian Schneller also wants to teach you to build quality products. Nearly a decade ago, he established the Chicago School of Guitar Making. It's grown to about 20 classes, not just in guitar making, but seminars on building ukuleles, effects pedals, tube amps, and instrument repair and maintenance.
"You would be amazed to see how few students coming out of high school have never held a screwdriver or a pair of pliers, or picked up a ball peen hammer," Schneller said. "It's mind boggling to see how few students even know how to read a ruler. Just stepping back a few generations to where it was a hands-on society, more of a self-help, do-it-yourself society; it makes us better people, better able to walk through life."
The musical aspect of the classes is really just "sticky-sweet bait" designed to get students in the door. Once they're in, Schneller teaches fundamental, hands-on design and construction techniques – no computers needed or allowed.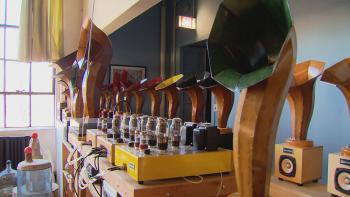 "Students' eyes get wide when they realize they're going to be using a T-Square, and a pencil and an eraser and actually drawing on paper -- another discipline that's largely fallen by the wayside. They want to run home and do it on their computers," Schneller said. "I won't let them."
Why? Because Schneller says instruments are meant to be picked up and held. A computer can't tell you how the silhouette of a guitar feels against your body, and there's no robotic substitute for human intuition.
"Design is a balancing act. Guitar is just a perfect format for practicing this balancing act," he said. "Then, you can go on and design toasters and ceiling fans and automobiles; whatever you want to."