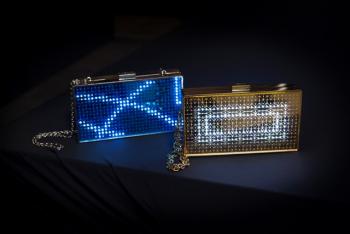 The future of fashion includes skirts that talk to your iPhone, sneakers that put the Fitbit to shame, and a message in a clutch.
"It can display tweets as well and moving patterns," explains Francesca Rosella of the design duo CuteCircuit.
Maybe you haven't seen your friends wearing these designs yet, but according to these designers, tech is the new black.
"Some people are already wearing them, some celebrities, but also some normal people," said Rosella. "We're based in London but we ship all over the world, and actually some of our best clients are in New York and Los Angeles already. So, Chicago should be next."
CuteCircuit designers Ryan Genz and Francesca Rosella discuss the multiple designs of theirs on display during the Museum of Science and Industry's Fashion Forward event in this web extra video:
Kathleen McCarthy is the Museum of Science and Industry's head curator.
"One of the pieces is a climate dress," said McCarthy. "It's a really beautiful dress that has embroidery and LEDs at the top. And when it's in the presence of carbon dioxide, it glows in a very different way; it pulses, it gets bright. It's the artist's take on our changing world. I think one of the things about wearable technology is it tunes you into your environment in a very different way than before."
She explains that just as cell phones are an everyday part of our lives, technology in fashion will become as normal.
"It's at its infancy right now. A lot of it had to do with advancements in technology. Things are shrinking, they're getting cheaper," said McCarthy. "The sensor technology is to the point where it can easily be embedded and there's a lot of flexible electronics. Some of these pieces are experimental, but you're going to see a lot more of that moving forward."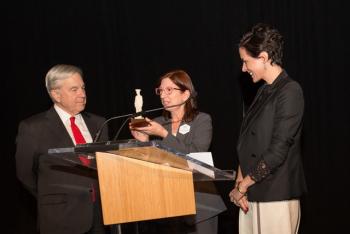 Through the small, one-night-only exhibit called "Fashion Forward," MSI honored French fashion blogger Garance Doré, credited with creating the street-style movement –the movement that turned fashionable bloggers into global trendsetters.
"Garance is a really fitting person for the museum to honor with the Fashion Inspiration Award. Garance is very well-versed in the fashion world, but she also was very interested in looking at everyday people, and what they were wearing. She sort of invented street style," said McCarthy. "So, the museum's mission is to inspire the inventive genius in everyone. And Garance really looked around her, and saw all of us are involved in fashion one way or another because we all put on clothing every day. She decided to celebrate the individual and what they were doing to develop their own style."
The blogger, author and illustrator is a pioneer herself in using the Internet and social media to further fashion. For that, MSI gave her the Fashion Inspiration Award.
"[I'm] very humbled, and very impressed," Doré said of the honor. "That's my first impression. For sure, receiving such a prize from such a beautiful museum in such an important city is making me very emotional. I'm actually very nervous."
As for the future of fashion and technology blending together, Doré said, "The Internet has played a huge role in the way we view fashion now. I think the Internet has allowed people to take part, which is a very important thing in fashion because people always felt, 'it's not for me, it's for other people.' But now, you feel more included, and you can live fashion in your own way. You can have a Pinterest, you can have an Instagram, you can show the way you dress.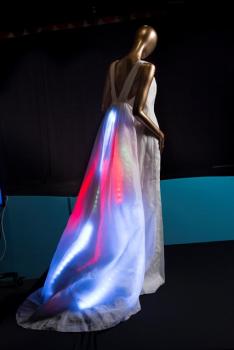 "And, for technology, a few weeks ago, I tried the Apple Watch. So, those things are just… it's not the future, it's happening. It's right now. There are so many things getting developed. We're not even going to think about it, in 10 years, we'll all be wearing T-shirts with sensors. It's going to affect our health, the way we communicate. But we'll look back and go, 'can you believe it, five years ago we didn't even know what it was.'"
Though she's recognized for being an inspiration, on this trip, it is the windy city that has inspired her.
"That's the thing with inspiration, it comes from anywhere and it changes the way you see things," Doré said. "I think the museum first, and how when I saw it from outside, I was like wow, this is very impressive, and inside I see all the things they do. I think Chicago is very lucky to have a place like that here, where you can go with your kids and experiment. For the city, I want to see more of the streets and everything that happens."
For that, Doré says she'll definitely be back.
Watch Garance Doré answer fashion questions in a lightning round.
View a slideshow of photos from the Fashion Forward event at the Museum of Science and Industry.