UPDATE: 8:30 pm: A grand jury did not indict Ferguson, Mo. police officer Darren Wilson for any crimes related to the death of 18-year-old Michael Brown. Prosecuting Attorney Robert McCulloch said the grand jury found "no probable cause exists" to file any indictments against Wilson in a news conference held at 8:00 pm.
After months of protests and debate over whether a white police officer committed a crime when he shot and killed an unarmed black teenager in Ferguson, Mo. a grand jury has made a decision on whether or not to indict that officer.
The residents of Ferguson and the family of Michael Brown have been outspoken since the 18-year-old was shot and killed after a confrontation with 28-year-old police officer Darren Wilson back in August.
Numerous protests have vacillated between peaceful and violent since the summer, as there are obvious racial implications in this case -- and the 12-member grand jury is made up of three blacks and nine whites -- a total of seven men and five women.
In preparation for their decision, a number of businesses have already taken precautions to protect their establishments should protests turn violent; the FBI has sent nearly 100 additional agents to Ferguson to help law enforcement manage any unrest; and last week, the Missouri governor activated the National Guard.
Earlier this evening, the governor along with other local leaders called for peace, respect, and restraint once the announcement is made, saying peaceful protests will be allowed, but the destruction of property and violence won't be tolerated.
We also received word late this afternoon that Ferguson schools will be closed tomorrow.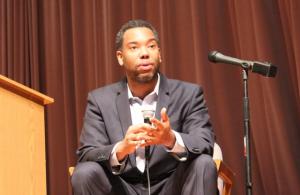 Recently, I spoke with Atlantic magazine correspondent Ta-Nehisi Coates, who has written at length about race including the article The Case for Reparations over the summer. The article received a lot of attention and since then, he's been considered an influential voice on race in America.
Coates said the people and the town of Ferguson are similar to the community of North Lawndale, on Chicago's west side. North Lawndale was, of course, the setting for his article on reparations.
According to Coates, both predominantly African-American communities are the way they are today because of housing policies instituted in this country in the mid-20th century -- so-called redlining that prevented many middle class blacks from getting conventional mortgage loans. This prevented the community from using home buying to amass wealth the way much of white middle class America did. 
But, what's happening in Ferguson today he says is the eruption of a problem that many Americans have looked away from for some time.
Coates said he never expected the amount of attention that came with his article. But he says, the argument that many black conservatives make that the black community should pick itself up to improve its condition, is fair -- however, he says that's not a policy, reparations is.
View a slideshow of Coates talking with North Lawndale College Prep seniors and North Lawndale community members about the state of the black community and race in America and read an article here.