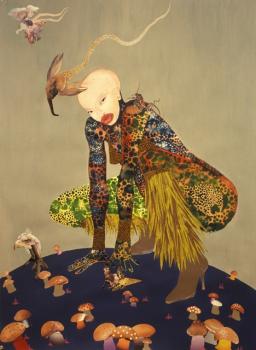 Expo Chicago 2014 has come and gone, but there is still a chance to catch the wondrous creations of an emerging artist with a growing international reputation.
Wangechi Mutu was born in Nairboi, Kenya in 1972 and educated at a convent school. She then studied art and anthropology in Wales and moved to New York nearly 20 years ago.
Her works are intricate and beautiful, grotesque and magnetic. They are populated by hallucinatory creatures with tendrils and tentacles. They can be seen as monstrous or mythical.
Mutu's "Bodacious Girls" series presents female figures in otherworldly landscapes made of collage and watercolor. She samples a variety of sources, including science fiction imagery, fashion magazines, African traditions… and even erotic postcards.
The exhibition is called "Wangechi Mutu: A Fantastic Journey." The artist says: "It's titled to wrap around the way I approach all of the work that I make using the lens of fiction, the surreal, the unreal, and Afro-futuristic as a way of looking at the world."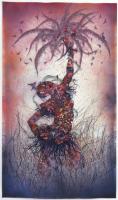 The themes are ecology, metamorphosis, colonialism, and sexism. Her arresting images are hard to look away from, and they are a testament to Wangechi Mutu's confident belief in "the ability for artists to transform their experiences and others."
"Wangechi Mutu: A Fantastic Journey" is at the Mary & Leigh Block Museum of Art on the campus of Northwestern University in Evanston. The exhibition just opened and runs through Dec. 7. The Block Museum is free and open to the public Tuesdays through Saturdays.
View a slideshow.