Geoffrey Baer compares fact and fiction in a long-ago murder, explores the life of an architectural pioneer, and strolls the Riverwalk in this week's Ask Geoffrey.
---
The short story "Love's Cottage" is a fictionalized version of the events the day before seven people were murdered at Frank Lloyd Wright's Taliesin. Is there any truth to the account?
-Helen Richardson, Bronzeville
The short story was written by Nancy Pickard and published in 1997, and it's a mix of fact and fiction.
Let's quickly review what happened in real life. In 1909 Frank Lloyd Wright abandoned his wife and children and ran off with a client's wife named Mamah Borthwick Cheney. They later moved to Wright's estate and school in Wisconsin called Taliesin. On Aug. 15, 1914, a recently-hired butler there named Julian Carlton used a hatchet to murder Borthwick, her children, and four others on the estate and set fire to the living quarters at Taliesin. Wright himself was in Chicago at the time working on the Midway Gardens. Carlton hid on the grounds after the crime but was swiftly captured. Before being caught he drank muriatic acid in a suicide attempt and died in jail seven weeks later, so investigators were left with little clue as to Carlton's motivations for the murders.
We spoke to Nancy Pickard who said that while she used official reports of the murders to research the story, reporting exact historical detail was not her focus. She wanted to tell the story from a point of view that might never have been considered, which was the perspective of Gertrude Carlton, Julian Carlton's wife. Pickard imagined Gertrude in the days leading up to the murders, composing a series of letters to her mother somewhere in the West Indies. The Carltons claimed they were from Barbados. Pickard had the Carltons arriving at Taliesin just weeks before the murders when it was actually several months before that they arrived, but much of her account is true.
For instance, in one letter Gertrude mentions what she called Julian's "former troubles." This is a reference to actual accounts of Carlton behaving erratically before the move to Taliesin, as well as newspaper stories in which Gertrude said Julian was abusive to her. In another letter, Gertrude mentions not having been paid for their work on the expected date. Here Pickard is referring to Wright's well-known carelessness in paying workers as well as creditors and suppliers (although Pickard couldn't confirm if this was true in Carlton's case). Gertrude's final letter mentioned that Julian had recently perceived a slight from a Taliesin employee, and that she feared Julian would respond violently to another insult. Pickard is referring here to a real-life confrontation shortly before the murders in which draftsman and later murder victim Emil Brodelle supposedly hurled a racial slur at Carlton.
As to Getrude's fate: a postscript at the end of "Love's Cottage" notes that nothing was ever again heard from Gertrude, but in fact, Gertrude was found after the murders hiding in some brush near the estate. She spent two weeks in jail maintaining her innocence in the affair. She was released outright in late August and boarded a train for Chicago, and that's when she vanishes from the record.
---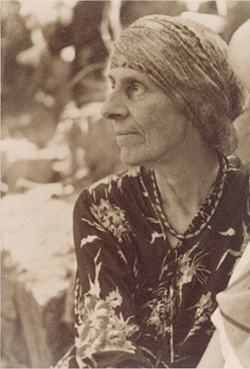 There is a proposal underway to rename Jarvis Beach after Marion Mahony Griffin. What can you tell us about Griffin, and who was R.J. Jarvis?
-Charles Evanson 
Jarvis Beach is a street-end beach in the Rogers Park neighborhood where Jarvis Avenue meets the lakeshore. The local Ald. Joe Moore is considering a proposal to rename it in honor of architect Marion Mahony Griffin. Naturally the proposal made many 49th Ward residents wonder who Jarvis and Griffin were to begin with! 
R.J. Jarvis was a friend of the developers who established Rogers Park, Patrick Leonard Touhy and Philip McGregor Rogers (according to the Rogers Park West Ridge Historical Society). Unfortunately, we haven't been able to turn up more about him than that. 
Marion Mahony was an exceptionally gifted artist and draftswoman who worked extensively with Frank Lloyd Wright – in fact, she was his first employee. She was born in Chicago in 1871 and was one of the first women to receive a degree in architecture from MIT in 1894. She went on to become the first licensed female architect in Illinois.
Beginning in 1895, Mahony's watercolor renderings of buildings and landscapes became emblematic of Wright's style and of the Prairie School of architecture, such as her rendering of the K. C. DeRhodes House in South Bend, Ind. When Wright ran off to Europe with Mamah Borthwick – yes, that Mamah Borthwick! – in 1909, he offered the Studio's work to Mahony.  She declined, but she wound up taking on a number of commissions Wright had abandoned. 
Mahony met her husband, Walter Burley Griffin, while working in Wright's office. Her design and drawing skills helped her husband win an international competition to design the new Australian capital city, Canberra. The couple moved to Australia to oversee the building of that city. In fact, the idea of renaming Chicago's beach for Griffin was suggested by the Australian Consul General to Chicago.
Griffin and her husband later practiced in India where Mahony oversaw the design of more than 100 Prairie School-influenced buildings. Walter Griffin died suddenly in India in 1937 of peritonitis. Mahony completed their work and returned to the United States, having brought the Prairie style to two faraway continents. Marion Mahony Griffin spent her final years in the Rogers Park neighborhood.
By the way, Ald. Moore stated that absent community opposition, he would support renaming the beach the Marion Mahony Griffin Beach and Park at the next Park District Board meeting, which the public is invited to attend and is scheduled for Sept. 10 – you can contact the Alderman's office for information on how to attend that meeting.
---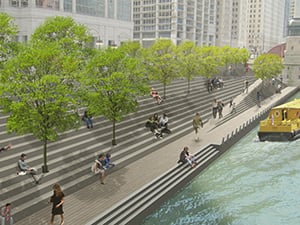 Our office overlooks the Riverwalk construction on Wacker between Clark and Dearborn. Do you know what the plans are and when they expect completion?
-Sue Felty, Gold Coast
The city is building a continuous river walk following Wacker Drive down at river level so people can stroll along the river's south bank from the lakefront all the way west to Lake Street. Our viewer's office, the law office of Boodell and Domanskis, let us come in and film their view of the work on the river. The work that's happening now is actually phase 2 of the Chicago Riverwalk plan, and it began back in January.
There is already a short stretch of Riverwalk running from Michigan Avenue to State Street that was completed in 2009. If you look at that section you can see the key to the uninterrupted riverwalk idea, which is a series of under-bridge passages. Previously if you walked along the river, every time you got to a bridge you had to climb stairs back up to Wacker Drive, cross the street and then climb stairs back down to the river. The passages allow you to stay at river level for your entire stroll.
Phases 2 and 3 are made up of six distinct concepts, one for each of the blocks from State Street west to Lake Street. The section between State and Dearborn is called "The Marina Plaza" and is designed to house restaurant, retail space and public seating as well as a spot for motorboats to dock. The part of the Riverwalk our viewer is seeing from her office window, from Dearborn to Clark, is known as "The Cove" and is planned to accommodate kayak rental and allow human-powered watercraft to dock.  The "River Theater" from Clark to LaSalle is a series of angled concrete steps providing access between Upper Wacker and the Riverwalk level intended to create a viewing area for the river.  The "Water Plaza" from LaSalle to Wells will provide a recreational area and may include a water features such as a zero-depth fountain. "The Jetty" from Wells to Franklin is planned as a location for learning about the ecology of the river, with floating gardens and piers for fishing. And, the concept for the section from Franklin to Lake called "the Boardwalk" is designed to include a bridge to bring people from Upper Wacker down to the Riverwalk level surrounded by floating gardens.
The plan is to finish the Riverwalk between State and LaSalle by the spring of 2015 and to finish between LaSalle and Lake by spring 2016, so our viewer should have the view we previewed in the rendering by next spring. The City estimates that 2.8 million people per year will stroll the new Riverwalk – and let's hope that's true, as the construction for the entire buildout is estimated at $90-100 million. The city also plans to pursue sponsorship opportunities to help fund the new Riverwalk's maintenance and operations.