Geoffrey Baer answers viewer questions about Chicago's School Street, the history of Chicago's civil defense unit, and a tree planted by Ulysses Grant in a South Side park.
---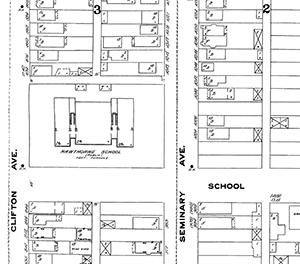 Are there any schools on School Street?
-Otis Klawans, Horner Park
This question comes from a student at Waters Elementary in Lincoln Square, which is nowhere near School Street.
There are actually five schools that have a border on School Street, which is at 3300 north and runs from the 900 west block to the 8400 west block through the north and northwest sides of Chicago.
The school furthest west is Foreman High School, which faces LeClaire Street but has its northern border on School Street. Move to a few blocks east to Henderson and Keeler and you'll find Scammon Elementary, which borders School Street to the south. Keep going east to find the only school with its official address on School Street – Reilly Elementary at 3650 W. School Street. Next up is Linne Elementary, which faces Sacramento Avenue and borders School Street to the north.
At this point you might be wondering if School Street was, in fact, named for a school. Well, it was – and that school is the fifth school on School Street, Hawthorne Elementary at the corner of Clifton and School in the Lakeview neighborhood. Hawthorne has been at that corner since the neighborhood's earliest days, according to the book "Streetwise Chicago." The earliest Sanborn fire insurance map shows it at the corner of School and Clifton in 1894, but it was originally built in 1880.
---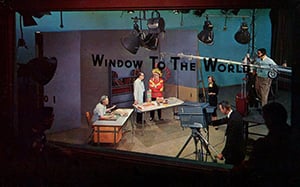 In the 1950s, my parents were civil defense volunteers at the Museum of Science and Industry. Are there any remains of this installation still at the museum?
-Richard Leseth, Lindenhurst
Some of our viewers will remember the Cold War days of the 1950s, when the country seemed on the verge of nuclear war with Russia. Civilians across the country were recruited to, among other duties, watch the skies for enemy aircraft in order to defend their cities against a bombing attack. Chicago's status as a manufacturing hub made it a likely target for a bombing attack, and radar alone wasn't enough to completely monitor the Chicago airspace, particularly at low altitude.
The viewer mentioned that his parents worked as plotters and spotters – these were two of the jobs civil defense volunteers were asked to perform as part of the Ground Observer Corps' "Operation Skywatch." The Ground Observer Corps was a World War II civilian program that was re-formed during the Cold War. Spotters would search the skies for low-flying aircraft that they would then report to plotters. Plotters worked at what was called the filter center in the Museum of Science and Industry, where the workers took phone reports of aircraft and established the planes' identity. When the identity of a plane was in doubt, the aircraft's position sent to the nearest air force installation for action, such as scrambling a fighter jet to intercept the unidentified aircraft.
The viewer also mentioned that one of the spotting locations was on the top floor of the Morrison Hotel, which stood at Madison and Dearborn and had a tower that reached 526 feet, giving it a clear view of the Chicago skies.
Unfortunately, none of civil defense installation still exists at the Museum, and the Morrison Hotel was demolished in 1965.
But, it's fun to note that WTTW itself began at the Museum of Science and Industry, where the station was a "working exhibit" in the museum's east pavilion rotunda from 1955 to 1965. Here is an episode of an early WTTW kids show, Totem Club, which was broadcast from MSI, and a 1957 roundtable with Frank Lloyd Wright and Carl Sandburg moderated by Alistair Cooke, also broadcast from the MSI studio.
Watch an episode of "Chicago Dynamic."
Watch "A Show Is Born."
Watch an episode of "Totem Club."
---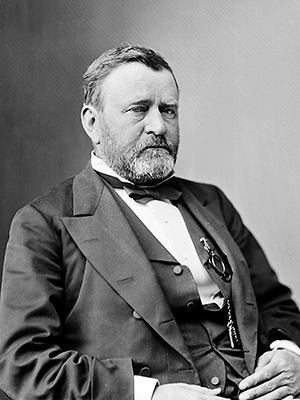 What happened to the tree, boulder, and plaque from President Ulysses Grant's visit to Washington Park?
-Kate Slattery, Logan Square
Well, the tree is long gone, and there was never a plaque apart from what was engraved in the boulder, but the boulder is still there, inscribed with the words "tree planted by Ulysses S. Grant December 6 1879".
Washington Park is a sprawling 372-acre park just west of the University of Chicago Hyde Park campus. The granite boulder commemorating President Ulysses S. Grant's visit to the park to plant an elm tree sits near its northeastern corner at 51st and Cottage Grove.
One hundred and fifty people met at the Palmer House for the occasion and formed a procession of carriages to accompany Grant to Washington Park, which was then called South Park. There Grant was presented with a spade to ceremonially plant an elm tree as a "symbol of peace and good fellowship to all."
A Chicago Tribune article describing the tree's planting noted that following the event, Grant was dropped off at the home of his son, Frederick Dent Grant. Frederick's wife was Chicago socialite Ida Marie Honore, whose sister was Bertha Honore Palmer of Palmer House fame.
The same article went on to describe at length the attendees' speculation as to the nature of the grand lunch that was surely to follow such a grand event – and their subsequent disappointment at learning that there was to be no lunch. The reporter lamented, "It is sad to have to record the blasting of so much hope, but the fact is that there was no lunch, and the hearts of the guests were heavy, even as their stomachs were light."
A few years after the tree was planted, a boulder was installed to commemorate the event – but it had the wrong date for years! It was originally engraved November 18, 1879. When the error was discovered in 1913 the date on the stone was covered up until it could be corrected.
The Grant boulder isn't all that is historically significant about Washington Park. Washington Park was originally conceived by landscape architect Frederick Law Olmsted as part of a larger park system called South Park, which is now broken into three sites: Jackson Park, Midway Plaisance, and Washington Park. Of the three parks, Washington Park is the most complete and intact representation of Olmsted's plan for South Park, as Jackson Park underwent several redesigns for the 1893 World's Fair and Olmsted's vision for Midway Plaisance was never fully realized.
Washington Park is also home to boulders honoring Fredrick Law Olmsted and Chicago mayor Harold Washington. Washington Park's most famed feature stands at the southeast corner – Lorado Taft's magnificent Fountain of Time facing Midway Plaisance.
Back to Ulysses Grant: he was something of a serial tree-planter in 1879. In that year he also traveled to Allegheny, Pennsylvania's West Park, where he planted a linden tree that survived until 1908. And in the same year in Tokyo, Japan, he planted a cedar tree that survives to this day.