Kirk Dillard to be New RTA Chairman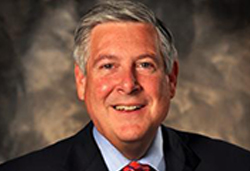 In an all-or-nothing effort to win the GOP's nomination for governor, Kirk Dillard did not run for re-election to the state Senate seat he's held since 1993. He lost to Bruce Rauner -- but he did win his latest election.  Last week, the Regional Transportation Authority board elected him to lead the troubled transportation agency as its chairman.  Dillard replaces John S. Gates, Jr., who was the chair for the RTA board for the past four years. In July, the Hinsdale Republican will be leaving the legislative seat he's held since 1993. We look back at his 20-year career in elective politics and ahead to the challenges he faces at the RTA.
View a timeline of his career.