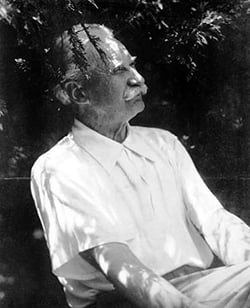 Jens Jensen was a Danish-American landscape architect that helped craft the conservation movement in Chicago and the Midwest. His passionate appreciation of natural beauty drove him to fight for the green spaces we see in much of Chicago today.
His belief that every person must have contact with the "living green" either through green space or community gardens is something that cities continue to strive for even today.
We talk with coproducer Carey Lundin about her new film documenting the life and work of conservationist and renowned landscape architect Jens Jensen known for his passion in preserving parks and green spaces throughout Chicago and the Midwest.
---
Born into a wealthy family in Denmark in 1860, Jens Jensen immigrated to the United States with his fiancée at 24. After living shortly in Florida and Iowa, they moved to Chicago where Jensen worked as a laborer for the West Park Commission.
Jensen believed in what he called living green; everyone should have a connection to the native plants and environment in their area. In 1888, Jensen gathered wildflowers from just outside of Chicago and planted them in a small corner of Union Park, and this became known as the American Garden.
Jensen, who had then worked his way up to superintendent of Humboldt Park, was ousted from the West Park Commission in 1900 after refusing to participate in the political corruption that was rampant throughout the organization.
In 1903, Jensen was appointed to the Special Parks Commission, which studied Chicago's existing outdoor sites, and created playgrounds and plans for new parks in urban areas. Jensen created a map entitled, "Proposed System of Forest Parks and County Pleasure Roads," and suggested a new string of parks be created around the perimeter of Chicago.
View a map of parks designed by Jensen. 
While Jensen was advocating for the creation of forest preserves, the West Park Commission was restructured, removing politically corrupt members, and Jensen was appointed chief of landscape architect and general superintendent of the West Park System. He began remodeling Chicago's parks after the wetlands in rural Illinois and Wisconsin.
Jensen also designed smaller parks in the heavily populated immigrant neighborhoods of Chicago.  He encouraged children to look after the community gardens he designed in those parks. 
In 1915, after several years of political debate, the Forest Preserve District of Cook County was founded, and within 10 years, the organization had acquired 24,000 acres of land for Jensen's parks.
By 1920, Jensen no longer worked for Chicago's public parks, but he continued to design private parks, golf courses, and grounds for schools, hospitals, hotels, and residences.  His clients included Henry Ford and J. Ogden Armour.
Jensen moved to Wisconsin after the death of his wife in 1934 and opened the school, The Clearing, which is focused on environmentalism and connecting students with nature. The Clearing and the Lincoln Memorial Garden in Springfield were Jensen's last major works before he died in 1951.  
---
Watch a trailer of the documentary.
Watch selected scenes from the documentary.
--Map by Kristen Thometz
--Cydney Hargis contributed to this report.