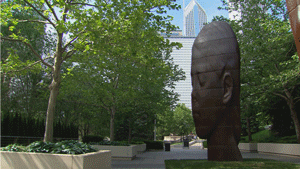 Four tall thin sculptures by Spanish sculptor Jaume Plensa have been installed in Millennium Park to celebrate the 10th anniversary of both the park and Plensa's Crown Fountain.
Crown Fountain, a popular attraction among thousands of children during the summer, features a 232-foot shallow reflecting pool and 50-foot glass tall towers that project 1,000 video portraits of Chicagoans.  
Continuing his focus on figurative portraiture, the sculptures that compose Plensa's 1004 Portraits in Millennium Park are elongated female heads that range in size from 21-39 feet tall. The largest piece called, "Looking into My Dreams, Awilda," is a white resin sculpture and faces west toward Madison Street from Michigan Avenue. The sculpture was placed this way because Plensa wanted to mark Millennium Park's entrance along the east-west street that divides the city into north and south sides.
In addition to the installments in Millennium Park, the Richard Gray Gallery recently opened its sixth exhibition of Plensa's artwork. The exhibition titled, Private Dreams, presents eight sculptures of heads made from glass, bronze, and volcanic basalt. The sculpted heads are portraits of girls dreaming with their eyes closed. Plensa's recent works focus on the human head "as a sanctuary for dreams and hope," according to a press release for the exhibit.
While the sculptures in Millennium Park span from 21-36 feet tall, Plensa's basalt sculptures in Private Dreams are only six feet tall. The rest of the pieces in the exhibit are smaller and offer a more intimate experience to viewers.
"The exhibition sculptures are smaller versions that the artist grappled with to show volume from the most manual sense," said Jennifer Rohr, associate director of the Richard Gray Gallery. "They are flattened and really play with perspective."
In 1996, Plensa had his first exhibit at the Richard Gray Gallery called Islands. Since then, the gallery has displayed four exhibitions by Plensa in Chicago and one exhibition in New York. The gallery says it has been a major supporter of Plensa's work for the past couple of decades.
"We were intrigued and thought it was incredibly powerful," Rohr said of Plensa's work.
The exhibit at the gallery will be on display until Sept. 27, and Plensa's sculptures in Millennium Park will remain on display through December 2015.
View a slideshow of the sculptures on display in Millennium Park.
--Dan Andries contributed to this report.