She is a 31-year-old business consultant from Wilmette, Ill. and won 20 games straight on the game show Jeopardy. This makes Julia Collins the top female player in the game's 50-year history and the game's second longest running player, preceded only by Ken Jennings who won 74 games in 2004.  Her streak ended Monday, June 2. We sit down with Collins to chat about the Jeopardy experience, her winnings, and her example of female achievement.   
Our WTTW family is also home to a gameshow winner. We spoke with Michelle McKenzie-Voigt, facilities manager for WTTW and segment producer of Chicago Tonight's Viewer Feedback, about her previous game show experience. Read our Q&A below to learn how she entered into a game show and won.
---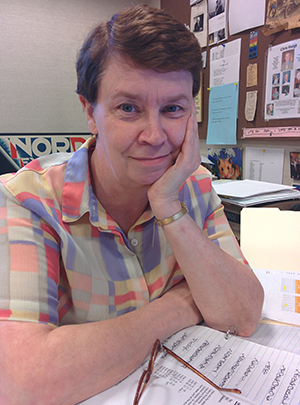 Q: Which game show did you compete in?
I was in "The $100K Pyramid," hosted by Dick Clark. It still reruns on the Game Show Network.
Q: When did you compete?
Let's just say the late 1980s.
Q: How did you become a contestant?
My husband and I had just sold our house in Evanston, and we were looking for a new house to buy.  We couldn't afford anything we liked so I said, "That's it. We'll go to California to audition for game shows." And that's what we did. I auditioned for "The $100K Pyramid." My husband auditioned for a show called "Sale of the Century," which was the poor man's version of "Jeopardy." We were both selected to be contestants, so we flew back.
Q: You and your husband both appeared on game shows?
My husband's show was a network show, and my show was a syndicated show. The way each type of show chose their contestants was different. On "Sale of the Century," there was a returning champion and two new contestants, just as "Jeopardy" does it. Game shows are taped five episodes at a time. After taping a show, they'd randomly pick two new contestants, and the process was repeated. My husband was never picked.
Q: How did you get to compete on "The $100K Pyramid"?
Because I was on a syndicated show, things were different. The day of taping, they recorded three shows, and then they took a break. So far, I had not been selected. During this break, I said to one of the contestant coordinators, "I'm never going to get picked because I'm from Chicago and the returning champion is from Chicago. I'm wearing a red dress; she's wearing a red dress."
At that moment, the head contestant coordinator came into the room. Out of the corner of my eye, I saw the contestant coordinator to whom I spoke approach this higher level supervisor and say "Michelle thinks she's not going to be picked because she's wearing red and she's from Chicago." And the head contestant coordinator said, "Well, she's wrong; she's going to be on the next show."
So after the break when the new contestant was announced, it was me. I won the first game I played, which was the fourth of the five games they taped that day. I was also on the fifth show, and then they were done for the day, but I was still the champion. Two weeks later, I flew back for the first, second, and third shows of that five-taping set. You were allowed to compete on only five shows, so I retired an undefeated champion.
---
Web Extra: Watch video of Michelle McKenzie-Voigt on $100K Pyramid in this web extra video.
Courtesy of Sony Pictures Television
---
Q: What did you win?
I won $23,350 and a trip for two to London. With that, we had the extra money we needed to buy a better house. But the taping was in August, and the episode didn't air until October. I would not receive my money until after it aired, because if, for some reason, the episode didn't air, I wouldn't get my winnings for that particular episode. I was on pins and needles, because we had bought a house and needed the money to close with. But the show aired, the check arrived, and we closed on our nicer home. We took the trip to London the following year.
Q: What experience best prepared you to go on the game show?
Practice. I watched the show every night and played along at home. I also owned a board game version. At lunch time at work, I would ask friends to give me various categories, so I practiced that way.
Q: Aside from your winnings, what else did you take away?
I was proud that I set a very single-minded goal and achieved it: to get on a game show to win some money so we could buy a nicer house. And that's exactly what I did.
Interview has been condensed and edited.